This page is part of © FOTW Flags Of The World website
Croatia: Flag proposals, 1990
Last modified: 2014-03-08 by ivan sache
Keywords: proposal |
Links: FOTW homepage | search | disclaimer and copyright | write us | mirrors

---
See also:
---
Adoption of the flag
Several proposals for new Croatian symbols were published in 1990, when Croatia was in the time of change from Soviet-style symbols to new, more oriented to its history and Western tradition. All proposals shown below were designed by individuals, independently from the government, at least at that time.
There was the obvious problem of confusion with the Dutch flag, if there would be just the star removed. However, the tradition of having the coat of arms in the middle was very strong. Emigrant societies in the world used the flag with the chequered shield, and many taught it was right to use the same design. There were some other propositions. Maybe the most radical was the chequered red and white flag, very much alike the one used for car racing. Others were simplifications of the tricolour with coat designs.
Finally, the design with the full coat of arms was preferred and made official. The author of the design is Miroslav Šutej, who also designed of the coat of arms, the President's flag, and some other State emblems.
Janko Ehrlich Zdvořák & Željko Heimer, 25 September 2001
---
Proposals by Stijepo Martinović (Vjesnik, 8 July 1990)
Proposals of civil flag, coat of arms and State flag, by Stijepo Martinović - Images by Janko Ehrlich Zdvořák, 25 September 2001
---
Proposals by Boris Ljubičić (Danas, 8 August 1990)
Proposals of national flag, by Boris Ljubičić - Images by Janko Ehrlich Zdvořák, 25 September 2001
As explained by Ljubičić in Vecernji list, 28 January 2000, the second flag is based on a synthesis of two historical elements, the tricolour and the Croatian coat of arms. The tricolour is a very frequent flag, and therefore, the coat of arms is the basic differential element. The economic, political, cultural and sports challenges of the new state require recognisable, effective and differential visual characteristics. The interchangeable squares already represent different contents: HRT (the Croatian national TV network), tourism, the Zagreb International Fair, and there is a need to link it with the basic, ceremonial, offical and unique identity of the state, that is its flag.
Željko Heimer, 30 January 2000
---
Proposal by Krsto Mažuranić (Danas, 28 August 1990)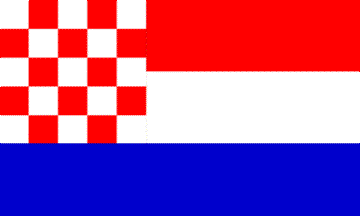 Proposals of national flag, by Krsto Mažuranić - Image by Janko Ehrlich Zdvořák, 25 September 2001
---
Proposals by Tomislav Gotovac (Danas, 4 September 1990)
Proposals of national flag, by Tomislav Gotovac - Images by Janko Ehrlich Zdvořák, 25 September 2001
---
Proposals by Danijel Popović (Danas, 4 September 1990)
Proposals of national flag, by Danijel Popović - Images by Janko Ehrlich Zdvořák, 25 September 2001
---
Proposals by Davor Turković (Danas, 11 September 1990)
Proposals of national flag, by Davor Turković - Images by Janko Ehrlich Zdvořák, 25 September 2001
---
Proposals by Vlado Buzolić-Stegu (Danas, 11 September 1990)
Proposals of national flag, by Vlado Buzolić-Stegu, top row, national flag; bottom row, ceremonial and presidential flags - Images by Janko Ehrlich Zdvořák, 25 September 2001
---
Proposals by Ivan Majstorović and Boris Malešević (Danas, 11 September 1990)
Proposals of national flag, by Ivan Majstorović and Boris Malešević - Images by Janko Ehrlich Zdvořák, 25 September 2001
---
Proposals by Denis Kuljiš (Danas, 11 September 1990)
Proposals of national flag and arms, by Denis Kuljiš - Images by Janko Ehrlich Zdvořák, 25 September 2001
---
Proposal by Predrag Raos (Danas, 18 September 1990)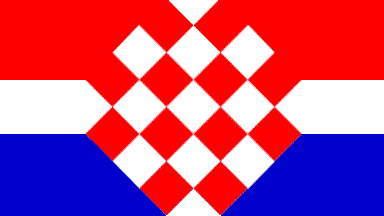 Proposal of national flag, by Predrag Raos - Image by Janko Ehrlich Zdvořák, 25 September 2001
---
Proposals by Dejan Kršić (Danas, 18 September 1990)
Proposals of national flag, by Dejan Kršić - Images by Janko Ehrlich Zdvořák, 25 September 2001
---
Proposals by Marijan Jevšovar (Danas, 18 September 1990)
Proposals of national flag, by Marijan Jevšovar - Images by Janko Ehrlich Zdvořák, 25 September 2001
---
Other proposals published in newspapers
Proposals of national flag - Images by Željko Heimer, 14 October 1995