This page is part of © FOTW Flags Of The World website
United Kingdom: Crowns on Flags
Last modified: 2011-12-24 by rob raeside
Keywords: united kingdom | crown | naval crown |
Links: FOTW homepage | search | disclaimer and copyright | write us | mirrors

---
See also:
---
The names used to describe British Crowns can be arranged into four categories:
Actual Crowns.
Representations of Actual Crowns.
Symbolic Representations of Crowns.
Abstract Crown.

Actual Crowns.
1. St Edward's Crown. Used to crown the Monarch at the Coronation Service.
2. Imperial State Crown. The working crown. Worn by the Monarch after the Coronation Service and for the Opening of Parliament.
3. Scottish Crown. Part of the Scottish Regalia.
4. Queen Victoria's Small Diamond Crown. Crown made for Queen Victoria in 1870.
5. Crown of India. Worn by King George V at the Delhi Durbar in 1911.

Representations of Actual Crowns.
1. St Edward's. The usual representation of the crown since 1952. Some Victorian representations of crowns are also obviously St Edward's Crown.
2. Scottish. Used, since 1952, where the Scottish Crown is more appropriate than the English St Edward's Crown.
3. Queen Victoria's Small Diamond Crown. Used on crowned effigies of Victoria, on coins and medals, after her Silver Jubilee in 1887.

Symbolic Representations of Crowns.
1. Various Victorian Crowns which are not identifiable as St Edward's Crowns, described by King Edward VII as, "Foreign Continental Crowns" and "different deviations of the British Crown".
2. Tudor Crown. The standard pattern representational crown with raised arches, used between 1901 and 1952. Introduced by King Edward VII who described it as - "the Tudor, 'Henry VII' Crown, chosen and always used by Queen Victoria personally". This was, presumably, a reference to Queen Victoria's Small Diamond Crown, which in shape, is similar to the Tudor Crown.

Abstract Crown. The Imperial Crown. (Not the Imperial State Crown).
Correctly used, the term "Imperial" can be applied to any crown, actual or representational, between 1547 and 1952. In 1952 some terms, that had been in used in Proclamations of Accession since 1820, were changed. The first draft included,
"... the Imperial Crown of Great Britain Ireland and all other His late Majesty's Dominions is surely and rightfully come to the High and Mighty Princess Elizabeth Alexandra Mary our only lawful and rightful Liege Lady Elizabeth the Second by the Grace of God of Great Britain, Ireland and the British Dominions beyond the Seas Queen, ...".
But in the final draft it had been changed to;
"... the Crown is surely and rightfully come to the High and Mighty Princess Elizabeth Alexandra Mary Queen of this Realm and of all other Her Realms and Territories and Head of the Commonwealth, ..."
Clearly some changes to the wording had to be made, but "Imperial Crown" could have been retained. On 9th February 1952, Sir Norman Brook, Secretary to the Cabinet, wrote, "I see now that it was unnecessary and perhaps mistaken to avoid references to 'Imperial Crown'." "Imperial" was a reference to "sovereignty", not "empire", and was first used by King Henry VIII in an Act Forbidding Appeals to Rome; "... manifestly declare and express that this Realm of England is an empire and so hath been accepted in the world .." In his Commentaries, Blackstone wrote; "The meaning of the legislature when it uses the terms of Empire and Imperial and applies them to the Realm and Crown of England is only to assert that our King is equally Sovereign and independent within these his dominions as any Emperor is in his Empire; and owes no kind of subjection to any other potentate on earth."
David Prothero, 19 April 2005

by Jarig Bakker, from the illustration of the Royal Mail pennant in Flags at Sea
See also:

by y T.F. Mills

by T.F. Mills
I am posting drawings of the imperial or Tudor crown (1902-1953) and the St Edward's crown (1953-present). As was noted above, the Victorian crowns were not very well regulated and there are numerous variations. But the Tudor and St. Edward's crowns are very well regulated. There was a transition period of up to five years (1953-58) for the adoption of the St. Edward's crown in many institutions, and there were, of course, exceptions where it was never updated.
T.F. Mills, 24 February 1999
See also:
---
Other crowns used on flags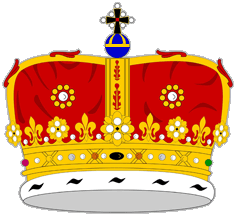 by Clay Moss

The Scottish Crown looks like an imperial crown, but there are no pearls on the arches, instead there are two curlicues on each arms. In addition there is a pearl on a gold mounting on the velvet cap in each quarter (so you can see two of them). This is the official state crown for Scotland and would replace the St Edward's crown on any peculiarly Scottish flag, or flag created under the authority of the Scottish Executive, such as the Scottish Fisheries, or a Scottish constabulary.

The official Scottish Office emblem uses a Scottish crown (neither imperial nor St. Edwards), as do Scottish police forces/services, the Royal Mail, etc. Nowadays all royal crowns on Scottish organizations should be the Scottish crown. There have been times in the past when the English versions were used but that changed some thirty years ago at least.
Graham Bartram, 28 February 1999, 28 September 2000

You can make that forty years ago (at least). In 1960 when the Ministry of Transport, who were still using the Imperial (Tudor) Crown on all their flags, made enquiries at the Scottish Office they were told that the Scottish Crown should be used (where appropriate) on any flags flown from establishments in Scotland or ships registered at a Scottish port.
Public Record Office MT 45/580.
David Prothero, 12 August 2000

See the actual one from the royal web site.
Santiago Dotor, 28 September 2000

According to a Scottish Office letter written in 1960, "the Scottish Crown should replace St Edward's crown on flags flown at any establishment in Scotland or by any ships registered in a Scottish port." MT 45/580.

It didn't specifically say, "any flag", but the Ministry of Transport took it to mean that if they had had a ship registered in a Scottish port, the wheel and anchor should have been surmounted by a Scottish Crown.
David Prothero, 30 September 2000

This looks like an imperial crown, but has only one arch, shown going from left to right, so there is no "central" arch. It appears on two of Prince Charles' standards (England and Wales). His actual coronet is a very modern design - quite striking, but the version used on flags is a more traditional heraldic design.
Graham Bartram, 28 September 2000

The actual coronet for the Honours of the Principality of Wales can be seen on the royal web site. The heraldic version is much more similar to the one made for Prince Edward (later Edward VIII, later Duke of Windsor) in 1911 (again from the royal web site).
Santiago Dotor, 28 September 2000

See also the page on the Royal Fowey Yacht Club for more details on the Heir Apparent's coronet.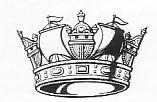 by David Prothero
The naval crown (made up of alternate sterns and topsails) can be traced back to the Romans when a crown ornamented with a design of the 'rostra' or beak heads was awarded for bravery and was known as the 'Rostral Crown'. It can be seen on certain British Naval medals at the end of the sixteenth century. One of the earliest examples of the Naval crown in, practically its present form, is that which appears above the Arms of Greenwich Hospital dating from about 1700. The decoration, however, is wholly of square sails without the interspersed sterns. [National Maritime Museum web-site]

The British standard pattern was designed by Everard Green, Rouge Dragon, and approved 27 July 1903. Design was revised in 1922, approved by Naval Law Department NL 7350/22, and issued as Admiralty Fleet Order 3228/22.
[National Archives (PRO) ADM 1/11609]

Some of the current flags which include a naval crown:
Combined Cadet Force, Naval Section Blue Ensign.
Old Worcesters Yacht Club Blue Ensign and burgee.
Royal Cruising Club burgee.
Royal Lymington Yacht Club Red Ensign and burgee.
Royal Naval Association National Standard.
Royal Naval Sailing Association burgee.
Royal Naval Volunteer Reserve Yacht Club burgee.
Royal Ocean Racing Club Blue Ensign and burgee.
Sea Scout Red Ensign and burgee.

Obsolete flags.

Royal Akarana Yacht Club, Wellington, NZ.
David Prothero, 10 May 2004
---
The colours of the hollow base area below the crown is not firmly set.
I went and looked at the crowns on all 22 British type flags we have with the St. Edwards crown.
16 have white bottoms, 6 of which are former government property.
2 have light blue bottoms, 1 which is former government property.
2 have cross hatched bottoms, 1 which is former government property.
1 has a black bottom.
1 doesn't show the inside bottom as it rests on top of a disk.

The one Tudor crowned ensign we have has a light blue bottomed crown.

Clay Moss, 6 February 2006
It is interesting that the color red is used to illustrate the "cloth" parts of the St. Edwards crown on flags when the actual color is plum or perhaps purple. Can anyone explain why this has historically happened?
Clay Moss, 7 February 2006
We actually use a range of reds for the cap. Most flags use Union Red, but some use Dark Red, as can be seen in the Army Non-ceremonial Flag, where the darker red shows up better against the red background, giving a richer appearance. The caps also have pink highlights to emphasise the contours. The real caps are purple velvet but I'm not sure why we have always tended to show them in red. Maybe it was just a practical thing of not bothering to make purple fabric when we use so much red anyway. If anyone know the real reason I would love to know,
Graham Bartram, 7 February 2006
It seems to be an heraldic convention:
"It should be noted that whilst the cap of the real crown is of purple velvet, the cap of the heraldic crown is always represented as of crimson"
From 667th Report of the Committee on the Grant of Honours, Decorations and Medals, 21 August 1952.
An almost identical sentence appears on page 359 of Fox-Davies' 'Complete Guide to Heraldry', Thomas Nelson reprint 1954, with "purple", "heraldic" and "always" emphasised.
David Prothero, 8 February 2006