This page is part of © FOTW Flags Of The World website
Coastguard (Britain)
Last modified: 2015-07-28 by rob raeside
Keywords: coastguard | rope |
Links: FOTW homepage | search | disclaimer and copyright | write us | mirrors

---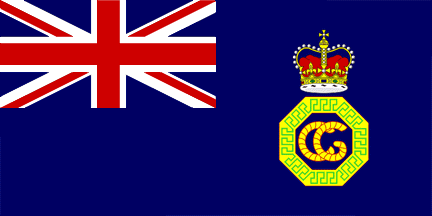 by Martin Grieve
See also:
---
HM Coastguard Ensign
On page 59 of Graham Bartram's book, "British Flags & Emblems", the present-day version of HM Coastguard Ensign, which was introduced in 1999 is shown. In the same publication, on page 19, the same flag is illustrated flying from a gaff on land. This Ensign has a great many differences from the former version, which was first hoisted in 1973/1974, and a list of these are:
The Edwardian crown is now "floated" above the badge, and this crown has the interior of its base coloured light grey instead of red.
The rope lettering "CG' are no longer entangled, but now the G is placed directly on top of C. Furthermore, these letters are now more condensed.
The castellated pattern arrayed around the octagonal-shaped badge is now coloured in green instead of Navy blue(?).
The red fimbriations around the outer and inner edges of the octagon are now thinner, but are retained.
The overall badge height/hoist width ratio has been increased.
The new version dates from Change No. 5, Page 5-159 (the 1999 revisions) to the 1989 Edition of BR20, and the same illustration is repeated in the current edition.
Christopher Southworth, 26 June 2005
On The Isle of Barra Coastguard website http://www.isleofbarra.com/coastguard.html the badge of the Coastguard is shown, and it is noticeable that there are two red fimbriations around the edges of the octagon and the detailing of the rope lettering, but the profusion of this colour on the Edwardian crown is wrong.
Martin Grieve, 25 June 2005
by Martin Grieve
based on input from Christopher Southworth, David Prothero and Martin Grieve, 27 June 2005
by Martin Grieve
---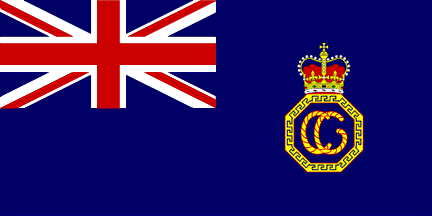 by Martin Grieve
In Malcolm Farrow RN, book "The colours of the fleet" (1996 edn.), page 9, it is written:
"Formed in 1822 as the Coast Guard, and formalised by the Coast Guard Act in 1856, it became incorporated into the Coastguard Agency in 1994. The ensign was granted in January 1973. Her Majesty's Coastguard has over 20 general purpose boats but they do not normally wear an ensign (by default) which is now limited to shore installations. The Coastguard's activities are co-ordinated via the 6 Maritime Rescue Co-ordination Centres (MRCCs) assisted by several other Rescue Centres around the British coastline. The HQ is at Southampton."

It should be noted here that the present spelling (Coastguard) was adopted in 1925. Before that it was two words, Coast Guard. Further to this, we are informed on page 43 of Barraclough and Crampton's book "Flags of the World" (1978edn): "A new flag for the Coast Guard was introduced on 28 October 1974. It consists of the Blue Ensign with the Coast Guard badge in the fly all in yellow, ensigned with a royal crown in proper colours, and may be seen flying at look-out stations all around the coast."

So - is it Jan 1973 or Oct 1974 for the adoption date? David Prothero postulates that the 1973 date was when it may have been proposed, and that may just be the case here.

The Ensign is depicted at the top of the same page, and whilst rather obscure at such a small scale, the badge detail has the Edwardian crown depicted with a red interior in it's base, this crown being placed directly upon a yellow octagonal badge which contains an arrayed "castellated" pattern around it's eight sides.
In the centre of this device appear two letters - CG, entangled and in rope. The overall badge height/fly-width ratio is 15/25 or 3/5.

In "The World Encyclopedia of Flags" (1999) by Alfred Znamierowski, the same flag is illustrated on page 74 but the badge height/fly-width ratio is 20/42 - reduced to 10/21, and therefore considerably smaller. I would presume that this works out to be within the classic 4/9 diameter circle/ fly-width ratio, which was normally customary practice prior to 1999.
Martin Grieve, 25 June 2005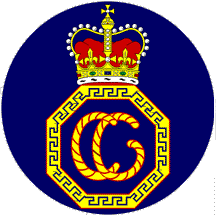 by Martin Grieve