This page is part of © FOTW Flags Of The World website
Beaurains (Municipality, Pas-de-Calais, France)
Last modified: 2021-06-19 by ivan sache
Keywords: beaurains |
Links: FOTW homepage | search | disclaimer and copyright | write us | mirrors

---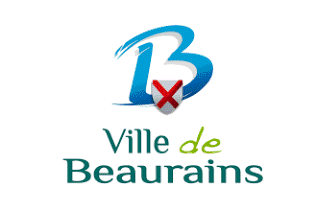 Flag of Beaurains - Image by Olivier Touzeau, 26 December 2020
---
See also:
---
Presentation of Beaurains
The municipality of Beaurains (5,596 inhabitants in 2018; 599 ha) is located south of Arras.
In September 1922, workers building a brickyard excavated a ceramic container concealing a silver vase filled with a treasure. Ernest Babelon, director of the Mint, Medal and Antiques Section at the French National Library, attempted to purchase the treasure, which was prevented by his premature death in 1924. At the time, the Beaurains treasure was already mostly dispersed. During the night that followed the discovery, several artifacts vanished; some of them miraculously re-appeared after a virulent preach by the parish priest. The remaining artifacts were tedioudly shared between the discoverers and the plot's owner, Jeanne Wartel. The town of Arras purcahsed several artifacts in 1927, while the French National Library could acquire a few more from the collection of Charle de Besistegui, who had purchased them; legally, in the 1920s. The other artifacts are located in New York, London, Milan, Brussels, Oxford, Hanover...
In the late 1920s, Jeanne Wartel sold most of her part of the treasure to the numismatist Émile Bourgey. This included five golden medallions minted in Trier between 294 and 304, portraying Tetrarchs Constantius I Chlorus, Galerius, Maximian and Diocletian, represented with breastplate and arms. In 2017, Bourgey's granddaughter, Sabine Vourgey, required an exportation certificte for the five medallions. Frédérique Durey, director of the Mint, Medal and Antiques Section at the French National Library, immediatly initiated a procedure of registration as National Treasure. On 20 June 2017, the Consultative Commission of National Treasures recognized the intrinsec value of the medallions and their historical significance regarding the Tetrarchy period. Bourgey appealed to the rejection of the exportation certificate on 21 September 2017, an appeal which was eventually rejected in February 2020. However, the French National Library was legally bound to acquire the medallions within 30 months after notification to the owner, here 21 September 2017; this left only one month to the French National Libraty to complete the sale. Lacking the required 2.8 million euro, the French National Library set up a corporate sponsorship with the Banque de France, which was signed on 17 March, four days before the deadline.
Sabine Bourgey, fortunately, did not appeal at the Court of Cassation; the medallions were tansfered on 28 July 2020, under strong police protection, to the vault of the French National Library.
[La Gazette Drouot, 28 January 2021]
The Beaurains Treasure was reconstituted by P. Bastien and C. Metzger, who analyzed all available records of the treasure, including photos and written documents in public and private collections.T his Herculan task allowed them to reconstitute 70% of the original treasure.
The coins' census established by P. Bastien includes 472 items, mostly old coins dating to the Pax Romana period, from Vitellius (r. 9 months in 69) to Commodus (r. 176-192), and, most important, golden coins and medallions from the Tetrarchy period (293-307). The treasure's masterpiece is a 10 aurei (52.88 g) medallion commeorating the entrance of Constantius Chlorus in London after the submission of Allectus.
The other component of the treasure, described by C. Metzger, is composed of jewels and silver. The masterpiece is a candelabra made of solid silver, kept in the British Museum. The necklace decorated with coins dating from Hadrian (r. 117-138) to Postumus (r. 260-269), could, unfortunately, not be fully reconstituted.
The Beaurains treasure appears to have been hoarded by a high-rank offcier, who probably fought in Britain under Constantius Chlorus. The golden medallions were offered, probably by the emperor himself, during "donativa", that is, official ceremonies during which the most valuable officers were rewarded. The identity of the hoarder and the reason why he buried the treasure near Nemetacum (Arras) are unknown yet.
[H. Zehnacker. 1979. Bastien (P.) et Metzger (C), Le trésor de Beaurains (dit d'Arras). Revue belge de philologie et d'histoire 57:2, 481-483]
Ivan Sache, 13 February 2021
---
Flag of Beaurains
The flag of Beaurains (photo) is white with the municipal logo, made of a big blue "B" and the municipal coat of arms, "Argent a saltire gules", placed above the name of the municipality.
In 1976, the Municipal Council adopted for its coat of arms the arms of the family of one of the lords of Beaurains, Adrien François Valentin du Carieul, Marquess of Fiefs and lord of Beaurains, Deputy of the States of Artois in 1750. Carieul was a noted noble family in Artois. Robert du Carieul was Municipal Councillor of Arras in 1403; another member of the lineage was commander in Philip V's armies. Adrien François Valentin du Carieul was created Marquess of Carieul by Louis XVI.
[P. Roger. Noblesse de chevalerie du comté de Flandre, d'Artois et de Picardie. 1843]
Olivier Touzeau & Ivan Sache, 13 February 2021