This page is part of © FOTW Flags Of The World website
24 (television series)
Last modified: 2017-10-31 by peter hans van den muijzenberg
Keywords: 24 | twenty four | kamistan | islamic republic | coat of arms: moon | crescent (green on white) | stars: 7 (arc) | sangala | lions: 2 |
Links: FOTW homepage | search | disclaimer and copyright | write us | mirrors

---
See also:
External:
---
US television series 24, starring Keifer Sunderland, is a action thriller about espionage and terrorism. It is produced for the Fox Network and aired worldwide.
António Martins, 4 August 2010
---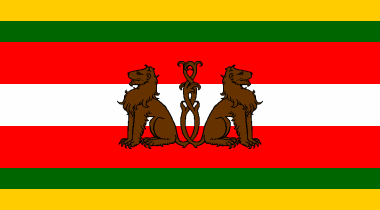 image by Eugene Ipavec, 10 March 2009, using free clipart
Sangala is a fictional African nation appearing in season 7 of the US TV series 24. The name may be a combination of Senegal and Angola. From 24 wikia:
… Since Sangala observes Greenwich Mean Time, it is probably located in the western region of Africa, directly south of the United Kingdom.

Judging by comments from the presidential staff about launching their attack from the sea, it can be presumed that it is a coastal country.

The majority of filming scenes for Sangala took place around Cape Town, South Africa.
The official languages of Sangala seem to be English and French.
The Sangalan flag is shown during the White House hostage crisis: — I am going from memory, but it was horizontally striped yellow-green-red-white-red-green-yellow, 1:1:2:2:2:1:1 or so, with a brown charge in the center consisting of two brown dogs or lions sejant with intertwined tails.
Eugene Ipavec, 10 March 2009
---
(uncertain areas in grey)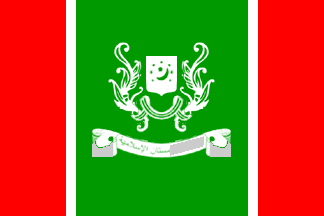 image by António Martins, 4 August 2010
The series' 8th season, aired in 2010, includes a fictional country and its flag.
The Islamic Republic of Kamistan (IRK) is heavily based on real world Iran, according to Wiki 24 Its flag, shown extensively in the abduction and assassination scenes, is red and green, featuring an emblem, possibly based on the actual Iranian national flag.
It is a circa 2:3 vertical Canadian-style triband of red and green, with thin white fimbriations between the panels and a large heraldic emblem in white "stencil" centered on the middle panel. This emblem features a smallish shield sporting a crescent (pointing to upper dexter) with a star on the concave side surrounded by an arch of seven (?) smaller stars, the whole surrounded by a garland of stylized leaves and over a large white scroll with arabic lettering. (detail).
All images of the flag I found show the flag as a background for planned videoed executions, though it could be instead a rebel or party flag, but the plot suggests otherwise, since the rebels staging said executions saw themselves as rightful Kamistan loyalists preventing what they saw as an act of treason against the hitherto government policy, not as a renewing movement taking over the country.
Here are the screenshots I found and their (not flag related) contexts:
(SPOILERS AHEAD! IMAGES MAY DISTURB YOUR SQUIMISHNESS!)
António Martins, 4 August 2010
---