This page is part of © FOTW Flags Of The World website
Air Force (Spain)
Last modified: 2018-10-14 by ivan sache
Keywords: air force |
Links: FOTW homepage | search | disclaimer and copyright | write us | mirrors

---
| | | | |
| --- | --- | --- | --- |
| Roundel | Fin Flash |   |   |
| | |   |   |
| image by Frank George Valoczy, 04 Jul 2003 | image by Eugene Ipavec, 03 Jan 2009 |   |   |
---
---
See also:
---
Other sites:
---
Air Force Roundel and Fin Flash
The Spanish Air Force fin flash – a black thin saltire on white – represents the Burgundy Cross, a 500-year-old Spanish (mostly military) flag.
Santiago Dotor, 14 Oct 1999
Roundel of red-yellow-red, fin flash – white panel with black saltire. (This is not a flag painted on the fin, but rather the whole fin is painted white and crossed over with a black saltire.)
Source: Album des Pavillons 2000 [pay00]
Željko Heimer, 06 Aug 2001
In 1942, the Ejercito del Aire adopted the 1918 red-yellow-red roundel but kept its rudder marking of black saltire on white (photo, photo). Those marking are also used today; however, as "low visibility policy" requires, the rudder stripes are sometimes are very small (photo, photo).
Fuerza Aeromóviles del Ejército de Tierra (formed 1965) uses the same marking (photo). Arma Aerea de la Armada Espanola (formed 1954) uses the same roundel with inscription ARMADA but not the rudder marking (photo).
Dov Gutterman, 24 Jun 2004
---
Servicio Militar de Aerostacion was formed in 1896 and renamed Aeronautica Militar Espanola in 1913. Cochrane and Elliott 1998 [cos 98] reports the initial marking (titled 1914-1918) as wing stripes of red-yellow-red (in same internal proportions as the flag) and plain national flag in the middle of the rudder.
Dov Gutterman, 24 Jun 2004
---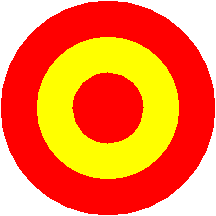 image by Frank George Valoczy, 04 Jul 2003
In 1918 a roundel of red-yellow-red (same as today) was adopted together with horizontal rudder stripes (in equal width) of red-yellow red. See photo, photo.
Aeronautica Naval (formed 1917) used same marking, but added an anchor on the rudder's yellow stripe.
Dov Gutterman, 24 Jun 2004
---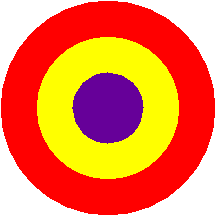 image by Frank George Valoczy, 04 Jul 2003
The República Espanola and changing of the flag in 1931 brought immediate change in the roundel and fin flash too. The inner disc and bottom stripe were changed to purple. Navy planes kept their anchor until Naval Aviation was dissolved in 1936. Wide red "identification stripes" were added to AF planes while Naval planes had narrower stripes.
Dov Gutterman, 24 Jun 2004
---
| | | | |
| --- | --- | --- | --- |
| Roundel 1936-193x | Roundel 193x-1942 |   |   |
| | |   |   |
| image by Eugene Ipavec, 03 Jan 2009 | image by Eugene Ipavec, 03 Jan 2009 |   |   |
This is a complex subject since many different roundels, fin markings and fuselage markings were used. Nationalist Wing roundels were usually plain black, to which later on a white saltire (reaching the edges) was added. Correct models can be seen at the www.aire.org website.
Roberto Pla, 04 Jul 2003
The 1936-1939 civil war was an aircraft-marking nightmare. Not only was the AME split into Republican and Nationalist air forces, foreign planes and aviators also took part in this "field test" of their new machines (the German Condor Legion and the Italian Aviazione Legionaria on the Nationalist side – Russian planes on Republican side).
In general: Republican AF planed used the former red-yellow-purple rudder stripes with narrow red identification stripes on fuselage and wing tips. The Nationalist AF used a white rudder charged with black saltire and black roundels (and some also use three black identification stripes on wing-tops). [cos 98] shows the black roundels charges with small white saltire (photo). Such and other markings were used on the black roundels, however, this was not the rule. The basic pattern was black roundel – see photo.
At http://www.zi.ku.dk/personal/drnash/model/spain/codes.html there is an article: "Codes and Markings" with review of Civil War markings; see also "Aircraft that took part in the Spanish Civil War" and Insignia's "Spanish Nationalist Air Force 1939-1952."
Dov Gutterman, 24 Jun 2004
---
| | | | |
| --- | --- | --- | --- |
| Pilot's Fuselage Marking | Falange Fuselage Marking |   |   |
| | |   |   |
| image by Frank George Valoczy, 04 Jul 2003 | image by Frank George Valoczy, 04 Jul 2003 |   |   |
These are fuselage markings, not wing roundels. The 'X' one is the personal marking of a pilot, something usual with fuselage markings, the other one tries to represent the Falange yoke and arrows which should be red.
Roberto Pla, 04 Jul 2003
At the end of the civil war in 1939, the new Ejercito del Aire (EdA) kept the Nationalist marking but charged the black roundels with red Phalanx symbol. Those marking appear at Jane's 1945.
Dov Gutterman, 24 Jun 2004
---
Roberto Pla, webmaster of the unofficial (but very good) Ejército del Aire website (Spanish Air Force) sent me some air force flags, basically unit colours which he photographed at the Spanish Air Museum. He mentioned that unadecuate light in the Museum produced greenish shades which he tried to correct. Summarized translation:
The three flags were made in the 1940's (early after the Spanish Civil War), since they display the former Air Force emblem (which was no longer used after the early 1950's) and the units named on the flags no longer exist.

Those showing the national colours (red-yellow-red) are estandartes [i.e. cavalry guidons, smaller than Army banderas or colours]. Since the Air Force was considered to consist of mounted units, it had guidons instead of colours. I seem to recall it was in 1980 when the first colour was granted to an Air Force unit, the MACOM or Mando Aéreo de Combate (Air Combat Command).
The first picture has the lettering Grupo de Escuelas de Levante (Eastern Group of Training Centres), Escuela Elemental Nº 7 [?] (Elementary Training Centre No. 7). Note that the flag displays the black saltire fin flash, whose origin is actually the Burgundy cross on Spanish military flags since 1506.
The second picture has the lettering Arma de Aviación (Air Force, former name), 2a. Brigada (2nd Brigade).
The third picture has the lettering Ejército del Aire (Air Force), Ala de Caza Bombardeo Nº 7 (Fighter Bomber Wing No. 7).
Santiago Dotor, 02 Feb 2001