This page is part of © FOTW Flags Of The World website
Harms (Shipping Companies, Germany)
Last modified: 2019-08-21 by

klaus-michael schneider
Keywords: harms | anchor | hook |
Links: FOTW homepage | search | disclaimer and copyright | write us | mirrors

---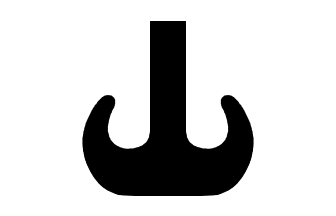 image by Eugene Ipavec, 19 Aug 2008
See also:
---
Harms Bergung Transport & Heavylift GmbH & Co. KG
Harms Bergung variant
This post concerns the black-on-white logo, a hook of some kind - as shown on this Seatowage page (about 1/3 down). None of the ships featured on this site seem to fly a flag of this design although of course the funnel is in evidence. Here is a table flag - source: German eBay offer no. 150278988963 (end 14 Aug 2008) put up by ?bundeszentralregister?; dimensions given as approx. 15cm x 25 cm.
Company website marked as UNSAFE by browser, in English (full name: Harms Bergung Transport & Heavylift GmbH & Co. KG<(b>): Founded in 1851 as Taucher (diving) Beckedorf, being "a world-wide operating independent company, Harms Bergung offer(ing) a broad range of maritime services. The core business focuses on the areas of offshore, sea towage, sea transports on pontoons, heavy lifts, salvage and CORREX(TM) treatment" (preventive antirust treatment) as stated on in the About us section.
The History section mentions Ulrich Harms taking a share in the company in 1951, becoming the owner of Harms Bergung in 1962; international expansion during the nineteen-sixties, owning all of Beckedorf by 1969. 1972 bought by Smit (NL) but retains name; 1997, named Smit International (Germany); bought by business partners Albrecht and Mayer who reestablish the name in 2001.
See this page marked as UNSAFE by browser for an impression of what Harms is able to do: Fleet page marked as UNSAFE by browser (I count nine tugs and three pontoons plus a projected, twin hull submersible barge, intended to be used for dry docking operations and heavy lift transportation of floating and non-floating cargo).
Jan Mertens, 18 Aug 2008
Dockers would usually carry over their shoulders a long, stout tapered stick with a hook very similar to that depicted on the flag. These hooks were either highly polished brass or black cast iron or steel. The docker would use the pole to tip the packing crate or whatever on its side, where two of his mates would use shorter poles with similar hooks to obtain a purchase or grip. This would enable them to shift the crate onto the shoulders of a third man, who would place it into a cargo net to be lowered into a ship's hold, or else they would manhandle the case out of the net and onto the dockside. I don't know what the hook is called, but there is obviously some sort of technical term. It was amazing to watch a crew of five or six dockers either load or onload a 15,000 ton freighter in the space of four hours. The hook on the flag obviously represents the company's expertise in handling bulky cargo.
Ron Lahav, 18 Aug 2008
Harms Bergung variant 2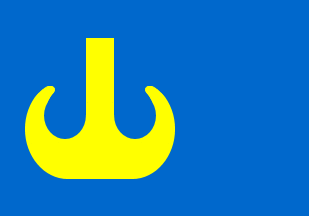 image by Eugene Ipavec, 19 Aug 2008

Harms company history mentions an episode during which Smit Tak, Dutch towage and salvage specialist, owned Harms 1972-2001 (under its own name till 1997, then, as I understand it, becoming the German branch of Smit International).
A German eBay offer recently featured a blue-and-yellow item. This was no. 150278989887 (end 14 Aug 2008), admittedly a table flag, put up by bundeszentralregister who explicitly refers to the Smit episode. Dimensions given as approx. 16 cm x 24 cm: There is the familiar object again, bundeszentralregister says it is an anchor. Now Smit International house flag is blue with a yellow symbol near the hoist: so the above is really a variant of Smits still clearly referring to Harms! Nicely done.
No photos of real usage found yet. In the meantime the question remains: when was the blue-and yellow flag introduced, since Loughran 1995 shows it ? somewhat altered ? in 1995?
Jan Mertens, 18 Aug 2008

Harms Bergung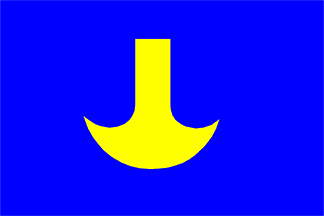 image by Jarig Bakker, 23 Nov 2005

Harms Bergungs G.m.b.H., Hamburg - blue flag, yellow axe with blade pointing to the bottom. (Bergung = salvage)
Source: Brown's Flags and Funnels Shipping Companies of the World, compiled by J.L. Loughran, Glasgow, 1995 [lgr95]
Jarig Bakker, 23 Nov 2005
---
H. F. Harms & Sohn

image by Klaus-Michael Schneider, 21 Aug 2019

Schleppschiffahrt H. F. Harms &am; Sohn, i.e. tugboat shipping, a company based in Hamburg. The flag was a blue-white-red horizontal tricolour like the civil flag of Schleswig-Holstein.
Source: Schnall funnel chart 1997
Klaus-Michael Schneider, 21 Aug 2019
---
J.Harms & Co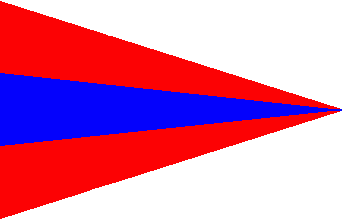 image by Klaus-Michael Schneider, 24 Apr 2012

The pennant is divided by converging stripes into red over blue over red.
Source: Gratis Beilage zu Deicken und Behrmann's Neuen Monatsheften Neue Ausgabe Sommer 1897
Klaus-Michael Schneider, 24 Apr 2012
---
Otto C. Harms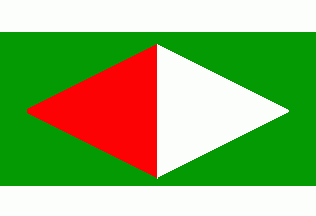 image by Klaus-Michael Schneider, 21 Aug 2019

Schutenvermietung Otto C. Harms, i.e. barge rental, a company based in Hamburg. The flag was black with thin horizontal yellow stripes. In the middle was a lozenge, vertically divided of red and white.
Source: Schnall funnel chart 1997
Klaus-Michael Schneider, 21 Aug 2019
---
Otto R. Harms
image by Klaus-Michael Schneider, 21 Aug 2019

Schutenvermietung Otto R. Harms, i.e. barge rental, a company based in Hamburg. The flag was green with white horizontal edges. In the middle of the green stripe was a lozenge, vertically divided of red and white.
Source: Schnall funnel chart 1997
Klaus-Michael Schneider, 21 Aug 2019
---
back to H-companies main page click here