This page is part of © FOTW Flags Of The World website
Haniel Reederei (Shipping Company, Germany)
Franz Haniel & Cie. GmbH
Last modified: 2019-08-07 by

klaus-michael schneider
Keywords: haniel | tricolour | rooster |
Links: FOTW homepage | search | disclaimer and copyright | write us | mirrors

---

image by Klaus-Michael Schneider, 29 Apr 2007
See also:
---
Haniel Reederei
It is a green over white over black horizontal tricolour.
I spotted this flag on a ship from Haren on 26 April 2007 in the Billwerder Bucht in Hamburg.
The skipper told me, that Haniel nowadays belongs to Imperial Group, located in Duisburg. I believe, that Imperial Goup is a holding, using the flags of former independent companies and using a plate at starboard and port instead of a flag, for I never watched an own houseflag of that group.
Klaus-Michael Schneider, 29 Apr 2007
I'm sure the Haniel house flag has already been presented to the list. Bad news however in this source from 2000, announcing the formal end of this old firm for 2004: "Haniel, a Duisburg firm existing since 1756, has been taken over by the South African company Imperial Holding Ltd. By 2004, the black - white - green house flag will no longer be seen on the Rhine."
On this site we learn that the Haniel Reederei GmbH was founded in 1972 and taken over 2000/2003 by Imperial Logistics International. New name since 1 June 2003: Imperial Reederei-Gruppe.
Jan Mertens, 22 Nov 2003
I have two questions:
- The company's flag is green-white-black. Sometimes the flag had a cock in the middle which is a wrong allusion to the German word "Hahn" (cock). Since when is this flag in use?
- Since when is it usual that shipping companies have their own house flags?
Daniela Stemmer, 25 Oct 2004
Sources The US Navy 1961, Flaggen der Binnenschiffahrt of 1973 and "Unvergessene Dampfschiffahrt auf Rhein und Donau" by Walter Michels in 1967, are the only records I have of a flag for Franz Haniel & Cie. GmbH and all show a plain tricolour of green over white over black with the last mentioned having a photo of the FRANZ HANIEL XXIII c.1913 flying a plain triband of this design but as it is black and white one can only assume that is the company flag flying from the foremast and there is another one at the rear of the wheelhouse which is probably the normal ensign. Hand written by the owner of US Navy are the comments that it was used for barges only with seagoing vessels using the flag of Oldenburg-Portugiesische Dampfschiff-Rhederei GmbH & Co. K.G. who managed such vessels going by Lloyds.
The barges seem to have ceased in the late 1960s, they show in Lloyds 1966-7 but my next one is 1970-1, when they are shown as operating one of their seagoing vessels, TAZACORTE with the rest still under O-P, but by 1973-4 this ship does not show and the rest are still under O-P, still showing the same in 1980-1 but by 1985-6 Haniel no longer appears in Lloyds. I assume from Michel's book that the flag dates well back, 1756 seems to be the formation date, but as my German is very basic I could be getting that wrong.
As far as when companies can have houseflags the answer is whenever they want them. Some small one ship companies have had quite eleborate designs even though they have quickly faded from the scene whilst other larger firms have never bothered. So there is no hard and fast rule. It all comes down to a means of identification and these days, advertising. The identification is the main thing being done mainly by the flag or the funnel. In this case the Haniel Elbe vessels seem to all have had plain black funnels so that just left the flag. As for how long it was used, I would guess that TAZACORTE was the last vessel to fly it but thereafter depends on what happened to the company. From your message it sounds like she is still an employee so that would mean they now have other interests.
Neale Rosanoski, 27 Oct 2004
---
History of the Company
The first Haniels history is aware of appear as merchants at Tournai (Doornik, now in Belgium) on the River Schelde, in the thirteenth century. In 1535, Protestant Haniels flee to Pomerania; around 1675, the first Haniel appears in the Rhine area. Brothers Jacob Wilhelm and Peter Friedrich establish themselves as wine sellers and forwarders at Duisburg in 1757. Four years later, Jacob Wilhelm marries Aletta, a daughter of Jan Willem Noort, an important forwarder and merchant in colonial wares, spirits, and everything else! The couple inherits Noort's house, firm, machines, and private canal to the Ruhr.
Jacob Wilhelm having died in 1782 his widow bravely went on (of the four surviving children, Franz, born in 1779, would become very famous). In 1792 Aletta cornered freight contracts for the primitive steelworks of the period e.g. cannon balls sold by the Dutch to Austrians and French alike. Another son, Gerhard, started out as coal merchant three years later, followed by Franz in 1800 active as trader, shipper, and warehouse owner. Both had vessels on the Ruhr.
Dynamic businessmen, our two brothers got involved in steelworks, buying up shares of various firms e.g. Hütte Gute Hoffnung. This led to transportation of ironware through the Netherlands. Unfortunately, high Dutch tariffs crippled that business which was countered by customs agreements between Prussia and other riverine states. Consequently, Franz extendied his enterprise by establishing warehouses and offices along the Rhine.
1816 saw the first steamship on the Rhine; by that time, eight important traders were established at Ruhrort: the Haniels of course, but also Stinnes, who was a bigger player. Ruhrort, by the way, was to receive a brand-new inland harbour. The important Preusisch-Rheinische Dampfschiffahrtsgesellschaft had steamships built in the Netherlands but Franz Haniel managed to follow the trend: his wharf launched its first ship in 1830. At one moment, the socially-conscious Haniel had towboats built simply to provide work for his men, and the bet paid off. Involvement in coalmines and steelworks continued.
Franz Haniel died in 1868 (preceded by his brother Gerhard and many children) to be succeeded by his son Hugo (till 1893). Five years later, the family-owned coalmines and steelworks merged to form Gutehoffnungshütte AG, including the shipyard at Ruhrort. (A substantial share of the famous OPDR shipping company taken on in 1842 would ultimately lead to complete ownership in 1941 which would last till 1995.)
Another important expansion was realized in 1913 when the V.F.R. (a conglomerate of local shippers, mainly from the Frankfurt area and including the Dutch firm Walsum) was taken over: the combined fleet now totalled about 170 vessels. A year after the retirement of Hugo's son Franz, which happened in 1916, the company would finally receive the household name, Franz Haniel & Cie GmbH, owned by Gutehoffnungshütte and various coalmines, in other words, no Haniel at the helm for a time.
After WW1, in 1919, part of the Rhine fleet went to France as war compensation, so Haniel suffered as well. The post-war economic crisis (inflation!) hit Germany hard and in 1923 French and Belgian troops occupied the Ruhr area to enforce war damage payments. One year later however the United States managed to redress the German financial system. Against this backdrop of events Haniel's decision to built the first motorized tugboats was certainly courageous. The old shipyard, closed in 1891, was re-opened at Walsum (Gutehoffnungshütte Ruhrwerft Walsum): it would become very important.
Rheinpreussen researchers managed to create coal-based synthetic oil in 1936 which led to Haniel's growing involvement in tankers and starting a petroleum filling stations chain, eventually sold off in 1965.
As could be expected, WW2 led to serious losses due to allied bombardments. Thanks to serious efforts Haniel managed to relaunch shipping and trading as well as the coalmines and steelyards. In fact a ship rebuilding programme was started in 1950; steam came to an end in 1953. Push navigation, introduced in 1965, proved to be very successful in transporting ore from Rotterdam to the Ruhr. In 1999, the Krupp inland shipping fleet (Reederei Krupp Binnenschiffahrt) was taken over.
This last move was meant to compensate for the losses the shipping company suffered because of the crisis in the coal and iron industry (the Haniel concern itself had diversified in the meantime). In 2000, 51% of the shipping department was bought by Imperial Holdings Ltd, a South African group, followed by a complete buy-out in 2003. By then Imperal owned Neska (Duisburg) and Schulte & Bruns (Dortmund) as well. While not the end of the Haniel concern, which lives on, this was the end of Haniel as a shipping company.
Jan Mertens, 22 Jul 2006
---
Haniel Variant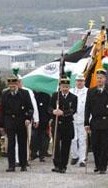 image sent by Jan Mertens, 26 July 2006

A photo showing a miners? religious procession (stations of the cross, in fact on a slag heap belonging to the Prosper Haniel site) has an interesting Haniel variant to offer: Haniel colours with black on top, this time, and of course white and green plus some symbol in the white stripe.

The colours are said to represent Rhein (green), Preussen (white and black), but the provincial flag for Rhineland was adopted rather late (1882), so I have my own little theory ? Prussian colours plus green representing the Gutehoffnungshütte (Foundry of Good H o p e) which we remember was part of the Haniel concern.

See the striking black flag with an orange "K" on the original photo representing Kolping, a Roman Catholic organization founded by the Blessed Adolph Kolping, but this one deserves a thorough message all to itself.
Jan Mertens, 26 July 2006
---
Haniel Green Flag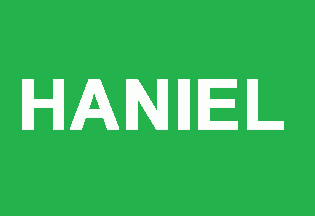 image by Klaus-Michael Schneider, 21 July 2012

It is a plain green flag with an inscription in white capitals: "HANIEL".
Source: I spotted this flag at Billwerder Bucht in Hamburg on 21 July 2007
Klaus-Michael Schneider, 21 July 2012
---
Haniel original Jack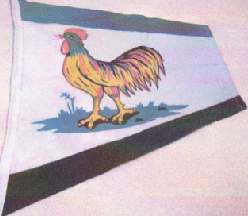 image by Klaus-Peter Bühne, 30 July 2019

The white pennant of the ships of haniel Rheinpreußen was shaped like a trapezium, had a thin green stripe on the top edge and a black one on the bottom edge. In centre was a coloured, canting rooster (German: Hahn) on green base, original size: 71 cm x 54 cm. Source: by courtesy of Klaus-Peter Bühne
Klaus-Michael Schneider, 30 July 2019
---
back to H-companies main page click here