This page is part of © FOTW Flags Of The World website
Students' Associations (Germany)
Burschenschaften/Studentenverbindungen(fraternities)
Last modified: 2017-11-11 by klaus-michael schneider
Keywords: burschenschaften | kahlafahne | wartburgfahne | frankonia | westfalen(arv) | slesvigia niedersachsen | rhenania | thuringia | normannia-nibelungen |
Links: FOTW homepage | search | disclaimer and copyright | write us | mirrors

---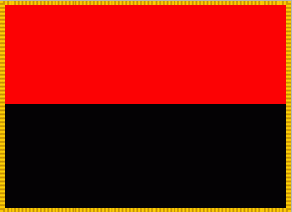 image by Klaus-Michael Schneider, 28 Jun 2012 On this page: See also:
---
Burschenschaften/Studentenverbindungen
The Burschenschaften or Studentenverbindungen (students' associations) have played an important role in German history — and the history of the German flag — around 200 years ago. Nowadays they are basically small, insignificant groups with (mostly) right-conservative, in some cases even right-radical, political opinion. There have been several scandals in Munich and the rest of Bavaria with NPD members being also member of one of the Burschenschaften. Although most of them are just conservative and not radical, the distinction is not always easy.
Important university towns, such as Heidelberg, have a lot of Burschenschaften. For instance, the two flags on this picture taken at Heidelberg belong to Frankonia (yellow-red-black-yellow) and Rhenania (blue-white-red) Burschenschaften. Sources: Frankonia website and Rhenania website.
Marcus Schmöger, 24 Jan 2002
There was an article not long ago by Jorge Hurtado in Gaceta de Banderas [gdb] with descriptions and images of very many Burschenschaften flags. An interesting subject.
Santiago Dotor, 24 Jan 2002
---
First Fraternity Flags from Jena
The flags of German students' associations are interesting for the German athletics movement insofar, as black, red and gold had been chosen as flag colours of the German student's association (Deutsche Burschenschaft). These colours gave inspiration to the current national flag , to the athletics movement and to many athletics clubs, which chose the same colours. After WW1 they were mocked as mere athletics' colours, because German conservatives preferred black, white and red. More details can be seen here
At the beginning of the 21st century it is considered an urban legend, that the national colours had been based upon the uniforms of the militia of Major Ludwig Adolf Wilhelm Freiherr von Lützow (1782 - 1834), a unit of volunteers. The members were mostly students of the Jena students' association "Vandalia".
---
Kahla Flag
The very first predecessor of all athletics flags and of the current national colours seems to be the so called Kahla-Fahne (Kahla flag), the flag of a Jena students' association. The ratio was approx 6:5. It was a red over black horizontal bicolour with golden edging at either side.
This flag had been flown only on two occasions: Probably on 18 Oct 1815, the day of the victory of the allied troops over Napoleon I at Waterloo, at Jena market square. Furthermore, and that's for sure, on 19 January 1816 on peace festival of Jena University, hoisted by the students themselves.
Source: Stiftung Haus der Geschichte der BRD (publisher): "Flagge zeigen?", p.28-30; ISBN 978-3-86678-224-2
Klaus-Michael Schneider, 28 Jun 2012
---
Wartburg Flag
(Wartburgfahne /image shows reverse)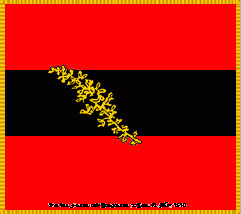 image by Klaus-Michael Schneider, 28 Jun 2012, (image shows reverse)

The ratio was approx 11:10. It was a red over black over red horizontal triband with ratio approx 8:7:8. In the centre of the flag was a golden branch of oak slightly exceeding the black stripe at both sides. The flag had a golden edging and at the bottom edge was a black inscription in Gothic Letters: "Von den Frauen und Jungfrauen zu Jena 31. März 1816" (= (dedicated by) the women and virgins of Jena, 31 March 1816)


image by Klaus-Michael Schneider, 28 Jun 2012
The Kahla flag was replaced by this model on occasion of Wartburg festival, which took place on 18 October 1817, dedicated to the 300 years anniversary of the death of reformator Martin Luther (died 31 October 1517). The flag was denoted as a "gift to the organized students of Jena".
It was this flag, which inspired the probably first flag of a German athletics club, the Hamburger Turnerschaft 1816.
It remains a mystery, why the colours red and gold of the Jena students association Vandalia, turned out black and red on the sheet of the flag. There are conjectures, that their colours together with the black, red of the Lützow militia preceded the German national colours.
It is also an urban legend that black, red and gold had been the colours of the former Holy Roman Empire. Those were indeed red and white. Since the 14th century they were overlayed by black and gold of Habsburg kin.
But in the heads of German people of the early 19th century these colours were also shining as those of the Eagle of the Holy Roman Empire, which appeared after the doom of the empire as a faint reminder on a brightful gloaming past.
In 1848 black, red and golden were adopted by the National Assembly, which held their meetings in Frankfurt's St.Paul's Church.
Source: Stiftung Haus der Geschichte der BRD (publisher): "Flagge zeigen?", p.28-30; ISBN 978-3-86678-224-2
Klaus-Michael Schneider, 28 Jun 2012
For further information click: here
---
Frankonia Burschenschaft

13:6


image by Jorge Candeias, 13 Feb 2005

Marcus Schmöger wrote 24 Jan 2002: For the Rhenania see here. For the Frankonia see the colours of their sash.
Since I'm (randomly and slowly) cleaning up my huge collection of stuff to GIF and I believe that this should be at FOTW, I made the GIF of the flag that Marcus identified as the flag of the "Frankonia" Burschenschaft.
Jorge Candeias, 13 Feb 2005
---
Akademische Ruderverbindung Westfalen
The Ruderverbindung(fraternity) is affiliated with the Akademischer Ruderverein "Westfalen" in Münster(rowing club). The are different entities due to terms of laws.
Fraternity Flag

image by Klaus-Michael Schneider, 01 Jan 2007

It is a light blue (FIAV-code B--) over white over blue (FIAV-code B) horizontal tricolour. This flag is called "Kneipfahne", which can't be really translated.
Source: club's website.
Ceremonial Flag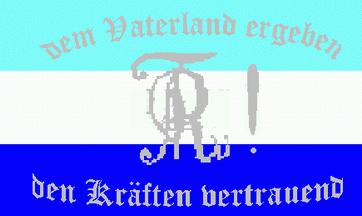 image by Klaus-Michael Schneider, 01 Jan 2007

It is the fraternity flag with the Zirkel in its centre in an "indicated" shield. This flag was destroyed in WWII. The new ceremonial flag also has a Zirkel in its centre surrounded by the fraternity's motto: "dem Vaterland ergeben den Kräften vertrauend" (devoted to our country trusting in our own forces).
Source: club's website
Klaus-Michael Schneider, 23 Dec 2008
---
AT Slesvigia Niedersachsen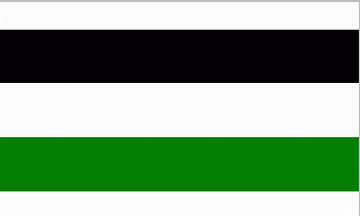 image by Klaus-Michael Schneider, 01 Jan 2007

Alte Turnerschaft Slesvigia Niedersachsen Hamburg-Königsberg im CC zu Hamburg shares its home with Corps Rhenania Hamburg at Johnsallee Hamburg .
Description of flag:
The ratio is perhaps 1:2. It is a horizontal 5 stripes flag ordered white-black-white-green-white. The ratio of stripes is 1:2:2:2:1. You may as well say, that it is a horizontal tricolour with white edge at top and bottom.
Source: I spotted flag and coat of arms on 3 April 2004 in HH-Rotherbaum

Klaus-Michael Schneider, 29 Aug 2008
---
Burschenschaft Normannia-Nibelungen

image by Klaus-Michael Schneider,

Normannia-Nibelungen Fraternity (Burschenschaft Normannia-Nibelungen)
The flag is a green over white over yellow horizontal tricolour. It is remarkable that the colours of the coat of arms are green, white and black instead of yellow.
Source: I spotted both, flag and coat of arms in front of the fraternity house in Bielefeld-Dornberg on 2 October 2011.
Klaus-Michael Schneider, 6 Sep 2012

Actually, the third color looks like brown, not black. It is in fact a poor rendering of gold colour, which is denoted as such in description of the fraternity Coat of arms - see herehere
Tomislav Todorovic, 6 Sep 2012
---
Corps Rhenania Hamburg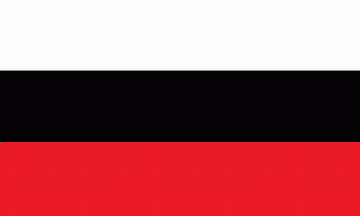 image by Klaus-Michael Schneider, 27 Aug 2008

Corps Rhenania Hamburg is member of the association WSC. The fraternities building is in Johnsallee Hamburg near Hamburg University main building.
There exists at least another Rhenania fraternity in Heidelberg, mentioned on FOTW. The colours are the same but the order of colours is different. So I don't know, whether they belong to the same organization. A member of ARV "Westfalen" told me, "fraternity" would be a good translation of "Studentenverbindung".
Description of flag:
The ratio is probably 3:5. It is a white over black over light red(R-) horizontal tricolour.
IB: I spotted flag and coat of arms on 23 February 2008 in HH-Rotherbaum
Klaus-Michael Schneider, 27 Aug 2008
Corps Thuringia Heidelberg

Image by David C Curran, 16 Jun 2003
I have been in Heidelberg Germany for over 15 years and just last week I saw a flag like the one attached. I thought it was the old Northern German Empire Flag, but then it's just the same as the Kamchatka Territory (Russia) upside-down. It was displayed on a flagpole projecting from the building (ratio 3:2) and also banner style from a freestanding pole (ratio 5:2). The building had the sign: Thüringen Corps. I still am trying to find out what that is or who they are. It doesn't seem to be a new organization. What do you know?
David C Curran, 16 Jun 2003
There is most probably a totally different solution, and the four-coloured flag (yellow-red-black-yellow) was the one that pointed to that for me. These are flags of Burschenschaften-Studentenverbindungen (students' associations). As Heidelberg is an important university town, there are also a lot of these Burschenschaften around. Each of these have their colour combinations (two, three or four colours), including rare colours such as pink in many cases. These colour combinations are displayed as sashes mainly, but also as striped flags on the buildings belonging to the Burschenschaft. The Burschenschaften had been playing an important role in German history (and the German flag's history) around 200 years ago.
The Studentenverbindung in this case is the "Corps Thuringia" (names are traditionally latinized, i.e. not "Thüringen" but "Thuringia"). On Das Corps Thuringia website you see their coat-of-arms, that displays the colours black-red-white (bendwise) in one quarter, as well as in a pennant.
Marcus E.V. Schmöger, 16 Jun 2003
---