This page is part of © FOTW Flags Of The World website
City of Dömitz (Germany)
Stadt Dömitz, Landkreis Ludwigslust-Parchim, Mecklenburg-Westpomerania
Last modified: 2017-11-11 by german editorial team
Keywords: doemitz | rueterberg | rueterberg dorfrepublik | castle | knight |
Links: FOTW homepage | search | disclaimer and copyright | write us | mirrors

---
See also:
---
Current Flag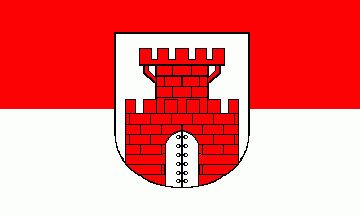 3:5, image by Klaus-Michael Schneider, 15 Oct 2011

Description of current flag:
The flag's ratio is 3:5. It is a red over white horizontal bicolour. The coat of arms is in the centre of the flag.
Source: Günther 1999, p.16-29
Klaus-Michael Schneider, 15 Oct 2011
Coat of arms
Description of coat of arms:
In a silver (=white) shield is a red fortress masoned black with a closed silver (=white) gate. The fortress consists of an embattled wall topped by an embattled tower.
Meaning:
The city had an important fortress for centuries. This is probably symbolized by the coat of arms.
Klaus-Michael Schneider, 29 Aug 2011
Sources: Stefan Schwoon's database and Ralf Hartemink's webpage
According to Günther 1999 the flag was approved in August 1996 officially but was in use even earlier.
Borough of Rüterberg (until 2004)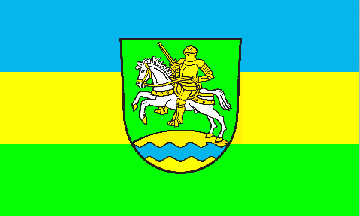 3:5, image by Klaus-Michael Schneider, 15 Oct 2011

Description of municipal flag (until 2004):
It was a celestial blue over yellow over light green horizontal tricolour. The coat of arms was in the centre of the flag.
Description of coat of arms:
The shield is light green and has a golden (= yellow) embowed base superimposed by a celestial blue, wavy fess and symbolizing a hill with creek. Upon the hill, mounted on a silver (=white) prancing horse there is a golden (=yellow) knight in full armour with a sword and bridles of the same colour.
Meaning:
Due to a legend, the knight should have jumped on horseback all over river Elbe from Rüterberg hill in order to free the village from robbers.
Source:WIKIPEDIA
Village Republic of Rüterberg (Dorfrepublik Rüterberg)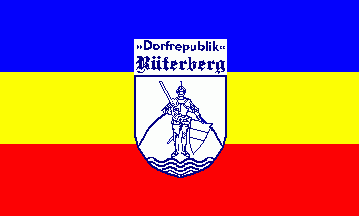 3:5, image by Klaus-Michael Schneider, 15 Oct 2011

Introduction:
Taylor Hans Rasenberger on 24 October 1989 applied for an assembly of the inhabitants, which was according to the laws reported to the ministry of state's sexurity (STASI). The assembly was permitted on 8 November 1989. The 90 inhabitants, delegates from Ludwigslust county and observers from police and border troops took part in the assembly.
Rasenberger presented to them a declaration, claiming a village republic having own laws and being no longer being no longer domineered by DDR government. The inhabitants decided the foundation of a village republic concordantly. The reason was the nearly complete isolation of Rüterberg, not only completely from the BRD but also from the DDR.
One day later, the Berlin Wall fell down and the isolation was broken.
On 14 July 1991 the municipality of Rüterberg was entitled by the minister of interior of Mecklenburg-Vorpommern to add the title "Dorfrepublik 1961-1989" on the nameplates at its boundaries. In 2001 the inscription was replaced by "Dorfrepublik 1967-1989". This remained valid until 21 October 2002. In 2004 the municipality of Rüterberg was incorporated into the city of Dömitz.
Source: Stefan Schwoon's database
Description of "republican" flag:
It was a blue over yellow over red horizontal tricolour. The coat of arms was in the centre of the flag. The shield was upon the red and yellow stripe. The inscription above the shield was upon the blue stripe.
Description of coat of arms (version upon flag):
The shield has a wavy base topped by a hill. In front of the hill stands a knight in full armour holding in his hands a sword and a shield divided twice per fess. Above the shield is an inscription: " Dorfrepublik (between inverted commas, 1st line) Rüterberg (bigger, Gothic, 2nd line.)
Meaning:
The colours were those of the former flag of Mecklenburg. Knight, hill and waves also appear in the coat of arms of the municipality. The draft was made bei /Detlev Rasenberger/, the son of Hans, in 1980. A photo of that flag in B/W can be seen here
Klaus-Michael Schneider, 15 Oct 2011