This page is part of © FOTW Flags Of The World website
Landesbund der Gartenfreunde Hamburg (Germany)
Hamburg Allotment Gardeners Association
Last modified: 2012-07-21 by klaus-michael schneider
Keywords: landesbund der gartenfreunde hamburg | lbg | rv kleingartenvereine deutschlands | hamburg | coat of arms(hamburg) | gardener | spade | seedling |
Links: FOTW homepage | search | disclaimer and copyright | write us | mirrors

---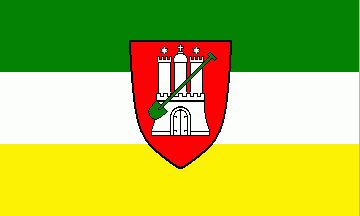 image by Klaus-Michael Schneider, 18 Mar 2007
---
See also:
---
Landesbund der Gartenfreunde Hamburg e.V.
Brief history
There already existed allotment gardens before 1895. But it was April 1907, when for the very first time the Patriotic Society of 1765 (German: Patriotische Gesellschaft) tenured land for gardening from the City of Hamburg, which was afterwards called "family gardens of the Patriotic Society". In 1914 the existing 14 gardening-clubs formed an association, the "Verband Hamburger Schrebervereine" (rough translation: association of Hamburgs allotment clubs). Chairman was Heinrich Mittgard. As there was lack of food in WW1 another association was founded in order to self-supply the people of Hamburg with fruit, veges, herbs and potatoes. Their chairman was Rektor Trost and the association was called "Kleingartenbund Hamburg" (rough translation: union of small gardens in Hamburg). Both associations merged on 28 December 1918 forming the "Schreber- und Kleingartenbund Hamburg" (rough translation: allotment and small gardens union Hamburg), having 14 clubs as members.
On 31 July1919 a law about allotment gardening was introduced (German: Kleingarten- und Kleinpachtlandordnung). This caused chaos in the scene. The boards feeled restricted and left the association. After a "Reichsverband der Kleingärtner", some kind of all-German allotment gardeners association, was founded on 14 August 1921, there was also established its local branch der "Gauverband Hamburg". This made the chaos even bigger, bacause there existed three associations 1)"Schreber-und Kleingartenbund Hamburg"(Gauverband) with 66 clubs, 2)"Gemeinützige Freie Vereinigung Hamburger Kleingärtner e.V."(the former Patriotic Society) with 14 clubs and finally 3)"Hamburger Kleingartenbund e.V." (the rebels under Trost) with 17 clubs. Nevertheless on 26 September 1922 the "Schreber- und Kleingartenbund Bezirksverband Hamburg" (rough translation: allotment and small gardens district association Hamburg) was established. Chairman became Max Heimann. The association had local associations in Hamburg, Wandsbek, Altona, Wilhelmsburg and Harburg and all in all 116 clubs belonged to the new association. On 26 June 1945 Paul Brando became chairman of an association of meanwhile more than 300 clubs. He reestablished on 15 September 1945 the "Landesbund der Kleingärtner e.V." with 10 district associations. It was the predecessor of todays organization.
Flag of LBG
The Landesbund der Gartenfreunde (literal translation: association of garden's friends in Hamburg is an umbrella organization of Hamburgs allotment gardeners club and has its own flag. The ratio is 3:5. On their webpage there are no images of the flag, but at least flags are offered with measurements as follows: 90cm x 150cm. This means, the association's flag must have ratio 3:5.It is a green over white over yellow horizontal bicolour. In the centre is the (small) coat of arms of Hamburg superimposed by a green sinister bendy spade.
Source: I spotted this flag in a garden in Hamburg-Billwerder on 9 December 2006.
Klaus-Michael Schneider, 18 Mar 2007
For further information click: association page.
Description of flag:
Logo of LBG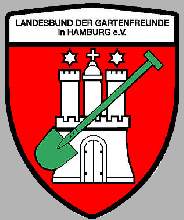 image located by Marcus Schmöger, 12 Jul 2007
Variants
As for the variation, I've seen all variations. All images tinkered from image by Klaus-Michael Schneider; the arms, where used, are a rescaled and modified version of those by Marcus Schmöger. It's a complete set, as far as I'm aware of.
Peter Hans van den Muijzenberg, 15 Sep 2008
Variant with Castle only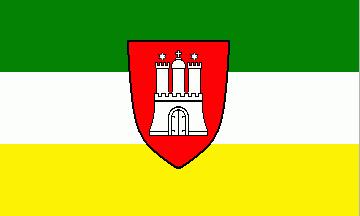 image by Peter Hans van den Muijzenberg, 15 Sep 2008

LBG flag with shield bearing the smallest arms of Hamburg.
Peter Hans van den Muijzenberg, 15 Sep 2008
Variant with Spade only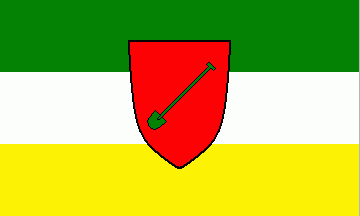 image by Peter Hans van den Muijzenberg, 15 Sep 2008

LBG flag with red shield bearing a green spade.
Peter Hans van den Muijzenberg, 15 Sep 2008
Plain Variant

image by Peter Hans van den Muijzenberg, 15 Sep 2008

LBG flag without shield (plain tricolour).
Peter Hans van den Muijzenberg, 15 Sep 2008
Variant with 'German Gold'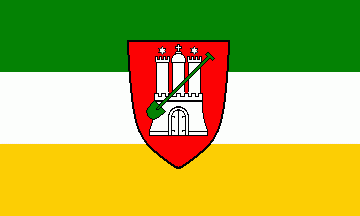 image by Klaus-Michael Schneider, 15 Jul 2012

Due to newer observations a few flags have a 'German Gold' stripe at the bottom instead of the usual citric shade. Klaus-Michael Schneider, 15 Jul 2012
---
Reichsverband der Kleingartenvereine Deutschlands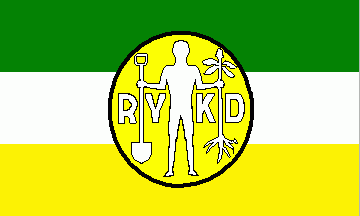 image by Jan Mertens, 4 Jan 2009, exported to GIF by Klaus-Michael Schneider

Read about it here:
Frank Towet writes (translated):
"The allotment garden flag colours were first determined at the second national allotment gardeners' gathering at Bremen on 14 Aug 1921. Dr. Pauly, an official of the Prussian Welfare Ministry, suggested (...) green for hope, yellow for joy of living and white for impartiality." Special thanks to Bernhard Rieger, who found this information after intensive research.
Source: Museumsführer des Deutschen Kleingärtnermuseum (brochure of the German Allotment Garden Museum).
Homepage of this museum, at Leipzig (English summary):here
Flag with symbol of above association, Reichsverband der Kleingartenvereine Deutschlands, p. 7/74 of pdf file:here, banners on p. 22/74 and 23/74.
Current Schrebergarten-Verein (Association of Allotment Gardens), showing a flagoid (the three-striped flag, defaced): here. It seems the green stripe ought to be on top.
Jan Mertens, 15 Sep 2008

Based on message from 15 Sep 2008 flag with symbol of above association, Reichsverband der Kleingartenvereine Deutschlands, p. 7/74 of above pdf file: Founded in 1921, this "National Federation of the Allotment Garden Clubs of Germany" flew a flag horizontally divided green-white-yellow, bearing a large yellow disk in the centre, outlined black, with a male silhouette (gardener) holding a spade and a seedling of a tree between white initials R / V / K / D, all white.
The federation was put on a Nazi footing in 1933 and refounded after WW2 (1949) as "Verband deutscher Kleingärtner" (Federation of German Allotment Gardeners).
Jan Mertens, 4 Jan 2009
---
back Index of all Hamburg flags click here