This page is part of © FOTW Flags Of The World website
Wandsbek District of Hamburg (Germany)
City of Wandsbek (until 1937) - today a district (Stadtbezirk) of Hamburg
Last modified: 2020-04-28 by

klaus-michael schneider
Keywords: wandsbek | bergstedt | swan | messenger | church | oak(twig) |
Links: FOTW homepage | search | disclaimer and copyright | write us | mirrors

---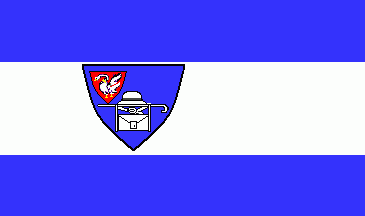 approx. 7:12 image by Klaus-Michael Schneider, 12 Aug 2011 See also:
---
Introduction
Wandsbek is located at Wandse creek, which gave the city its name. It was a small city in Stormarn county belonging to Denmark until 1864, later Prussian. Finally the city was incorporated into Hamburg on 1 April 1937.
Klaus-Michael Schneider, 12 Aug 2011
Former Wandsbek City Flag
It is a light blue over white over light blue triband with ratio of stripes approx. 2:3:2. The coat of arms is in the white stripe and shifted to the hoist.
Source: Filing card no. T 1221 of Hamburgmuseum
Klaus-Michael Schneider, 12 Aug 2011
Former Wandsbek City Coat of Arms
In a blue field is a bag for letters accompanied by a walking stick placed horizontally and a hat, all elements in silver (= white). In the dexter chief point is a red inescutcheon showing a silver (= white) swan armed golden (= yellow) and wearing a coronet of the same colour around its neck.
Meaning:
Bag, hat and stick are attributes of a messenger. The ensemble alludes to the "Wandsbeker Bote" ( messenger of Wandsbek), a local newspaper from the 18th century. The academic part, i.e. the last of four pages was maintained by German poet Matthias Claudius (1740-1815). The shield with swan is symbolising the counts of Stormarn, the former rulers.
Source: Filing card no. T 1221 of Hamburgmuseum
Klaus-Michael Schneider, 12 Aug 2011
---
Bergstedt Borough
Bergstedt Flag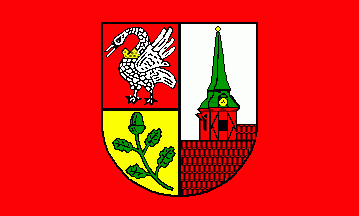 3:5 image by Klaus-Michael Schneider, 27 Apr 2020

It is a red flag with centred arms.
Source: Rainer Jacobs spotted this flag in 2019 in Bergstedt.
Klaus-Michael Schneider, 27 Apr 2020
Bergstedt Coat of Arms
Shield parted per pale, at dexter parted per fess, above Gules swan combatant Argent, wearing a golden coronet around the middle of his neck, beneath Or an oak twig Vert with four leaves and one acorn.
Meaning:
Bergstedt was first mentioned as Bericstede in 1248. The name has nothing to do with a mountain (German: Berg). It is based on its Saxonian founder named Beric. The 2nd syllable "-stedt" means a fortified Saxonian settlement. In 1345 the Wedel kin pawned the village to the Chapter of the Hamburg Cathedral. In the 16th century it was acquired by the Dukes of Holstein-Gottorp. Between 1750 and 1773 it was pawned to Hamburg. In 1867 it became part of the meanwhile Prussian Stormarn County. Finally it became a part of Hamburg in 1937. The quarter above right displays the arms of Stormarn, to which Bergstedt historically belonged. The church is a representation of the local parish church, dedicated to St. Mary and St. Willehad, born 745 in Northumbria, and later being Bishop of Bremen and missionary of Frisians and Saxons. The Parish of Bergstedt existed since about 1150. The church is one of the oldest churches of Hamburg and was built in 1256 by a then Abbot of Stade and Vice-Bishop of Hamburg, whose name is unknown. The oak twig is stressing that Bergstedt belonged to the "villages in the woods " (German: Walddörfer). Acorn and leaves probably are representing the single villages, those were Volksdorf, Wohldorf-Ohlstedt, Bergstedt, Lemsahl-Mellingstedt and Duvenstedt. They formed a proper local district (Ortsamt) until 2007, when the local districts were abolished.
The flag is used by the residents of Bergstedt unofficially. Its colour is that one of the Hamburg flag. Source: "Hamburg Lexikon", Hamburg 1998, ISBN 3-9805687-9-2, pp.65, 515
Klaus-Michael Schneider, 27 Apr 2020
---
back to Index of all Hamburg pages click here.