This page is part of © FOTW Flags Of The World website
Rheinisch-Bergisch County (Germany)
Rheinisch-Bergischer Kreis, Nordrhein-Westfalen
Last modified: 2020-05-23 by

klaus-michael schneider
Keywords: rheinisch-bergischer kreis | per pale | chief | lion(red) | crowned | bend wavy | counterembattled | chevronel(wavy) |
Links: FOTW homepage | search | disclaimer and copyright | write us | mirrors

---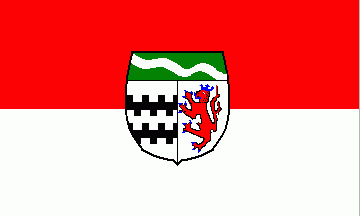 3:5

image by Klaus-Michael Schneider, 22 June 2011 See also:
---
Rheinisch-Bergisch County
Brief History
The Counts of Berg were rulers of the region since the 11th century. The resided in nowadays Altenberg since 1133 and later on in Burg a.d. Wupper. When Engelbert II., who was not only Duke of Berg but also Archbishop of Köln, had been killed, the kin of Berg died out. The region was next ruled by the Dutch Counts of Limburg, followed by the houses of Jülich, Kleve, Pfalz-Neuburg and Pfalz-Sulzbach.
On 1 January 1806 the Duchy of Berg was ceded to France. Duke Maximilian Josef became as a compensation Marquess of Bayreuth and Burgrave of Nürnberg and was later appointed as Bavarian King by Napoleon I. of France. Berg became Grand-Duchy of Berg together with some other regions on the Rhine's east bank, i.e. a French puppet state.
The Congress of Vienna decided on 31 May 1815, that the Bergian dominions should be incorporated into Prussia. The counties of Mülheim/Rhein, Wipperfürth, Solingen and Opladen were established. Opladen county was incorporated into Solingen county on 30 October 1819.
The counties of Solingen and Lennep survived until 1929, although several changes of the boundaries had been made before. Due to industrial development both counties were dissolved in 1929. Some municipalities became part of Remscheid county, others remainded in Solingen county, The city of Ronsdorf became part of the newly formed city of Wuppertal.
The other municipalities left became part of the new Rhein-Wupper Kreis.
The seat of Mülheim county, Mülheim/Rhein became a county-free city on 1 May 1901 and part of Köln on 1 April 1914. The former Rheinisch-Bergischer Kreis was built on 1 October 1932, when Wipperfürth county and the rest of Mülheim county had been united.
On 1 January 1975 the current county was established uniting parts of the former county and parts of Rhein-Wupper county.
Source: county's webpage
When the Rhein-Wupper County was dissolved on 31 December 1974, its territory was split between the neighbouring entities, the major part with four municipalies was transferred to Rheinisch-Bergisch County , one municipality to Oberbergisch County, two municipalities to Mettmann County, two municipalities were incorporated into Leverkusen City, one into Solingen City and one into Remscheid City.
Klaus-Michael Schneider, 22 June 2011 / 23 May 2020
Rheinisch-Bergisch County Flag
It is a red over white horizontal bicolour. The coat of arms is in the centre of the flag.
Source: §2 of Hauptsatzung of Rheinisch-Bergischer Kreis, version 29 October1999
Klaus-Michael Schneider, 22 Jun 2011
Rheinisch-Bergisch County Coat of Arms
Chief is divided a bend wavy Argent, shield ipart per pale, at dexter Argent a pair of bars embattled-counterembattled (German: Wechselzinnenbalken) Sable, at sinister Argent a lion rampant Gules, crowned, armed and tongued Azure.
Meaning:
The wavy bend is symbolising the Rhine. The lion is representing the Counts of Berg, rulers since 13th century. The bars are also representing this kin, but it is an older symbol from 11th century, a horsemen's ensign. The county was formed by merging of the former counties of Mülheim/Rhein (today a part of Köln) and Wipperfürth in 1932.
Source: Stadler 1964, p.76
Klaus-Michael Schneider, 22 June 2011
The coat of arms was approved on 23 February 1938 by Prussian Minister of State and confirmed on 8 September 1976 by distict governor (Regierungspräsident) of Köln.
---
Rhein-Wupper County
Rhein-Wupper County Flag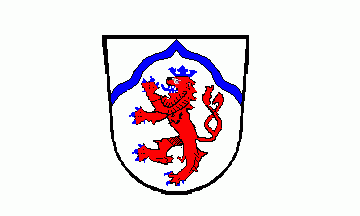 3:5

image by Klaus-Michael Schneider, 23 May 2020

It was a white monocolour with centred arms.
Source: letter from NRW Main State Archive to Falko Schmidt on 9 November 1999
Klaus-Michael Schneider, 23 May 2020
Rhein-Wupper County Coat of Arms
Shield Argent, a lion rampant double queued Gules, crowned, armed and tongued Azure under a chevronel wavy Azure.
Meaning:
The chevronel is a representation of the name giving rivers Rhine and Wupper. The lion is the heraldic animal of the Dukes of Berg.
Source: Stadler 1964, p.77
Klaus-Michael Schneider, 23 May 2020
The flag was approved on 17 May 1957 by Minister of Interior of Nordrhein-Westfalen, the arms on 4 December 1937 by Prussian Minister of State. The symbols were abolished on 31 December 1974.
Klaus-Michael Schneider, 23 May 2020
---
back to index of Northrhine-Westphalia county-free cities and counties page click here