This page is part of © FOTW Flags Of The World website
Hamburg Citizens' Sentinels (1810 - 1815)
Flaggen der Hamburger Bürgerwache anlässlich der ersten Befreiung
Last modified: 2017-11-11 by klaus-michael schneider
Keywords: militia | buergerwache | st. catherine | st. james | st. nicolas | st. michael | st. peter | chain | hamburg greater arms |
Links: FOTW homepage | search | disclaimer and copyright | write us | mirrors

---
See also:
---
Introduction:
Dead, but not buried, that was the situation of the sentinels since the middle of the 18th century. C.F. Gaedechens describes the sentinels as defunct since then. Professional instructors were made redundant because the people of Hamburg were not willing to defend their city. When French forces occupied the city on 19th November 1806, there had been no resistence and the service was finished, but the citizens kept their weapons.
Despite of the bad reputation the French occupants a few times had the funny opinion to use the sentinels in order to defend the city. First in 1809, when the French had to follow the irregulars of Major Ferdinand von Schill. When in 1813 anti-French riots broke out, 13 companies were raised again in order to restore the (French) law and order.
Officially the sentinels had been dissolved in December 1810, when Hamburg was incorporated to the French Empire. In 1811 due to a French decree all the weapons had to be handed over to the French. After the so called 1st liberation, when Russian troops commanded by Tettenborn conquered Hamburg, the sentinels were rearmed on 12 March 1813 but just to be disarmed again and been disbanded on 30 May 1813, when the French had come back. After the final (2nd) liberation on 30 May 1814 the sentinels and the citizens' guard (Bürgergarde), which had been created in 1813, were reestablished. On 15 June 1814 the sentinels had to overtake all guard houses again from the citizens' guard.
The attempts of the city to establish an effective military instrument,consisting of young men besides the sentinels, failed due to the resistance of their civic captains being afraid to lose their privileges.
On 10 September 1814, the city council and the city parliament decided to establish a new citizens' militia. On 26 October 1814 was announced that due to the fire rules from 1626 every man had to do his duty in the militia. Finally on 22 January 1815 the sentinels were replaced by the new citizens' militia. The civic captains and their widows gained lifelong pensions.
Source: C.F.Gaedechens: "Hamburgs Bürgerbewaffnung - Ein geschichtlicher Rückblick", Hamburg 1872; p.20ff
Klaus-Michael Schneider, 14 May 2012
In 1811 also the flags had to be handed over. Some flags were hidden successfully. The French brought the rest to Magdeburg and later on to Wesel. There they had been captured by the Prussians in 1813, who brought them to the Berlin Armoury. Prussia gave back the flags to Hamburg in 1863 (or 1868). The flags in this page were granted after the so called 1st liberation.
---
St. Peter 9th company flag of 1813 (Petriregiment)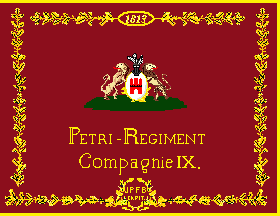 image by Klaus-Michael Schneider, 12 Apr 2012

Description of flag:
The ratio is approx 1:1(acc. to filing card, not to evidence). It is a red flag, nowadays looking brown. In the centre on a green hill is the coat of arms of Hamburg (red castle on white, oval shield) supported by two lions reguardants in natural colour. On top of the shield is a helmet in natural colour (grey shades crested with plumes).
The flag has a thin golden bordure at three edges. An ornament of golden oak leaves is surrounding the ensemble near the edges. In the middle of the top end in golden numbers the year "1813" is written in a goldn oval. In the middle of the bottom end is a golden inscription "J.P.F.B. Capit:" surrounded by a golden wreath of oak leaves.
Source: photo on filing card no. 1909,69 E.b. of Museum für hamburgische Geschichte
Klaus-Michael Schneider, 12 Apr 2012
---
St.Nicolas Regiment, 3rd company, 1813 (Nicolairegiment)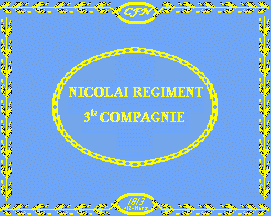 image by Klaus-Michael Schneider, 24 Apr 2012

Description of flag:
The blue silk today is nearly white. The ratio is according to filing card approx 11:13. The flag has a bordure of golden oak leaves. In the middle in a chain shaped like an oval is a golden inscription in capitals "Nicolairegiment"(1st line) "3. Compagnie"(2nd line). In small ovals at the edges are golden inscriptions "CFN" (top central, initials of a captain) and "1813 den 12ten März"(bottom central).
Source: Museum für hamburgische Geschichte, filing card no.AB II 451
Klaus-Michael Schneider, 24 Apr 2012
---
St. Nicolas 5th company flag of 1813 (Nicolairegiment)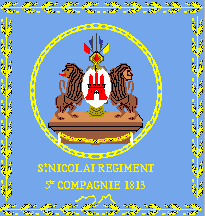 image by Klaus-Michael Schneider, 13 Oct 2009

Description of flag:
The ratio is approx 13:12. It is a very light blue flag. The flag has a bordure of golden oak leaves. In the centre is a coat of arms of Hamburg (red castle in white field, the whole topped by a helmet crested with flags and feathers of peacock). Two rampant reguardant lions in natural colour are the supporters, the one at hoist side is tongued red. The ensemble is slightly shifted to the hoist, placed upon a pedestal and surrounded by a golden chain. Beneath the pedestal is an inscription in golden Antiqua "NIKOLAI REGIMENT" (1st line) and "5te COMPAGNIE" (2nd line).
Source: Museum für hamburgische Geschichte, filing card AB II 452 M 452.
Klaus-Michael Schneider, 13 Oct 2009
---
St. James 4th company flag of 1813 (Jacobiregiment)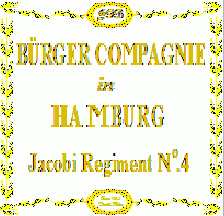 image by Klaus-Michael Schneider, 12 Oct 2009

Description of flag:
The flags ratio is approx. 11:13. It is a white flag with a bordure of golden oak leaves and acorns. In the middle of the top is a golden oval containing the golden initials "J.G.B.", it is not sure, to whom the initials belong. In the middle of the bottom is another oval containing the inscription "Anno 1813, den 12ten März". In the middle is a golden inscription "BÜRGER COMPAGNIE" (1st line, golden capitals), "in" (2nd line, golden Italics), "HAMBURG" (3rd line, golden capitals) and finally "Jacobi Regiment No.4" (4th line, golden).
Source: Museum für hamburgische Geschichte, filing card AB II 479 M 479.
Klaus-Michael Schneider, 12 Oct 2009
---
St. Michael 4th company flag of 1813 (Michaelisregiment)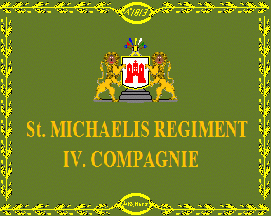 image by Klaus-Michael Schneider, 11 Jul 2013

Description of flag:
According to source the ratio is approx 4:5. It is an olive green flag. The flag has a golden bordure of oak leaves. Within the bordure are two ovals of the same colour with golden inscriptions. In the middle above the inscription is "Ao. 1813"; in the middle below "den 18. März". In the centre of the sheet are the Greater Arms of Hamburg, shifted to the top. In a silver (= white) shield is a red Hamburg castle. The shield stands on a greyish pedestal with three levels and is supported by two lions rampant, guardant, probably golden. The shield is topped by a helmet, which is crested by five flags in the colours of the five parochial regiments and some peacock feathers. Beneath the arms is a golden inscription, mostle in initials as follows: "St. MICHAELIS REGIMENT" (1st line; slightly bigger) "IV. COMPAGNIE" (2nd line). The flag is a donation of Christian Neumann, a descendant of the company's civic captain having the same name. Please note that the colours of the arms have turned out very pale. Thus their colours are not completely for sure.
Source: photo provided by Gudrun Hildebrandt, description based on filing card no. ABII 488 of Museum für hamburgische Geschichte
Klaus-Michael Schneider, 11 Jul 2013
---
St. Michael 9th company flag of 1813 (Michaelisregiment)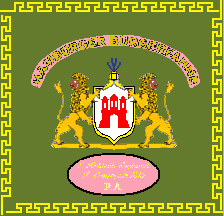 image by Klaus-Michael Schneider, 13 Oct 2009

Description of flag:
It is a squarish olive green flag. The flag has a bordure of golden meander ornaments. In the centre is a coat of arms of Hamburg (red castle in white field, the whole topped by a helmet crested with flags and feathers of peacock). Two rampant reguardant lions in natural colour, tongued red are the supporters. The ensemble is topped by an embowed pink ribbon containing an inscription of golden capitals "HAMBURGER BÜRGERFAHNE". Beneath the ensemble is a pink oval containing a golden inscription: "St.Michaelis Regiment, 9te Compagnie, 1813, P.A."" It is not known, to which civic captain the initials belong.
Source: Museum für hamburgische Geschichte, filing card AB II 487 M 487.
Klaus-Michael Schneider, 13 Oct 2009
---
back to Hamburg citizens' sentinels main page click here
---