This page is part of © FOTW Flags Of The World website
Command and Rank Flags of the Army 1933-1945 (Germany)
kommando-, rang- und unterscheidungszeichen
Last modified: 2013-12-02 by pete loeser
Keywords: rank | commander in chief | field marshal | army group | swastika | cross: swastika (white) | iron cross | cross: formy (black) | eagles: 4 | bordure (red) | batons: crossed | eagle (gold) | bordure (faceted) | bordure (gold) |
Links: FOTW homepage | search | disclaimer and copyright | write us | mirrors

---
On this page
See also:
---
Introduction
In connection with these German Army command flags, here is some info on World War Two nomenclature:
Heeresgruppe/Army Group

Usually 3-5 armies under a senior commander (field marshal or colonel-general), could be named or lettered, e.g. Heeresgruppe Nord, Heeresgruppe B.

Armeegruppe/Group of Armies

An ad hoc command arrangement whereby the headquarters of one army was subordinated to the headquarters of another army, usually took the name of the commander, e.g. Armeegruppe Fretter-Pico.

Armee/Army.

Usually 3-5 corps under a colonel-general or a full general, almost always numbered, e.g. Second Army, Fifth Panzer Army.

Armeeabteilung/Army Detachment

Another ad hoc command arrangement, whereby one corps headquarters was subordinated to another or extra units were placed under the control of a corps headquarters, usually named for its commander, e.g. Armeeabteilung Kempf.

Korps/Corps

The German Army's principal tactical headquarters, usually controlling 3-5 divisions, typically commanded by a lieutenant general, main types were infantry, Panzer, mountain, e.g. I Corps, XIV Panzer Corps.

Division

As in other armies, the smallest formation capable of operating as a self-contained unit, main types included infantry, Panzer, Panzer Grenadier, mountain, light, could be named or numbered, e.g. Panzer Division Grossdeutschland, 369th Infantry Division, usually commanded by a major general.
Tom Gregg, July/September 1998
---
Shade of Grey on Car Command Flags and Pennants
The "light blue" color Norman Martin cites for the generals' and other officers' car pennants was actually field gray [feldgrau] — the light gray-green color of the German Army uniform tunic. Prewar uniforms, particularly those of officers and troops of ceremonial units, were quite close to the color depicted by the illustrations of the pennants and the field marshal's car flag. Uniforms produced after the start of the war were made with cheaper cloth that was darker and greener in color.
Tom Gregg, 14 June 2000
---
Flag of the Chief of the Army Command 1932?-1935?
Flagge des Chefs der Heeresleitung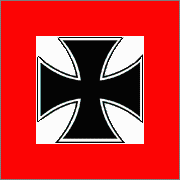 1:1 Image by Tom Gregg
Red square flag with a white square at its center. In the square a white bordered Iron Cross, with [its] arms extending to the edge of the white square. The height of the square is 4/9ths of that of the flag. Similar to the Imperial Naval Inspector General's flag except for having a wider red border. Used 1932?-1935?. A black and white version is given in Davis 1975.
Norman Martin, 1998
---
Flag of the Commander-in-Chief of the Army 1935-1941
Flagge des Oberbefehlshaber des Heeres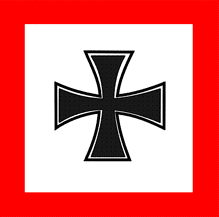 1:1 Image by Jaume Ollé
A square white flag with a red border, in the center a black-white bordered black Iron Cross. Illustrated in Flaggenbuch 1939, pl. VI and Davis 1975, p. 84. Replaced the Flag of the Chief of the Army Command in 1935.
Norman Martin, January 1998
In 1941 Hitler made himself Commander-in-Chief of the Army, in the wake of the Soviet winter counteroffensive which resulted, among other things, in the dismissal of the previous Commander-in-Chief, Field Marshal von Brauchitsch. Thus the above flag became redundant at that time — though technically, I suppose, Hitler would have been entitled to use it.
Tom Gregg, 18 December 1997
---
Flag of the Army Chief of Staff 1944-1945
Kommandoflagge für den Chef des Generalstabes des Heeres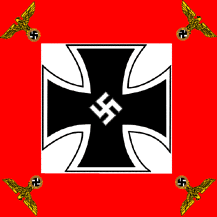 1:1 Image by Jaume Ollé
A square flag with a white field and broad red border. In the white field a black white bordered Iron Cross with thin black edge reaching just short of the field. In the center a white swastika. At each corner of the red field a gold Party type eagle with black swastika. The heads of the eagles point towards the corners. The flag was introduced 1st September 1944. Illustrated in Flaggenbuch 1939, pl. Vc and Davis 1975, p.84]
Norman Martin, January 1998
---
Car Flag for Field Marshals
Hoheitszeichen am Kraftfahrwagen für Feldmarschalle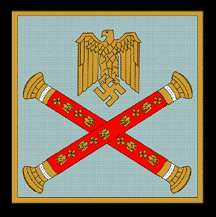 1:1 Image by Jaume Ollé
Introduced 23 April 1941. The field should be field green [Feldgrau], ie. a darker green than in the above image. Source: Bender and Odegard 1980 [Roger James Bender and Warren W. Odegard, Uniforms, Organization and History of the Panzertruppe, R. James Bender Publishing, San Jose CA, 1980].
Marcus Wendel, 20 April 2000
---
Car Pennant for Army Generals
Hoheitszeichen am Kraftwagen für Generale
A pale blue pennant, with a gold party-type Nazi eagle carrying a swastika and wreath. Pennant fringed (except along hoist) with a gold band decorated with swastikas.
Norman Martin, March 1998
Introduced 23 April 1941. The field should be field green [Feldgrau], ie. a darker green than in the above image. A previous version, with a white eagle on field green background, was introduced 1934. Source: Bender and Odegard 1980 [Roger James Bender and Warren W. Odegard, Uniforms, Organization and History of the Panzertruppe, R. James Bender Publishing, San Jose CA, 1980].
Marcus Wendel, 20 April 2000
---
Command Flag for the Commander of an Army Group or an Army
Kommandoflagge für den Oberbefehlshaber einer Heeresgruppe oder einer Armee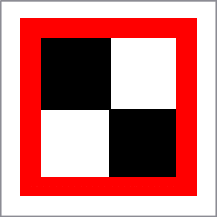 1:1 Image by Jaume Ollé
The checkerboard flag for commanding generals of army groups (Heeresgruppen) was also used by commanding generals of armies (Armeen).
Tom Gregg, 14 June 2000
---
Command Flag for the Commander of an Armoured Group
Kommandoflagge für den Befehlshaber einer Panzergruppe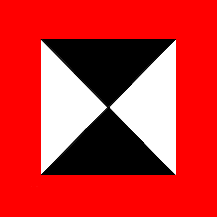 1:1 Image by Jaume Ollé
The Panzer Groups were upgraded in status circa 1941 (I believe about the time of the invasion of the USSR), e.g. Fourth Panzer Group became Fourth Panzer Army. Was this flag continued, or was the normal flag for an army commander used from then on?
Tom Gregg, July/September 1998
---
Car Pennant for Other Members of the Army
Hoheitszeichen am Kraftwagen für die übrigen Angehörigen des Heeres
A pale blue pennant, edged in white, with a white party-type Nazi eagle carrying a wreath and swastika.
Norman Martin, March 1998
---