This page is part of © FOTW Flags Of The World website
German-Occupied Territories 1939-1945
Last modified: 2015-06-01 by pete loeser
Keywords: third reich | german-occupied territories | ostland | reichskommissariat |
Links: FOTW homepage | search | disclaimer and copyright | write us | mirrors

---
On this page:
See also:
---
Introduction
Local flags were tolerated in the occupied territories under some circumstances: the classic example is the white-red-blue of the Protectorate of Bohemia and Moravia. I think I am right in saying that in some of the western occupied territories local flags were sometimes allowed. I know I have seen a picture of a propaganda poster from the German-occupied Netherlands which showed the Dutch tricolour in the context of trying to drum up support for the occupying regime. In the Channel Islands local ships were required to use the Jersaise and Guernsaise flags, as obviously using the Red Ensign would not have been permitted (or safe).
The other Reichkommissariaten covered the Ukraine, Norway and the Netherlands. They are usually shown in maps of Hitler's Europe as being outside the boundaries of the Reich, unlike Bohemia and Moravia and the General-Government of Poland which are usually shown inside.
Roy Stilling, 5 June 2000

National flags were used as shoulder patches by some of the foreign legions of the Third Reich — I have seen the Netherlands, Flanders (the Flemish lion), Wallonia (the Belgian tricolour), and France. As far as I know a Reichkommissariat was an occupied territory under civil administration. E.g. Belgium had a military administration, and was no Reichkommissariat. The plan of Hitler was to divide (the European part of) the Soviet Union in four Reichkommissariaten:

Reichkommissar Ostland was Hinrich Lohse, Gauleiter of Schleswig-Holstein and the Reichkommissar Ukraine was Erich Koch, Gauleiter of the Province of East Prussia. Source: Raum im Osten in Bericht van de Tweede Wereldoorlog.
Mark Sensen, 6 June 2000
---
Proposed General Government Flag c1940
Generalgouvernment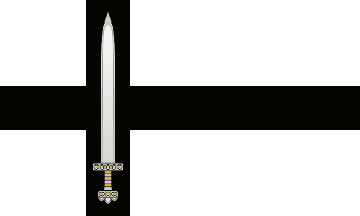 3:5


Speculative Image by Fornax
[Editorial Note: Because the image is based on a written description, Fornax used a typical Teutonic sword design, hence the use of the term "speculative" for the image]
Late in 1940, Neubecker submitted a proposal of the Arms and flag for GG, but because of the temporary nature of the territory, the Nazi authorities never considered adopting them. (Hans Frank reportedly was in favor of them.). The Arms were in the form of shield with the black cross of the Teutonic Knights on white field with the sword superimpossed on it. The black handle of the silver cross was outlined with gold ornamentation for contrast and effect.
Chrystian Kretowicz, 3 Dec 2002
Although his proposal was not solicited by anybody, Dr. Ottfried Neubecker (one of the most prominent German vexillologist of his times) submitted this flag design for the "General Government of Occupied Territories" right after the successful invasion of Poland. Dr. Hans Frank, the Governor-General of newly conquered Poland, liked the design and wanted to adopt it, but apparently it was rejected in favor of the new German War Ensign.
Although his flag proposal for the Generalgouvernment was never used, Dr. Neubecker told Alfred Znamierowski (a friend and fellow vexillologist) that he considered this proposal as being one of the best he had ever done. He felt it was a striking design, both in simplicity and symbolism.
Pete Loeser, Edited text from Flags of Our Ancestors, 4 March 2011
A white field with a black Scandinavian cross, leaving square hoist quarters twice as wide as the cross, the hoistwise arms of the cross superimposed with a grey sword with a decorated grey and orange hilt. I doubt Neubecker would have done the sword in that style with the blade slightly brightening from the hilt to the tip, as he has been described to me as a good flag designer.
Peter Hans van den Muijzenberg, 5 March 2011
[Editorial Note: Neubecker's currently listed in the biographical notes section with his accolades and a bit of historical information.]
This flag is sometimes attributed to the German vexillologist Ottfried Neubecker, but I don't believe this is actually a design by Neubecker. Neubecker was married to a Jewish wife, who was born in the Baltic, and with the German racial laws that existed in 1935, he had been "black Listed" by the Nazis. Although a few Nazis leaders considered the quality of Neubecker's work valuable, and he did received some design orders during this period of time, there is no contemporary documentation to indicate this design is his work.
In the case of a General Government flag (Generalgouvernment) contemporary Nazi policy stated "The General Government should carry no flag." (quote from NS-Leader Hans Frank) and "Inferior Slavic people have not signs." (quote from NS-Leader Arthur Seyß-Inquart). This is not my opinion, but from Nazi propaganda. This view point leads me to doubt the existence of any special flag design for the General Government.
In conclusion, I could not find any contemporary sources for this flag. If there are sources, then these will most likely be found in Neubecker's archives now housed in the United States. Part of these are in the archives of the NAVA or in the archives of Flag Research Center. In 1992, German vexillologists were not particularly well organized and could not prevent the transfer of Neubecker's archives in the United States.
Jens Pattke, 7 July 2012
---
Official General Government Flag 1939-1945
German War Ensign 1939-1945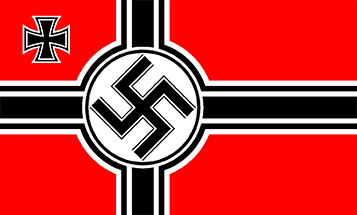 3:5


Image by Olivier Vercammen
The most common flag used for the different occupational "Generalgouvernments" was the German War Ensign of the Third Reich, the same ensign used by all military forces of Nazi Germany. In occupied countries, such as Poland, Denmark and Norway, not only was it usually flown daily at all military installations, it was also flown outside all occupied civil buildings.
Pete Loeser, Edited text from Flags of Our Ancestors, 4 March 2011
---
Command Flag of a Commander-in-Chief of Occupied Territory 1940
Kommandoflagge für Wehrmachtbefehlshaber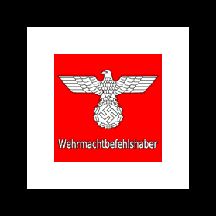 1:1


Image by Fornax; modified by Peter Hans van den Muijzenberg, 4 March 2011
Square flag, with concentric equal-width squares, black-white-red, with a silver Nazi party type eagle carrying a wreath containing a swastika on the red square. On the bottom of the red square, the word "Wehrmachtsbefehlshaber."
Norman Martin, March 1998
The position of "Wehrmachtbefehlshaber" was a special position in occupied German territories. German occupied territories either had a civil administration or were governed by a military administration. A Wehrmachtbefehlshaber only existed in a territory which had a civil administration. He was commanding all military units in this territory. His superior was often only Adolf Hitler himself. The first Wehrmachtbefehlshaber was Friedrich Christiansen who was responsible for Norway.
The command flag, which was introduced in 1940, was a square in the colors black, white, red. On its red colored center it bore the National eagle in white. Below the eagle there could be seen the word "Wehrmachtbefehlshaber," also colored in white.
Pete Loeser, Edited text from Flags of Our Ancestors, 4 March 2011
---
Command Flag of a Military Governor of Occupied Territory 1940-1945
Kommandoflagge für Militärbefehlshaber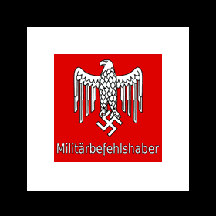 1:1


Image by Fornax; modified by Peter Hans van den Muijzenberg, 4 March 2011
Square flag with concentric fields of equal width of black-white-red. On red square, silver Nazi national eagle, with swastika in its talons. Below the swastika, the words Militärbefehlshaber.
Norman Martin, March 1998
It should perhaps be noted that a Militärbefehlshaber was the regional governor of the occupied territories (see also my Third Reich Factbook) that were under the control of the Wehrmacht:
Festungskommandantur Kreta (no subunits known)
Kommandant des Heeresgebiets Südfrankreich (in Lyon)
Militärbefehlshaber Belgien und Nordfrankreich (in Brüssel)
Militärbefehlshaber Frankreich (in Paris)
Militärbefehlshaber Saloniki-Ägäis
Militärbefehlshaber Serbien (in Belgrad)
Militärbefehlshaber Südgriechenland
A Militärbefehlshaber was a military governor, a usually a general, of the occupied territories that were under military control (the ones I listed above), that is, he was head of the civilian administration, police, etc. Whereas a Wehrmachtsbefehlshaber was —if I remember correctly— the higher military commander of the military units in a certain area (regardless of whether this area was controlled by a Militärbefehlshaber or not), for example, the Netherlands or Hungary.
Marcus Wendel, 10 and 13 July 2000

The Military Governor of Belgium and Northern France was Alexander von Falkenhausen (1878-1966) from 28 May 1940 to 20 Jul 1944, according to the Rulers of the World website.
Željko Heimer, 25 February 2001

The list of Militärbefehlshaber is wrong and incomplete.
Andreas Herzfeld, 24 February 2002

A German "Militärbefehlshaber" (Military Governor of Occupied Territory) was a further special position in occupied territories. He was a member of the Wehrmacht, but did not command any military troups. Rather was he responsible for the economy and the government of an occupied territory. A Militärbefehlshaber was put in his position by the Commander-in-chief of the Army. Until 1941 this position was held by von Brauchitsch, then Adolf Hitler himself took over this position as well.
The flag for a Militärbefehlshaber was similar to that of a Wehrmachtbefehlshaber, but had two differences. In the center there was a Wehrmacht eagle instead of the National eagle and below the eagle there was the word "Militärbefehlshaber" in white. The flag was introduced also in 1940.
Pete Loeser, Edited text from Flags of Our Ancestors, 4 March 2011
---
Ostland 1941-1944
Reichskommissariat Ostland
I am working on a project focusing on the military histories of Estonia, Latvia and Lithuania. My current research efforts are centered around Germany's Ostland from 1941 to 1945. To date I have not been able to ascertain whether Ostland ever was issued its own flag or standard during the war. In addition, in the event of a German military victory over the Soviet Union, was Ostland to have received its own flag? My quest is more in the lines of political administration flags than flags of the various combat elements which were created and fielded during the German occupation era (1941-1945).
Arvo L. Vercamer, 3 June 2000
Ostland was not an overinflated East Prussia (this was rather the Bialystok region which was annexed directly to the so-called Greater German Reich and organised into a Gau). The Reichskommissariat Ostland consisted of the three Baltic states of Estonia, Latvia and Lithuania and the north-western portion of what is now Belarus. I am not entirely sure what its status was. I would doubt very much it had a flag of its own, except perhaps for some flag of office of the Reichskommissar. However, it is possible that puppet regimes in some of the territories that made it up may have had flags. If I remember correctly the Third Reich authorities did allow some sort of very limited self-government in the Baltic states, at least for a time, although the eastern occupied territories were of course treated far more harshly than the western ones.
Roy Stilling, 5 June 2000
In all of the documents and photographs I have seen from the era, the German Reichsfahne [probably the swastika flag] is the most commonly used one in Estonia, Latvia and Lithuania. Of interest is that Estonian, Latvian and Lithuanian pre-war flags were tolerated in Ostland; they even flew below the German flag on many German special event days. Baltic district and county flags were also allowed to be displayed during the German occupation era. My guess is that since many of these local flags often contained elements from German heraldry or other German influences from their past 700 years of sitting in the Baltics, they really did not have too many objections about that.
Arvo Vercamer, 7 June 2000
Several of the five volumes of Uniforms, Organization and History of the Waffen-SS, R. James Bender Publishing, San Jose (California), include references to volunteer units from the three Baltic states which are shown displaying their national flag or variants of it, both in flag and emblem forms. I know however of no joint flag or emblem for Ostland.
Santiago Dotor, 7 June 2000
---
Netherlands 1941-1944
Reichskommissariat Niederlande
I know I have seen a picture of a propaganda poster from the German-occupied Netherlands which showed the Dutch tricolour in the context of trying to drum up support for the occupying regime.
Roy Stilling, 5 June 2000
The Dutch flag was allowed, although the use was restricted (at least since ca. 1942/1943). The Nationaal-Socialistische Beweging used the Princevlag, i.e. with orange instead of red. I have never seen a special flag for the Reichkommissar for the Netherlands, the Austrian-born Seyss-Inquart. But that does not mean there wasn't such a flag.
Mark Sensen, 6 June 2000
---
Categories of Occupied States
As I understood the system of spreading the Third Reich 1938-1945 there are more categories of "states" which results with different use of different flags. I think that there should be three categories of "occupied states."

1st Category: Nominally independent with own civic administration, but under German military control. These states used their own national flags and German military used their own unit/command flags. These states were:
France
Belgique
Nederland
Danmark
Norge
Slovensko
Hrvatska
Italy [1943-45] (Repubblica Sociala)
Crna Gora [1943-45]
Srbija
Makedonija [1944-44]
Ellas
Shqipnija [1943-45]
2nd Category: Real occupied territories. Under German civic and military control, with additional help of home collaborationists. I assume that only German flags were in use in these territories.
Kanal-Inseln
Nordfrankreich
Boehmen und Maehren
Generalgouvernment
Boka Kotorska [1943-45]
Laibach [1943-45]
Ostland
Ukraine
Zara [1943-45]
3rd Category: Territories that were under occupation very short period, after that they were fully annexed as part of the Germany. As they were part of Reich's inner territory they didn't have their own flags, except maybe district of municipal flags.
Elsass
Lothringen
Luxemburg
Oesterreich
Slovenia (part)
Sudetenland
Danzig
Memelland
Banat was integral part of Serbia, but with great degree of autonomy in favour of Banat Germans, so called Volksdeutscher. Its official name was Okrug 1 (District 1).
Valentin Poposki, 7 April 2011
---