This page is part of © FOTW Flags Of The World website
Railway Company Flags (Germany)
Eisenbahn Gesellschaften
Last modified: 2017-11-11 by klaus-michael schneider
Keywords: db | deutsche bahn | mecklenburgische baederbahn | mitropa |
Links: FOTW homepage | search | disclaimer and copyright | write us | mirrors

---
See also:
---
Deutsche Bahn AG (German Railways)
Flag: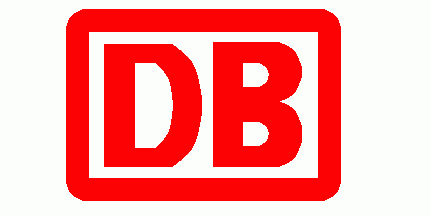 2:1, image by Klaus-Michael Schneider, 16 Sep 2010

The ratio is approx 1:2. The logo of the company is in the centre of a white field having nearly total height of flag and a bit more than half of total width. In the logo red capitals "DB" are placed into a white square having red edges.
Source: I spotted this flag in Hamburg-Billwerder on top of the building of Schenker Logistics, a daughter of Deutsche Bahn, on 25 April 2009
Banner:

image by Klaus-Michael Schneider, 4 Sep 2010

The ratio is approx 5:2. The logo of the company is at the bottom end.
Source: I spotted this flag on show day in 11 September 2003 at DB-repair-services in Hamburg-Eidelstedt.
Klaus-Michael Schneider, 16 Sep 2010
---
Mecklenburgische Bäderbahn Molli
On 19 June 1886 Grand Duke Friedrich Franz III. of Mecklenburg-Schwerin gave a concession to built a narrow gauge railway in order to connect the spas of Doberan and Heiligendamm. The line was opened already on 9 July 1886 as Doberan-Heiligendammer-Eisenbahn(DHE) and operated by Lenz&Co. railway enterprises in Stettin. It was incorporated into the public Großherzogl. Mecklenburgische Friedrich Franz Eisenbahn (GMFFE) on 1 March 1890.
The line was extended to Arendsee (renamed 1938 into Kühlungsborn-West) on 12 May 1910.
Since 1920 the line was overtaken and operated by Deutsche Reichsbahn(DR), the German national railway, later after WWII the railway of the German Democratic Republic. After German reunion Deutsche Bundesbahn(DB) overtook the line. When the public railway was changed into a commercial company called Deutsche Bahn AG, the board decided to outsource all narrow gauge lines.
Since 1 October 1995 the private company "Mecklenburgische Bäderbahn Molli" operated the line.
Description of Flag: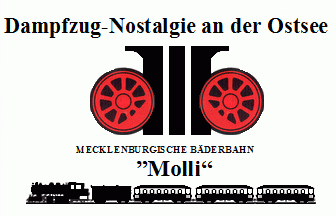 image by Klaus-Michael Schneider, 2 May 2011

It is a white flag. At the top is a black inscription: "Dampfzug-Nostalgie an der Ostsee" (steam engine nostalgia at the Baltic Sea). In the centre are black objects probably symbolizing a rail. They are flanked by two red and black wheels of a tank engine. Below are centred black inscriptions in capitals "MECKLENBURGISCHE BÄDERBAHN"(1st line) and "MOLLI"(2nd line, bigger between inverted commas). At the bottom edge is a tank engine with a truck and three coaches, all in black.
Source: I spotted this flag on 25 April 2004 at Bad Doberan railway station.
Klaus-Michael Schneider, 2 May 2011
Banner:

image by Klaus-Michael Schneider, 1 Jan 2012

The ratio is approx 7:2. The banner is divided into dark blue over buff over purple red. The stripes are separated by narrow grey stripes. In the buff stripe is the logo as described before. At the bottom of the flag is a small sinister-facing train with an engine and three coaches and a luggage waggon.
Source: I spotted this banner outside Bad Doberan Railway Station on 6 July 2011
Klaus-Michael Schneider, 1 Jan 2012
---
Mitropa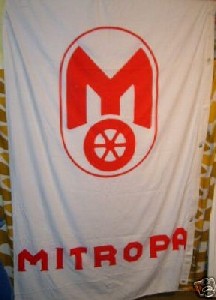 5:3, image located by Jan Mertens, 25 Jul 2008

Quote: "MITROPA is a catering company best known for having managed sleeping and dining cars of different German railroads for most of the 20th century. Since its reorganization in 2002, the company is providing only stationary food services for rail and road customers." Source: WIKIPEDIA
Founded in 1916 as 'Mitteleuropäische Schlafwagen- und Speisewagen Aktiengesellschaft' or Central European Sleeping and Dining Car Co., Mitropa company was to become a competitor of the better-known Wagons-Lits. After WW2 it was the GDR catering company for railways, stations, and motorway restaurants. In 1994 it merged with DSG, the "Western Mitropa" and in 2006 the name disappeared behind the unspectacularly named SSP (in German). For further information click here.
As befits a venerated institution (actually Mitropa was a stock company rather than state owned) it has its enthusiasts. See this website (in German). The photo shows crockery and a handwaver flag celebrating 50 years of Mitropa, in the national (GDR) colours here
More of interest of course is the logo which appears on a vertically hoisted flag offered on German eBay: no. 280131440242 (end 15 Jul 2007), put up by "miss_mia_wallace19", no less. Additional information: emblem and name placed on both sides, dimensions given as 1.20 m x 2.00 m.
White field, Mitropa logo of that period (stylized initial 'M' above six-spoked wheel) within an oval cartouche, and 'MITROPA' in a typical font near the bottom; logo and name in bright red. The livery colour however was burgundy.
Of course GDR authorities looked askance at the logo's predecessor: yellow on burgundy, an initial 'M' with an eagle's head above a four-spoked wheel: former logo
I am obliged to the 'Mitropa Friends' for information on this emblem: designed, with the font, by Karl Schulpig (1884-1948) and introduced in 1927-28 along with the burgundy livery. After WW2 the four-spoked wheel, inadvertenly resembling a swastika within a circle, was replaced by a six-spoked one and the eagle's head had to go. See this page.
I have no idea whether the flag shown end of page, next to the EU flag, has ever existed.
I should end by saying that the fare in GDR Mitropa stations did not have a very good reputation. But no worry, the undersigned is still alive.
Jan Mertens, 25 Jul 2008
---
back to Germany index page click here.