This page is part of © FOTW Flags Of The World website
South Moravian symbols, Czech Republic
Last modified: 2018-05-25 by kryštof huk
Keywords: czech republic | south moravia | jihomoravsky |
Links: FOTW homepage | search | disclaimer and copyright | write us | mirrors

---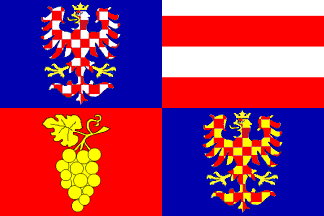 by Pascal Gross, 11 Jan 2004
adopted 5 Mar 2004 See also:
---
South Moravian region flag
At Petr Exner's website is the flag of this region, as presented 29 Oct 2003, as well as the Coat of Arms on which it is based.
Jarig Bakker, 11 Jan 2004

The last region - Jihomoravsky kraj - got its symbols last friday (5 Mar 2004). Hejtman of the region (he is elected representative of the region) on a photo holds the picture of the flag of the region. This picture I took in The Hall of the State Acts in Czech Parliament.
Petr Exner, 12 Mar 2004

---
South Moravian region Coat of Arms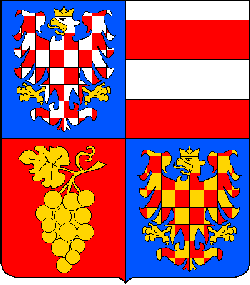 from Petr Exner's website.
---
South Moravian Region Coat of Arms (proposal)
image from Petr Exner's site.

The regional assembly of the South Moravian Region ("Jihomoravsky kraj") has approved the regional symbols. Both Coat of Arms and flag are quartered. The first field is blue with red-white chechkered Moravian eagle. The second field is yellow with black two-headed eagle with the escutcheon split into white, red, white, and red (1:2:2:2) stripes and with black initials F III above eagle's heads. The third field is yellow with blue bunch of grapes. The fourth field is blue with red-yellow checkered Moravian eagle. Note that both versions of the Moravian eagle are included. However, this symbolics is highly conflicting and protests by historicians and heraldicists are appearing. The double-headed eagle as a symbol of the regional capital, the city of Brno, seems unacceptable for many, because it is neither ancient nor present symbol of the city (it is the WRWR shield). The eagle, in fact the Habsburg eagle, was added to the Brno Coat of Arms by emperor Ferdninand III (= F III, King of Bohemia and Holy Roman Emperor (1637-1657), who granted Brno the imperial eagle for having repelled an attack by the Swedes), and it was excluded from the Coat of Arms in early 1930's. Unfortunately, the Coat of Arms with the eagle returned to be used during the Protectorate of Bohemia and Moravia. Since 1945, the ancient simple Coat of Arms (WRWR) is used. Usage of "F III" COA in the regional symbols is hence somewhat anachronic (although accusation that the regional Coat of Arms include "Nazi" or "Protectorate" symbols are evidently incorrect). Most probably, the South Moravian assembly will revoke this issue in September.
Jan Zrzavy, 10 Jul 2001
---
South Moravian Region flag (proposal)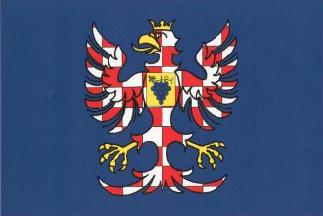 image from this site, reported by Jarig Bakker, 3 Sep 2001

I don't know how official this is:
Flag: a blue field with a Moravian eagle with a white shield on its breast, on which a bunch of blue grapes
Jarig Bakker, 3 Sep 2001

Both symbols, flag and COA, were approved by the regional assembly and sent to the Parliament for final approvement. However, the flag violates the rules accepted for regional symbols and hardly can be approved. The COA is, in general, OK, but there are strong protests from Moravian historic and heraldic circles and, according to newspaper 'Lidove noviny',
Mr. Klaus, the speaker of the House of Representatives (who has the right to administer municipal and regional sumbols formally) seems to agree with the protesters. However, the South Moravian representatives seem to insist in their proposals. (They were enforced by the right-wing parties, namely by civic democrats, christian democrats, and the Freedom Union, while social democrats and communists declared their distance.)
Now, I've no recent info from the parliamentary heraldic-vexillological subcommittee, which is the expert body whose decision will most probably be respected. We'll see who will be the winner of that South Moravian symbolic war.
Jan Zrzavy, 4 Sep 2001

Yesterday, the parliamentary subcommittee rejected finally the conflicting symbols of South Moravian
Jan Zrzavy, 28 Mar 2002

---