This page is part of © FOTW Flags Of The World website
Acadian Flag (Canada)
Last modified: 2018-07-31 by rob raeside
Keywords: acadian | canada | france | star | new brunswick | cajun | louisiana |
Links: FOTW homepage | search | disclaimer and copyright | write us | mirrors

---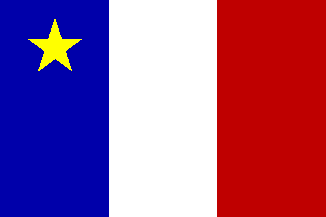 image by Jan Oskar Engene
---
See also:
Outside Links:
---
The Acadians are the "other" Francophone community of Canada. They are also the people who settled Louisiana in large numbers at the conclusion of the French and Indian War (about 1760) hence the derivation of the Louisiana French term "Cajun" (from the dialectical pronunciation of Acadien).
Max Stanton, 30 October 1995
Interestingly, the Cajuns in Louisiana use a different flag. It is horizontally divided, blue over red, with a white triangle extending from the hoist about one third the length of the flag. In the white is centered a gold star (five-pointed); on the blue are three white fleur-de-lis; and on the red a golden castle (symbolizing Louisiana's Spanish heritage as well).
John Andrew Lowe, 30 October 1995
---
Here is the translation of the Web page about the Acadian flag: (http://www.rbmulti.nb.ca/saanb/drapeau.htm)
On the 1884-08-15, the Acadians held their National Convention in Miscouche (Prince Edward Island) and chose their flag. They already chose a patron saint and a national day during an early Convention held in 1881 - they chose the feast of the Assumption of the Blessed Virgin - and needed a flag as a rallying emblem.

The flag, the star-spangled* tricolor, was proposed to the Convention by the priest of Saint-Louis-de-Kent (New Brunswick), Father Marcel-Francois Richard. The University Museum in Moncton still retains the original flag presented by Father Richard to the 1884 Convention.

Father Richard selected the French flag as the basis of the Acadian one to underline the adherence of the Acadians to the French civilization: "I wish that Acadia has a flag reminding not only that its children are French, but also that they are Acadians".

The star in the blue band should be "the distinctive emblem of our Acadian nationality", as said Father Richard. According to him, the star of the flag represented the star of the Blessed Virgin of the Assumption, patron of the Acadians.

The colour of the star, the gold, was not randomly chosen. According to Father Richard, it is the colour of the Pope, in order to show both the adherence of the Acadians to the Roman Catholic Church and the role of this Church in the history of Acadia.
(Then follows the symbolic of the French tricolor.
* I don't know if this word is correct for a flag with a single star. Starry might be better?
Ivan Sache, 12 December 1996
'L'étoile de la mer' translates into 'the star of the sea' which means a 'Sea star'. The Acadian star is also called la 'bonne étoile' which translates into the good star or the lucky star. It represents the star that would guide the sailor 'through storms and reefs'. In the past, captains had the knowledge of certain stars that would indicate to them how far they were from their destinations.
It is often mentioned that the colour of the star is gold, the colour of the Pope. But, the colours of the Vatican flag are white and yellow. (We mustn't forget that one of the keys shown on the flag is actually gold though.) I've personally seen the original Acadian flag held in the Moncton Acadian Museum, and the star is yellow not gold.
Sébastien Doiron, 30 November 2005
[Editorial note: In heraldry, gold is often depicted as yellow in coats of arms.]
A fair few Acadian flags I have seen were not in the French ratio (usually 3/5 instead of 2/3) showing they don't necessarily try to follow the French national pattern. This picture where you can see both an Acadian flag and a Union Jack shows the blue band to be paler. The original one seemed quite dark (although the star have faded so this can be just aging). The next is a souvenir from the Acadian historical village (orange star and 1/2 ratio).
Marc Pasquin, 26 October 2006
My impression is that most flags are shorter than 1:2, but not 2:3. This is likely more at the whim of the manufacturer, since I don't think the ratio is defined. The original flag is preserved in le musée Acadien at the University of Moncton where it looks like it is 2:3. Interestingly, the blue seems quite dark. There certainly is variation in dimensions - I have seen them as long as 1:2, but most are shorter. I doubt there is any intention to the variations in ratio, other than trying to match the dimensions of other flags in use nearby.
Rob Raeside, 3 November 2006
The initial ratio for the flag was 2/3 because it was based on the French flag. The reason why the ratio seems to be 1/2 today, is that the official etiquette of the Acadian flag is based on the Canadian one. Therefore, the ratio is officially 1/2, although anyone will certainly accept the other ratio as the original flag was made this way. The small flags that people like to sell in festivals have a ratio closer to 3/4, but it's not official.
This answer was given to me by the Société nationale de l'Acadie which is the most official Acadian organization there is in the world.

As for the colours, it's quite simple. It's a French flag with a yellow star. It's a dark blue, not light. It's red, not orangey. It's yellow, not orange or golden. The reason why you'll often see a light blue is that the reason given to have a star in the blue comes from the speech Father Richard said:
"The star in the blue band should be "the distinctive emblem of our Acadian nationality", as said Father Richard. According to him, the star of the flag represented the star of the Blessed Virgin of the Assumption, patron of the Acadians. The blue representing the Blessed Virgin of the Assumption (Saint Mary mother of Jesus) is this very light blue. Having in mind that the star represents Virgin Mary, they decided that the blue should be lighter to represent her as well. But it's wrong and unfortunately people will still make them this way for years to come. I mentioned red not orange as I did see some brand new flags having an odd shade of orange red on it. As for the yellow, since it is taken from the Vatican, it should be the same yellow as on their flag, or very close. Some people play with the shades on this one because it wasn't officially decided what is the exact shade of yellow. Also, a very bright yellow with the dark blue looks odd, if not awful. The orange yellow shade seems to be better.
Sébastien Doiron, 20 September 2011