This page is part of © FOTW Flags Of The World website
Triunfo, Rio Grande do Sul (Brazil)
Last modified: 2020-08-08 by ian macdonald
Keywords: rio grande do sul | triunfo |
Links: FOTW homepage | search | disclaimer and copyright | write us | mirrors

---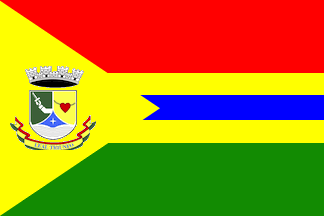 image by Ivan Sache, 7 August 2020
---
See also:
---
The municipality of Triunfo (2",311 inhabitants in 2015; 82,342 ha) is located 80 km north of Porto Alegre.

Triunfo originates in the grant in 1752 y General Gomes Freire de Andrade, Governor general of the Captaincy of Rio Grande do Sul, of two domains to Manoel Gonçalves Meirelles and Francisco da Silva, two sons-in-law of Jerônimo de Ornelas Menezes e Vasconcellos, the founder of Porto Alegre, and Lucrecia Leme Barbosa. Ornelas moved in 1757 to Bom Jesus de Triunfo, where he died in 1771. Meirelles died in Triunfo in 1777. His sixth daughter, Perpétua da Costa Meirelles, married Captain Joaquim Gonçalves da Silva, a Portuguese from Santa Marinha Real, and was the mother of Bento Gonçalves da Silva.

On 4 September 1756, Antônio do Desterro, Bishop of Rio de Janeiro, commissioned Father Tomás Clarque to organize the third parish in Rio Grande do Sul, Bom Jesus de Triunfo, in a place originally known as Forquilha (Small Fork) for the confluence of rivers Taquari and Jacuí.
The municipality of Triunfo was established by a Decree promulgated on 25 October 1831.

https://www.triunfo.rs.gov.br/
Municipal website
Ivan Sache, 7 August 2020
---
Symbol
Horizontally striped, red-yellow-blue-yellow-green, 3-1-1-1-3, with the municipal arms on a yellow triangle extending from the hoist.
Official website at http://www.triunfo.rs.gov.br
Dirk Schönberger, 27 April 2012
The flag of Triunfo is prescribed by Municipal Law No. 262 promulgated on 23 November 1972.

Article 5
§1. The coat of arms applied on the flag represents the municipal government, while the yellow isosceles triangle containing it represents the town proper, as the seat of the municipality. The triangle is the heraldic symbol of liberty, equality and fraternity. Yellow is a symbol of glory, greatness, wealth, splendor and sovereignty. The central yellow stripe charged with a blue stripe, starting from the triangle's point, represents the spread of the municipal power over the whole territory. Blue is a symbol of justice, nobleness, perseverance, zeal and loyalty. The red and green lateral stripes represent the rural estates scattered over the municipal territory. Red is a symbol of dedication, patriotic love, audacity, intrepidity, courage, valiance. Green is a symbol of honor, civility, courtesy, glee and hope, since greening fields in spring promise profuse harvests.

Article 7.
In compliance with heraldic rules the municipal flag shall have the official dimensions prescribed for the national flag, that is, 14 units in width on 20 units in length.

https://leismunicipais.com.br/a/rs/t/triunfo/lei-ordinaria/1972/27/262/lei-ordinaria-n-262-1972-dispoe-sobre-a-forma-e-a-apresentacao-da-bandeira-do-municipio-de-triunfo
Leis Municipais database

The coat of arms of Triunfo is prescribed by Municipal Law No. 48 promulgated on 7 May 1960.

Article 1.
Portuguese shield divided per pale and grafted in base. In chief on a field vert (green) a right arm amred with an old sword pointing dexterwise all argent the sword's hilt sable (iron black), recalling the foundationby the bandeirantes Jerônimo de Ornelas Menezes e Vasconcelos and his wife, Lucrécia Leme, and also the heroes of the fightings in Fanfa island and in the town during the Ragamuffin Revolution, the stainless figures of Bento Gonçalves da Silva, Luiz Ribeiro Barreto and other who contributed to the political, scoial and administrative life of the state. In counter-chief, on a field or a heart gules (red) supported by iron links (sable), recalling the old name of the place, Bom Jesus de Triunfo, and a tribute to the municipality's patron saint. In base on a field azure (blue) waves argent recalling rivers Jacuí and Taquari, which waters the municipality, surmounted by a black four-pointed star, recalling the role of the municiplaity in history and traditions, and as a symbol of its activities in various sectors of industry.
A four-towered mural crown argent.
A scroll gules, or and vert, the fess or inscribe "LEAL TRIUNFO" [Loyal Triunfo].

https://leismunicipais.com.br/a/rs/t/triunfo/lei-ordinaria/1960/5/48/lei-ordinaria-n-48-1960-cria-e-adota-o-brasao-de-armas-para-simbolo-do-municipio-de-triunfo
Leis Municipais database

Jerônimo de Ornelas Menezes e Vasconcelos (1691-1771), born in Madeira, is no longer considered by modern historians as the founder of Portov Alegre since he did not developed any permanent settlement in his domain.

General Bento Gonçalves da Silva (1788-1847) was one of the leaders of the Ragamuffin Revolution. Captured on 4 October 1836 during the Fanfa battle, Bento Gonçalves was jailed in Bahia, which did not prevent him to be proclaimed the first President of the secessionist Riograndense Republic (1836-1841). He escaped and headed to Rio Grande do Sul via Buenos Aires, where he was actually proclaimed President on 16 December 1837. The secessionist state ended with the Treaty of Poncho Verde, signed on 1 March 1845, and Bento Gonçalves returned to civil life.

Luís José Ribeiro Barreto (1801-?1888) was Minister of War of the Ragamuffin Republic and founded in Triunfo Theatro União (1848), Brazil's second oldest theater.

Photos
https://www.facebook.com/PrefTriunfoRS/photos/a.1145573622235431/2590878234371622/?type=3&theater
https://www.facebook.com/PrefTriunfoRS/photos/a.1145280625598064/2481594648633315/?type=3&theater
Ivan Sache, 7 August 2020