This page is part of © FOTW Flags Of The World website
Três Cachoeiras, Rio Grande do Sul (Brazil)
Last modified: 2020-08-08 by ian macdonald
Keywords: rio grande do sul | três cachoeiras |
Links: FOTW homepage | search | disclaimer and copyright | write us | mirrors

---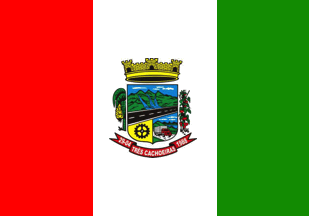 image by Ivan Sache, 7 August 2020
---
See also:
---
The municipality of Três Cachoeiras (10,239 inhabitants in 2010; 25,048 ha) is located 180 km north-east of Porto Alegre. The municipality is composed of the districts of Três Cachoeiras (seat), Rio do Terra, Morro Azul, and Vila Fernando Ferrari.

Três Cachoeiras was named around 1605 / 1615 by travelers from São Paulo for the three waterfalls ("três cachoeiras") located 80 m from each other north of the town, falling down from the Pereiras' Hill. A visitor engraved on a big tree the letters "T.C." and two crosses, which were subsequently used as a landmark.
The place was settled in 1820 by 15 Azorean families; in 1826, German immigrants established the São Pedro and Três Forquilhas colonies. Três Cachoeiras was organized in 1907 by José Felipe Schaeffer; a first mass was celebrated in his house in 1910, while a chapel was built in 1923. Schaeffer erected himself the first school in the region.
The district of Três Cachoeiras was established within the municipality of Torres by Municipal Law No. 452 promulgated on 9 July 1956, pushed by Councillor Getúlio Torres.
The municipality of Três Cachoeiras was established by State Law No. 8,578 promulgated on 29 April 1988, separating from Torres, and inaugurated on 1 January 1989.

https://www.trescachoeiras.rs.gov.br/
Municipal website
Ivan Sache, 7 August 2020
---
Symbol
A red-white-green vertical tricolour, with the municipal arms in the centre.
Official website at http://www.trescachoeiras.rs.gov.br
Dirk Schönberger, 26 April 2012
The flag and arms of Três Cachoeiras are prescribed by Municipal Law No. 1,335 promulgated on 26 December 2012.

Article 3.
The coat of arms of the municipality shall obey the following shape and description.
I - A classical French shield, quartered, charged as follows.
a) In the center a fess sable placed diagonally from sinister to dexter, outlined in white and dotted in white in the center, symbolizing road BR 101 that crosses the municipality from north to south.
b) In chief, or upper part, an accentuated topographic height covered with vegetation in two shades of vert with contrast sable and or, forming three peaks, in their cracks falling downhill the three waterfalls ["três cachoeiros"] for which the place was named.
c) Above the peaks and as background, the blue of the sky azure with clouds in characteristic silver color.
d) In the lower part, sinister on a golden background a cogwheel sable, symbolizing local industry, mostly furniture, and the produced income.
e) Dexter in foreground a transport vehicle with the cockpit gules and a metallic body outlined sable, symbolizing one of the municipality's main sources of income.
f) In the background a lagoon azure as one of the most striking geographical features of the region with hills vert on a background sable and a sky azure with clouds argent.
II - As outer elements:
a) Sinister to the shield, a plant of an herb of Family Musaceae, variety Cavendish [the most commonly grown banana worldwide] with leaves vert torn by wind and a bunch of fruit or outlined sable.
b) Dexter to the shield, a Solanaceae plant Lycopersicum [tomato] grown on traditional grid support with ripe fruit gules and leaves vert, symbolizing the two main products of local agriculture.
III- The shield surmounted by:
a) Shaped like a crown, three towers or outlined sable symbolizing the municipality's political sovereignty and its rank.
b) Beneath the shield a scroll gules outlined sable inscribed argent "29.04 Três Cachoeiras 1988", the date of the Law creating the municipality.
IV - The shield shall be of 5 units in width on 3.5 units in length.
V - The scroll shall be of 5.7 units on 0.8 unit, distant 0.3 units from the lower point; the crown shall be 1.8 units on 3.5 units.
VI - The lateral plants shall be 0.9 unit, distant of 0.1 unit from the shield's lateral side, forming a coat of arms of 8 units in width on 6.7 units in length.

Article 5.
The flag of the municipality of Três Cachoeiras shall have for official colors red, white and flag green, arranged in three vertical stripes, the first stripe of 6 units, the second of 8 units, and the third of 6 units.

Article 6.
The features of the flag shall obey the following rules.
I - The flag's width is 14 units.
III - The flag's length is 20 units.
IV - The three vertical stripes of different colors have a length of 6 units for the first, 8 units for the second, and 6 units for the third, arranged as follows:
V - Red in the stripe closed to the hoist, white in the central stripe, and flag green in the opposed stripe.
VI - In the flag's central stripe shall be placed the coat of arms, in the proportions prescribed in Article 3.

https://leismunicipais.com.br/a/rs/t/tres-cachoeiras/lei-ordinaria/2012/133/1335/lei-ordinaria-n-1335-2012-dispoe-sobre-a-consolidacao-das-leis-de-incentivo-a-cultura-do-municipio-de-tres-cachoeiras
Leis Municipais database

The symbols were originally prescribed, with the same wording (except the explicit mention of "banana" and "tomato"), by Municipal Law No. 79 promulgated on 6 March 1990.

https://leismunicipais.com.br/a/rs/t/tres-cachoeiras/lei-ordinaria/1990/7/79/lei-ordinaria-n-79-1990-institui-o-brasao-e-a-bandeira-como-simbolos-do-municipio-e-da-outras-providencias
Leis Municipais database
Ivan Sache, 7 August 2020