This page is part of © FOTW Flags Of The World website
Bahraini Political Flags (Bahrain)
Last modified: 2021-04-09 by ian macdonald
Keywords: bahrain | poltical | parties |
Links: FOTW homepage | search | disclaimer and copyright | write us | mirrors

---
---
See also:
---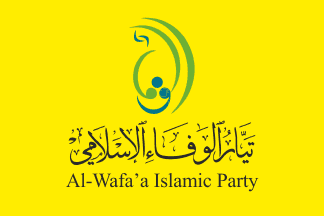 image by Zoltan Horvath, 01 November 2013
Shia/Shiite political flag during c. Oct 2012 protest. (Reminder, Arabic is written from right to left: The regular Shahada statement followed with "Al-wala'a al-Isamiyya _____?
William Garrison. 30 October 2013
This yellow flag is a party flag, however this picture is only a part of its flag, and even the picture is mirrored. The al-Wafa'a Islamic Party is a new unregistered group without parliamentary seats in Bahrain.
The Shia opposition grouping Wafa'a (means "loyalty") is competing with an older radical group for the leadership of the minority of Bahraini Shia who oppose participation in parliament. It poses little threat for the foreseeable future to Wifaq, the mainstream Shia opposition party. During the first months of 2009, the temporary detention of Haq's leaders left a leadership vacuum among Bahrain's Shia rejectionists. Abdulwahab Hussain, a once-prominent Shia activist who had kept to himself for over eight years, re-emerged as the center of the "Wafa'a" movement.
Its home page: http://www.al-wafa.org/
Its Facebook page: https://www.facebook.com/alwafa.party
Party flag is yellow with its logo, and full Arabic and English name placed under the logo. The logo itself is a calligraphic composition of letters of the name: al-Wafa'a.
More images:
http://sphotos-f.ak.fbcdn.net/hphotos-ak-ash3/565010_460061124032029_913397696_n.jpg
http://sphotos-g.ak.fbcdn.net/hphotos-ak-ash4/247670_486579084709207_1836032681_n.jpg
Zoltan Horvath, 01 November 2013
---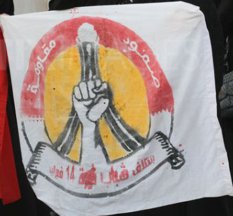 image located by William Garrison. 31 October 2013
Is this really a flag? Looks more like a demonstration poster to me.
Tomislav Todorović, 31 October 2013
---
At https://www.terrorism-info.org.il/en/bahrain-as-an-arena-for-iran-subversion-and-terrorism/ is a graphic showing flags of the five main Shia-Muslim, Iran-affiliated organizations/militias of the Islamic Resistance (or Palestine liberation movement to oust Israeli occupation) in Bahrain; c. 3 Jan 2021. They include: the al-Mukhtar Brigades, the Popular Resistance Brigades, the al-Ashtar Brigades, the Wa'ad Allah Brigades, and the Thaer Allah Brigades.
The politics of Bahrain are rather complicated. It has a Sunni-Muslim monarchy that rules over a mostly Shia-Muslim population. Although these five groups support the return of displaced Palestinians to all of Israel, these majority-Shia groups are also opposed to the minority-Sunni government. Although suppressed by the government, they operate discreetly throughout Bahrain. However, things may become more explosive now that the Sunni-Bahrain government has recognized the Jewish state of Israel in Sept. 2020, in direct conflict with Shia-Iran.
Admittedly, the 5-flags photo looks rather photo-shopped, with the flags having all of the same folds in them at the same time -- or there was a nice steady breeze. And besides, I just cannot image these opposition flags being allowed to be so brazenly flown somewhere within Bahrain.
Bill Garrison, 12 January 2021
Inside the above "source" there is a PDF (see the icon/button: "Full document in PDF format") that (between pages 16-21) identifies each flag below.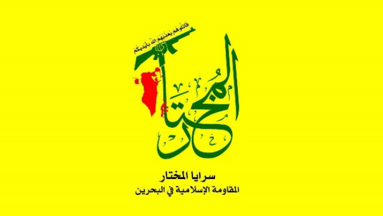 image located by Bill Garrison, 12 January 2021
The logo of the al-Mukhtar Brigades has similarities to the logos of the IRGC and Hezbollah. The red map at the left includes Bahrain and part of Qur'an Sura 9, al-Tawbah, verse 14, "Fight them. Allah will punish them at your hands..." (website of al- Marja for the study of Islamic movements, August 20, 2018).
Bill Garrison, 12 January 2021
---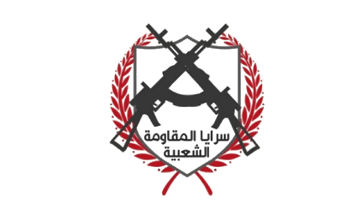 image located by Bill Garrison, 12 January 2021
---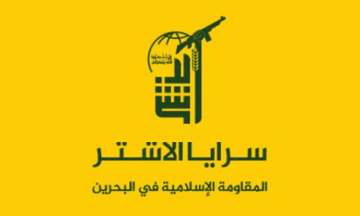 image located by Bill Garrison, 12 January 2021
A logo similar to that of the IRGC and of Hezbollah in Lebanon. Both logos have Qur'an Sura 47, Muhammad, verse 7, "O you who believe! If you support Allah, he will support you, and will strengthen your foothold" (website of the al-Ashtar Brigades).
Bill Garrison, 12 January 2021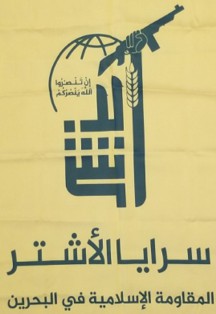 image located by Bill Garrison, 6 March 2021
Source: https://en.wikipedia.org/wiki/Al-Ashtar_Brigades
The al-Ashtar Brigades (Saraya al-Ashtar, named after Malik al-Ashtar) is a Shiite militant group in Bahrain designated as a terrorist organization by the governments of Bahrain, Egypt, Saudi Arabia, United Arab Emirates, United States and Canada.

Caption: The second line from the bottom reads (L to R): "Saraya Al-Ashtar" ("Al-Ashtar Brigades" named after "Malik al-Ashtar" c. 650 CE) is a Shiite-Muslim militant group in Bahrain; c. 2010-2020. The bottom line reads (L to R): "The Islamic Resistance in Bahrain".
Bill Garrison, 6 March 2021
---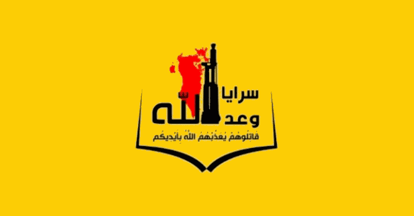 image located by Bill Garrison, 12 January 2021
The red map at the left includes Bahrain and part of Qur'an Sura 9, al-Tawbah, verse 14, "Fight them. Allah will punish them at your hands..." (website of alAbdal, June 19, 2018).
Bill Garrison, 12 January 2021
---
image located by Bill Garrison, 12 January 2021
The logo of the Thaer Allah Brigades is similar to the logos of the IRGC and Hezbollah (al-Sharq al-Awsat, November 24, 2018).
Bill Garrison, 12 January 2021