This page is part of © FOTW Flags Of The World website
Austria: Flags of the Armed Forces (1955-1984)
Österreich
Last modified: 2014-04-12 by rob raeside
Keywords: rank flag | masthead pennant |
Links: FOTW homepage | search | disclaimer and copyright | write us | mirrors

---
See also:
---
The 1996 edition of Jane's Fighting Ships reports a war ensign, flown by vessels of the Austrian Army's Danube Flotilla. Its design is quite obviously based on the old Austro-Hungarian war ensign (note the arms in a shield set toward the hoist). Proportions are the same as for the civil and state flags.
Tom Gregg, 15 February 1997
There is no mention of a (separate) war ensign in Album 2000 (even if there is one shown in cor. 29 of Album 1990 issue). There is no such flag shown in the two documents from 1984 listed below, and even if they seem to determine all the flags for use at sea (or on water) they do allow for the 1981 "Seeschiffahrtsgesezt" to stay valid. Possibly there is something there that could explain it.
Željko Heimer, 20 February 2002
Since the 1984 arms and flag law, the TWO Danube patrol vessels of the Austrian army use the Bundesdienstflagge (state flag), as do the police patrol boats and all smaller army (engineer corps) boats. The ensign shown here is purely historical. The army flag code also shows the two Wimpel and two Stander to be used on Danube boats for officers and guests.
Peter Diem, 16 August 2002
Sources:
1. Bundesgesetz vom 28. März 1984 über das Wappen und andere Hoheitszeichen der Republik Österreich (Wappengesetz), Bundesgesetzblatt für die Republik Österreich, 72. Stück, 25. April 1984.

2. Grundsätzliche Bestimmungen über die Verwendung des Hoheitszeichens sowie über die Verwendung, das Führen und das Setzen von Flaggen, Wimpel und Stander, 5. Juni 1984, Verlautbarungsblatt I des Bundesministeriums für Landesverteidigung, 65. Folge, 19. December 1984.
---
Stander für ein Mitglied der Bundesregierung oder den Herrn Bundespräsidenten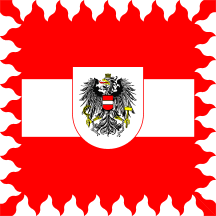 1:1, by Željko Heimer
On a square triband on a red outlined white shield is the coat of arms, with a red and white flammuly border. The flag is prescribed in size as 100 x 100 cm, the borders being 10 cm wide. The image in Album des Pavillons (2000) is not quite what I would be satisfied with - the flamullets are drawn very irregularly. There are nine white teeth along each side. The image above is what I think it should be - but it should be taken with some reserve. It is not clear if the flammulets are to be made by three "half-waves" as it is case in the military colours, or with only two "half-waves" as in the flag of flag officers.
Željko Heimer, 20 February 2001
This flag is described as "Standard for a Member of the Federal Government or the Federal President (Stander für ein Mitglied der Bundesregierung oder den Herrn Bundespräsidenten)" on the web page for the Austrian Federal Ministry for National Defence.
Luis Miguel Arias Pérez, 17 September 2001
The flag is used on the two patrol vessels of the Danube flotilla of the Austrian army.
Peter Diem, 16 August 2002

---
Stander für General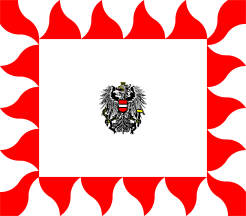 7:8~, by Željko Heimer
A white flag with the coat of arms in the middle and bordered with red and white flammulets. The flag is not 1:1 as written in Album , but 100 x 114 cm (that's very close to 7:8~), and the image in Album des Pavillons (2000) is clearly so. The flammulets here in Album are irregular, but are clearly made of two "half-waves". The width of the border is 18 cm.
Željko Heimer, 20 February 2001
This flag is described as "Standard for General (Stander für General)" on the web page for the Austrian Federal Ministry for National Defence.
Luis Miguel Arias Pérez, 17 September 2001
The flag is used on the two patrol vessels of the Danube flotilla of the Austrian army.
Peter Diem, 16 August 2002
---
Offizierswimpel

2:25
by Željko Heimer
Red-whte-red triangular pennant with stripes coverging towards the fly. Prescribed size is 20 x 250 cm (i.e., ratio 2:25).
Željko Heimer, 20 February 2001
This pennant is described as "Pennant for Officer (Offizierswimpel)" on the web page for the Austrian Federal Ministry for National Defence.
Luis Miguel Arias Pérez, 17 September 2001