This page is part of © FOTW Flags Of The World website
Rhodesian Air Force Colour and rank flags
Last modified: 2015-05-25 by bruce berry
Keywords: air force |
Links: FOTW homepage | search | disclaimer and copyright | write us | mirrors

---
See also:
---
Introduction
The descriptions of the Rhodesian Air Force car flags and rank pennants are taken from Flags and Symbols of Rhodesia, 1890-1980 (SAVA Journal 5/96) by R Allport [aLL96] and are illustrated at http://www.flagsforum.com/viewtopic.php?f=3&t=131.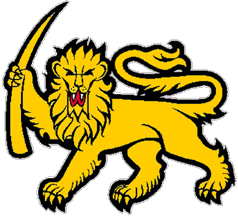 image by Clay Moss, 07 June 2008
All the pennants display the Rhodesian Air Force badge of a Bateleur Eagle in the centre, above which is the lion and tusk emblem (shown above) and below is a semi-circle wreath of tobacco leaves.
The Colour and rank flags described and illustrated below were used by the Rhodesian Air Force between 1970 until the independence of Zimbabwe in April 1980.
Marcus Wendel and Bruce Berry, 11 May 2008

---
Rhodesian Air Force Colour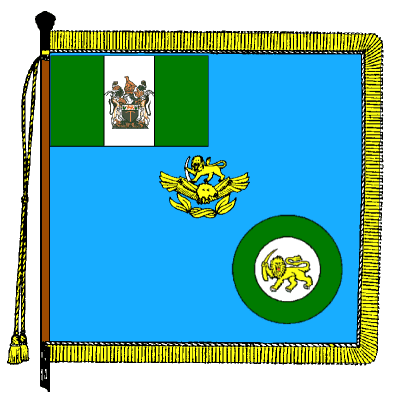 image by Richard Allport, resized by Bruce Berry, 15 May 2008
The Rhodesian Air Force celebrated 25 years of continuous service in 1972. To mark the occasion the then President of Rhodesia, the Hon. Clifford Dupont, presented the Air Force with its first Colour on 28 November 1972. The presentation was made during a parade at Government House in Salisbury (now Harare) and was followed by a ceremonial march through the city. The Air Force had been accorded the honour of Conferral of the Freedom of the City of Salisbury on 25 May 1971.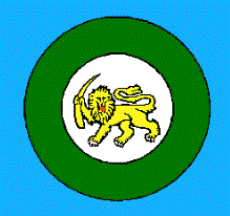 image by Richard Allport, resized by Bruce Berry, 15 May 2008
The design of the Air Force Colour followed in the tradition of those which had been presented to other branches of the Rhodesian Security Forces, being square and made of silk with fringe of gold tassels. The Colour had a light blue field similar to that used in the air force ensign and rank flags, with the Rhodesian national flag in the canton, the air force badge in the centre and the roundel in the lower fly.
Bruce Berry, 15 May 2008
---
Chief of Air Staff's rank pennant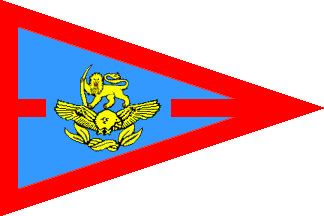 image by Miles Li, 14 May 2008
A triangular pennant of light blue with the air force badge in yellow. The pennant is bordered by a red stripe, with a horizontal stripe across the centre which is intersected by the badge.
Bruce Berry, 16 May 2008
---
Chief of Air Staff's car and aircraft flag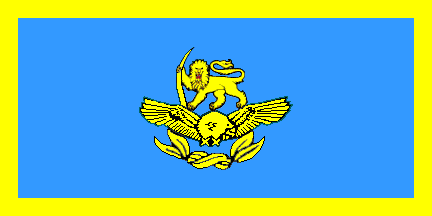 image by Miles Li, 14 May 2008
A rectangular flag of light blue with gold braiding around the edges and the air force badge in yellow in the centre.
Bruce Berry, 16 May 2008
---
Air Officer's rank pennant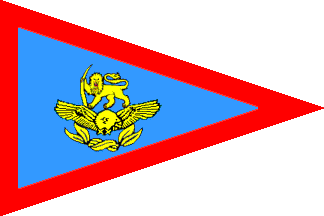 image by Miles Li, 14 May 2008
This is similar to the Chief of Air Staff's pennant, but without the horizontal red stripe.
Bruce Berry, 16 May 2008
---
Air Officer's car and aircraft flag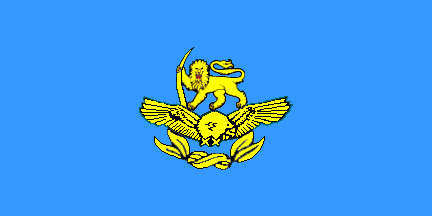 image by Miles Li, 14 May 2008
This is similar to the Chief of Air Staff's car and aircraft flag, but without the edging in gold braid.
Bruce Berry, 16 May 2008
---
Station Commander's car flag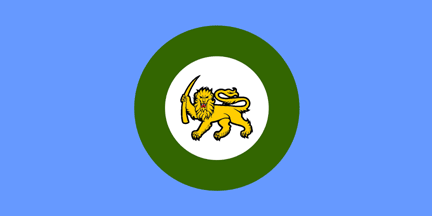 image by Clay Moss, 07 June 2008
A rectangular flag with a light blue field, with the air force roundel in the centre.
Bruce Berry, 16 May 2008
---
Group Captain's pennant
image by Miles Li, 15 May 2008
A triangular light blue pennant with the air force badge in yellow slightly offset towards the hoist and two vertical red stripes across the centre and in the middle of the fly half.
Bruce Berry, 16 May 2008
---
Wing Commander's pennant
image by Miles Li, 15 May 2008
Similar to the Group Captain's pennant, but with only one red vertical stripe in the centre.
Bruce Berry, 16 May 2008
---
Squadron Leader's pennant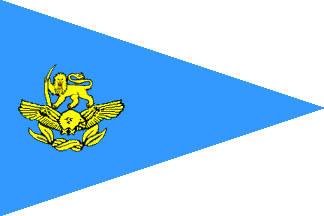 image by Miles Li, 15 May 2008

A triangular light blue pennant with the air force in yellow offset towards the hoist.
Bruce Berry, 16 May 2008