This page is part of © FOTW Flags Of The World website
Boer movement flags (South Africa)
Last modified: 2017-11-11 by bruce berry
Keywords: boer | south africa | vryheidsvlag | vierkleur | orania | kp |
Links: FOTW homepage | search | disclaimer and copyright | write us | mirrors

---
See also:
---
Vryheidsvlag - Afrikaner Peoples Front / Afrikaner Volksfront

image by Antonio Martins, 02 Mar 1999
In South Africa there is a political movement (or party) called the "Afrikaner Volksfront" (Popular Front), which aims to set up an independent Boer state. They use a flag very similar to the Transvaal "Vierkleur", but the red stripe is replaced with an orange one. This flag is called "Vryheidsvlag" (freedom flag).
The "Volksrepubliek Werkgroep" (People's Republic working group) made a proposal for a constitution of this imagined state. In article 19.16.3 it is written:
Today's freedom flag (green and orange, white, blue) must be used by the Afrikaner.
I was have also been asked who used the flag with "a yellow, maybe orange, stripe"?
So it seems that there are two flags: an older one with a yellow and a newer one with an orange stripe. Or maybe the orange is because of the former South African national flag?
Carsten Linke, 13 June 1996
As far as I am aware this is new, although the design has been popular amongst independent-minded Afrikaners for a good while now. The "Vryheidsvlag" mentioned has been registered with the SA Bureau of Heraldry by the Afrikaner Volksfront as indicated in SAVA Newsletter 14/95 of December 1995.
Bruce Berry, 14 Jun 1996
Transvaal flag (or Vierkleur) is used by the Afrikaner Volksfront (Afrikaner People's Movement, AVF) as their Vryheidsflag (Freedom's flag), with an orange stripe replacing the red one.
Filip Van Laenen, 3 Oct 1996
The "vierkleur" (four colour) design has also been adopted by the Boerestaatparty - another Afrikaner organisation seeking an independent "volkstaat" - with the vertical stripe in green and the horizontal stripes, black, white and blue.
Bruce Berry, 14 June 1996
The vierkleur in different coloured variations seems to be indeed a very popular symbol of Boer movements. There are not many national flags of this type in the world - I can think only that of the United Arab Emirates.
Carsten Linke, 14 June 1996
Last night on ABCTV news there was a report on a new attempt by South African Boers to set up their own homeland (they're seeking $20m from the UK - as compensation for the Boer War - to fund the project). A flag was briefly shown - I only caught a glimpse - a red, white and blue horizontal tricolour; with a vertical green stripe occupying the hoist.
David Cohen, 17 Oct 1997
I'm not a 100% sure, but I believe you might have the proportions of the Vierkleur and the Vryheidsvlag wrong. Although many people like to give the vertical bar the same width as that of the horizontal bars, I believe - in the case of the Vryheidsvlag anyway because I bought one from Orania) the correct proportions of the vertical bar is one third the (horizontal) length of the flag, i.e. the same proportion as the width of a bar in a vertical tricolour flag.
Hanno den Boer, 13 Mar 2002

A flag of the Afrikaner Popular Front / Afrikaner Volksfront was registered with the South African Bureau of Heraldry on 31 October 1995 and is described as being:
"A rectangular flag, proportion 2:3, consisting of three horizontal stripes of equal width, from top to bottom, orange, white and blue, and at the hoist a vertical green stripe one and one quarter the width of each of the other three stripes".
Source: Data of the Bureau of Heraldry on registered heraldic representations.
Mark Sensen, 19 May 2002
A flag for the Vrye Republikeinse Beweging (Free Republican Movement, formerly Afrikaner Volksfront) was has also been registered with the South African Bureau of Heraldry on 16 May 1997 and is described as:
"A rectangular flag, proportion 2:3, consisting of three horizontal stripes of equal width, from top to bottom, orange, white and blue, and at the hoist a vertical green stripe one and one quarter the width of each of the other three stripes".
Source: Data of the Bureau of Heraldry on registered heraldic representations.
Mark Sensen, 19 May 2002
I have just visited your web site and would like to correct some of the false statements regarding the "Vryheidsvlag". I am a founder member of both the Afrikaner Volksfront and the Vryheidsfront and so can speak with some degree of authority.

1) As far as I am aware, the flag you describe was never the flag of the Afrikaner Volksfront. The AVF used the Transvaal or Free State Vierkleur flags, depending upon in which province they were flown.
2) The translation of Afrikaner Volksfront as "Afrikaner Popular Front" is incorrect. The correct translation is "Afrikaner People's Front".
3) The origin of the flag you show is from the period of the Anglo-Boer War (or Tweede Vryheidsoorlog - Second Freedom War to many Afrikaners). When the forces of the two sovereign republics (Transvaal and Orange Free State) fought together, they used this flag. The orange stripe on top represents the Orange Free State and replaces the red stripe of the Transvaa and is called the Strydvlag (Struggle Flag). This flag was known as the Strydvlag until some time after the foundation of the Vryheidsfront/Freedom Front. The party changed the flag's name to tie in with that of the party.
4) The Afrikaner Volksfront dissolved soon after the 1994 general election in South Africa.
Jon Phillips, 27 Aug 2003


---
Orania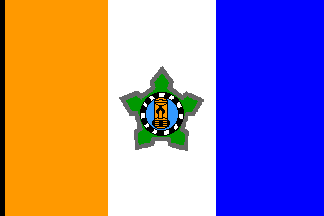 image by Mark Sensen, 20 Oct 1997

I think the name Orania is derived from the river Oranje/Orange. The home page of Orania shows a map. On this map of the Northern Cape Orania is only one village southwest of where the Orange and Vaal rivers come together. The homeland they plan for the Afrikaners is between the river Orange River and the Atlantic Ocean, so part of the Cape, not the Free State or Transvaal. Their flag is not totally based on that of the old Transvaal as the red is changed to orange for the Orange Free State. According to Boere Data the "Vryheidsvlag" or new "Vierkleur" was first hoisted in the night of 26/27 April 1994 (when the apartheid was officially abolished!). It's not only a combination of the design of the flag of the South African Republic (Transvaal) with the orange from the flag of Orange Free State but also incorporates the orange-white-blue of the "Prinzenvlag" of the "Dietse" ancestors of the Boers and the former flag of South Africa, but with a green stripe at the hoist.
Mark Sensen, 20 Oct 1997

On the Flags of Aspirant Peoples, published in 1994 by the Flag Society of Australia and the Flag Research Center, is the flag of "Orandia (White homeland) - South Africa." It has vertical orange-white-blue stripes with an emblem in the white stripe which is green ground plan of the Castle of Good Hope, outlined in grey, and including a monument (?) on a light blue background enclosed in a white-black hatched circle. The chart effectively shows a small black stripe at the hoist.
Ivan Sache, 12 Sep 1999

The following description and background is from SAVA Newsletter 2/91 which carried an article and illustration of this flag.

The flag originated in the early 1990s when the "Orandia Development Corporation" was established with the express purpose of establishing a "white homeland" to be called Orandia in the western part of South Africa. The town of Orania was purchased and was to be the centre of this activity. The flag is based on the former flag of South Africa, having vertical instead of horizontal stripes. The orange stripe represents the freedom struggle of the people of Orandia with the white stripe standing for cleanliness of thought, conduct and purpose. The castle outline in the centre indicates the origin of the "white" nation in South Africa with the landing of Dutch settlers in the Cape in 1652, with the surrounding protecting wall symbolising the protection of the nation's seed. The castle' inner 'face' is green to suggest life from the soil, on which the nation will multiply. Inside the castle a closed wagon laager encircles a stylised Voortrekker Monument (in Pretoria) symbolising the protection given to Orandia as the Nation of the Vow. The monument serves as a reminder of the slaughter that took place at the Battle of Blood River and of the sacrifices and perseverance of the predecessor of Orandia. The blue stripe shows the European origins of the forefathers of the people of Orandia and symbolises humanity and faith. The black sleeve nearest the hoist shows that Orandians are prepared to live peaceably the people of other races and that good neighbourliness and trade should prevail.
Bruce Berry, 10 Dec 2001


---