This page is part of © FOTW Flags Of The World website
Donate Life America (U.S.)
Last modified: 2020-07-04 by rick wyatt
Keywords: united states | donate life america |
Links: FOTW homepage | search | disclaimer and copyright | write us | mirrors

---
image by Randy Young, 18 May 2016
---
See also:
---
Overview
Donate Life America is a non-profit group of organizations across the United States that promote organ, eye, and tissue donation. The group manages the national Donate Life movement as well as individual state efforts. Headquartered in Richmond, Virginia, the stated mission of the group is "To drive individuals, organizations and communities to increase the number of designated organ, eye and tissue donors who save and heal lives."
(http://donatelife.net/)

Donate Life flags can be seen most often flying at hospitals, and the three hospitals in the Fredericksburg, Virginia, area are no different. I have witnessed them flying there several times. There are also photographs all over the Internet showing the Donate Life flags flying at various hospitals and other institutions across the United States, as well as for sale on the Donate Life America website. While researching online, I found that there are at least six different versions of the Donate Life flag, some belonging to specific institutions or used in specific circumstances. All, however, share a common design element – namely, the blue, green, and black logo of the Donate Life campaign displayed on a white field, the differences being in the size and placement of the logo and any included inscription. The logo consists of a box, slightly taller than wide, outlined in black and divided by an arching black line (with a small swirl whose significance is unclear to me) just above the middle. The top of the box is colored light blue with the word "DONATE" in black capital letters, while the bottom of the box is bright green with the word "LIFE" in similar lettering.
The base flag for Donate Life America shows the logo by itself centered on a white field. This flag is for sale on the organization's website, but can also be seen in photographs online at:
http://www.radioiowa.com/2016/04/01/iowa-donor-network-urges-you-to-become-an-organ-donor/ (http://cdn.radioiowa.com/wp-content/uploads/2016/04/Donate-life-flag.jpg)

http://www.thellf.org/for-volunteers-supporters/Donate%20Life%20Month/Donate%20Life%20Flag%20Raisings
(http://www.thellf.org/sebin/n/p/IMG_4571.jpg)

http://www.yourobserver.com/article/lakewood-ranch-medical-center-honors-organ-donor (http://www.yourobserver.com/sites/default/files/16096_standard.jpeg)
Randy Young, 18 May 2016
---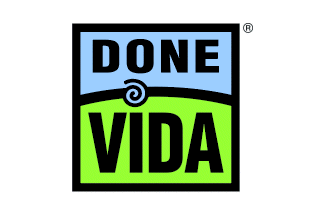 image by Randy Young, 18 May 2016
This flag is the Spanish language counterpart to the previous flag, bearing the same design, but with the words on the logo in Spanish instead of English – "DONE" in black capital letters in the light blue part of the logo, and "VIDA" in similar letters on the bright green part of the logo. This flag is for sale on the organization's website, but I have yet to find any photographs of the flag actually in use.
Randy Young, 18 May 2016
---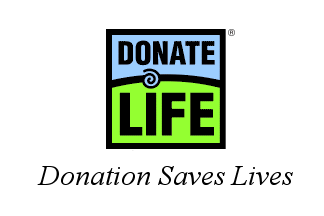 image by Randy Young, 18 May 2016
Arguably the most commonly seen version of the Donate Life flag, this version is based on the initial flag, but with the logo slightly smaller and the inscription "Donation Saves Lives" in black, italic, serif lettering below the logo. This is the version that I've seen most often at hospitals here in Virginia. This one is also for sale on the Donate Life website, and can be seen in scores of photographs online:

http://www.saratogaflag.com/-HOSPITALS_c_156.html
(http://www.saratogaflag.com/assets/images/Custom%20Banners%20%20Flags/DonateLife_OrganDonationFlag.jpg)

http://news.vanderbilt.edu/2014/04/organ-donation-flag-raising-event-set-for-april-17/
(http://news.vanderbilt.edu/files/Donate-Life-2010-SU001.jpg)

http://www.giftoflifemichigan.org/about-donation/how-donation-works
(http://giftoflifemichigan.org/sites/default/files/styles/medium/public/images/pages/saginawflag2.jpg?itok=TAATrkUi)

http://www.ahealthiermichigan.org/2013/04/11/april-is-donate-life-month/
(http://www.ahealthiermichigan.org/wp-content/uploads/2013/04/Beaumont-3_flag_small1.jpg)

http://biggspark.com/2012/04/21/donate-life-this-april/
(http://biggspark.com/wp-content/uploads/2012/04/photo-220.jpg)
Randy Young, 18 May 2016
---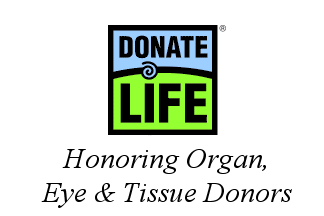 image by Randy Young, 18 May 2016
Probably the third most common variant of the Donate Life flag, this one is much like the previous one, but with a different inscription. The inscription this time is in two lines, one above the other, below the logo, in black, italic, serif letters: "Honoring Organ," and "Eye & Tissue Donors." This variant of the flag is also for sale on the organization's website, and can be seen in photographs online:

http://sarahssecondchance.net/2014/04/
(http://sarahssecondchance.net/wp-content/uploads/2014/04/DSC_0028a.jpg)

http://www.capitalgazette.com/ph-ph-h-ph-ac-bwmc-donate-life-flag-jpg-20141117-photo.html
(http://www.trbimg.com/img-546a5302/turbine/ph-ph-h-ph-ac-bwmc-donate-life-flag-jpg-20141117)

https://livinglegacymd.wordpress.com/2013/05/17/celebrating-our-committed-hospital-partners-during-national-hospital-week-2/
(https://livinglegacymd.files.wordpress.com/2013/05/dl-flag3.jpg)

http://jwcdaily.com/2013/04/03/donate-life-flag-raised-at-northwestern-lake-forest-hospital/
(http://jwcdaily.com/wp-content/uploads/2013/04/resized-for-GN-DSC_8598-580x413.jpg)

http://theavtimes.com/2012/04/09/av-hospital-raises-flag-and-awareness-of-organ-donations/
(http://www.theavtimes.com//wp-content/uploads/2012/04/AV-Hospital-donate-for-life.jpg)
Randy Young, 18 May 2016
---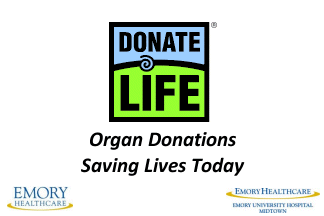 image by Randy Young, 18 May 2016
This is the first of the usage-specific variants. This variant of the Donate Life flag is flown by Emory University Hospital in Atlanta, Georgia, whenever an organ transplant is in progress at the institution. The flag is based on the variants of the Donate Life flag, bearing a smaller Donate Life logo at the center top of the flag, with a unique inscription below. The inscription is in two lines of black, italic, sans serif letters, reading "Organ Donation" and "Saving Lives Today." In the bottom right corner of the flag is the Emory University Hospital logo, while the Emory Healthcare logo appears in the bottom left corner. The flag can be seen online:

http://transplant.emory.edu/ETCNewsletter/ETCnews_0810.htm
(http://transplant.emory.edu/ETCNewsletter/images/Donate-Life-flag-raising2.jpg)
Randy Young, 18 May 2016
---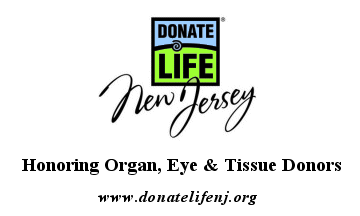 image by Randy Young, 18 May 2016
This usage-specific variant is used in the state of New Jersey. Like the Emory University variant, this one is displayed at a hospital when an organ transplant is taking place. And like the Emory variant, this one is a variation on the inscription-based variants of the Donate Life flag. The logo featured at the center top of the flag is the Donate Life New Jersey state chapter – it is the Donate Life logo with the words "New Jersey" added in a black cursive script. Below the Donate Life New Jersey logo is the inscription "Honoring Organ, Eye & Tissue Donors" in one line of black, serif letters. Centered at the bottom of the flag, in black, italic, serif letters, is the URL www.donatelifenj.org. The flag can be seen online at:

http://patch.com/new-jersey/tomsriver/monmouth-medical-center-southern-campus-and-nj-sharing-network-promote-organ-and-tissue-donation
(http://cdn.patch.com/users/259751/stock/T800x600/2015055547b6ee8bcdd.jpg)

http://unionnewsdaily.com/news/county/20167
(http://unionnewsdaily.com/wp-content/uploads/2015/09/UCL-donate-life-flag-C1.jpg)
Randy Young, 18 May 2016
---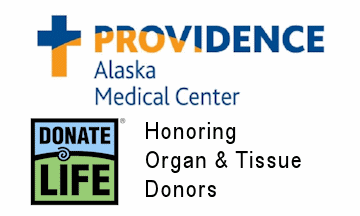 image by Randy Young, 27 April 2020
The flag shows the hospital logo in dark blue and gold in the top half of the white field, with the bottom half of the field containing the Donate Life logo toward the hoist and the words "Honoring Organ & Tissue Donors" in black letters stretching toward the fly.
Randy Young, 27 April 2020