This page is part of © FOTW Flags Of The World website
United Nations Framework Convention on Climate Change
Last modified: 2017-07-28 by rob raeside
Keywords: unfccc | climate change |
Links: FOTW homepage | search | disclaimer and copyright | write us | mirrors

---

See also:
---
The UNFCCC COP21/CMP11, in full "The 21st session of the Conference of the Parties and the 11th session of the Conference of the Parties serving as the meeting of the Parties to the Kyoto Protocol", was organized in Paris from 30 November to 11 December 2015.

UNFCCC stands for "United Nations Framework Convention on Climate Change". The UNFCCC entered into force on 21 March 1994. The 197 countries that have ratified the Convention are called Parties to the Convention. The UNFCCC is a "Rio Convention", one of three adopted at the "Rio Earth Summit" in 1992. Its sister Rio Conventions are the UN Convention on Biological Diversity and the Convention to Combat Desertification. Preventing "dangerous" human interference with the climate system is the ultimate aim of the UNFCCC.
http://unfccc.int/essential_background/convention/items/6036.php - Official website

The Kyoto Protocol was adopted in Kyoto, Japan, on 11 December 1997. Due to a complex ratification process, it entered into force on 16 February 2005. In short, the Kyoto Protocol is what "operationalizes" the Convention. It commits industrialized countries to stabilize greenhouse gas emissions based on the principles of the Convention. The Convention itself only encourages countries to do so. KP, as it is referred to in short, sets binding emission reduction targets for 37 industrialized countries and the European community in its first commitment period. Overall, these targets add up to an average five per cent emissions reduction compared to 1990 levels over the five-year period 2008 to 2012 (the first commitment period). In Doha, Qatar, on 8 December 2012, the Doha Amendment to the Kyoto Protocol was adopted. This launched a second commitment period, starting on 1 January 2013 until 2020.
http://unfccc.int/essential_background/kyoto_protocol/items/6034.php

At COP 21 in Paris, Parties to the UNFCCC reached a historic agreement to combat climate change and to accelerate and intensify the actions and investments needed for a sustainable low carbon future. The Paris Agreement requires all Parties to put forward their best efforts through "nationally determined contributions" (NDCs) and to strengthen these efforts in the years ahead. The Paris Agreement was adopted on 12 December 2015. In accordance with its article 20, the Agreement shall be open for signature at the United Nations Headquarters in New York from 22 April 2016 until 21 April 2017 by States and regional economic integration organizations that are Parties to the United Nations Framework Convention on Climate Change. As of 16 June 2016, the Paris Agreement has been ratified by 17 parties: Barbados, Belize, Fiji, Grenada, Guyana, Maldives, Marshall Islands, Mauritius, Nauru, Palau, Samoa, Seychelles, Somalia, St. Kitts and Nevis, St. Lucia, State of Palestine, and Tuvalu.
https://treaties.un.org/pages/ViewDetails.aspx?src=TREATY&mtdsg_no=XXVII-7-d&chapter=27&lang=en - United Nation Treaty Collection website.
---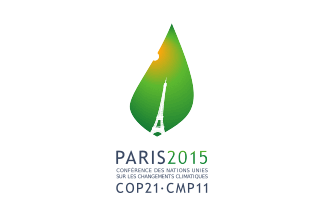 image by Ivan Sache, 16 June 2016
The flag of the UNFCC COP21-CMP11 is white with the logo of the Conference. The logo is made of a green leaf charged with a sun and the white stylized silhouette of the Eiffel Tower. Beneath the emblem is placed the writing:
PARIS2015
CONFERENCE DES NATIONS UNIES
SUR LERS CHANGEMENTS CLIMATIQUES
COP21-CMP11
The writing is grey/black, except "2015", which is green. The size of the letters is bigger on the first line, smaller on the two median lines, and intermediate in the lower line.

The flag was used during the official announcement on 15 June 2016 of the ratification of the Paris Agreement by France.
Photos:
http://www.elysee.fr/photos/ceremonie-sur-la-ratification-de-l-accord-de-paris-cop-3
Videos:
http://www.elysee.fr/videos/new-video-41

The logo is a French version of the conference's international logo, where the middle lettering is "UN CLIMATE CHANGE CONFERENCE", on a single line.
http://www.cop21.gouv.fr/les-logos - Conference website

The logo was officially unveiled on 14 January 2015 by Laurent Fabius, French Minister of Foreign Affairs and President of the Conference. The leaf is the symbol of nature and biodiversity, elements that are required, together with the sun, for life. The Eiffel Tower recalls that the conference was organized in Paris.

Official video:
https://www.youtube.com/watch?v=Z_ByI3okHcM#t=146

Ivan Sache, 16 June 2016