This page is part of © FOTW Flags Of The World website
Busoga Kingdom (Uganda)
Obwakyabazinga Bwa Busoga
Last modified: 2022-04-16 by bruce berry
Keywords: busoga |
Links: FOTW homepage | search | disclaimer and copyright | write us | mirrors

---

Image by Jarig Bakker, 22 Feb 2005 See also:
---
Introduction
The Institution of Traditional or Cultural Leaders Act 2011 was adopted in April 2011 by the Ugandan Parliament, passing into law the Bill which was published on 07 December 2010 as Bill No. 24 in the "Uganda Gazette", No. 72, vol. CIII.

The provision for emblems of Cultural Leaders is outlined in Article 19:
Symbols and seals of institution of traditional or cultural leaders.
(1) Institutions of traditional or cultural leaders may have flags, anthems, seals and logos.
(2) Flags, anthems, seals and logos of traditional or cultural leaders existing before the coming into force of this Act shall continue to be in use.

The list of the recognized cultural institutions and leaders is appended at the end of the Law, namely:

Ker Kwaro Acholi
Ker Alur
Obukama bwa Bunyoro
Buruuli Chiefdom
Obwakyabazinga Bwa Busoga
Obwakamuswaga Wa Kooki
Lango Chiefdom
Obusinga bwa Rwenzururu
Obwakabaka bwa Buganda
Teso Chiefdom
Tieng Adhola Chiefdom
Obukama bwa Tooro
Inzu ya Masaaba.
Ivan Sache, 17 Nov 2012
---
Busoga Kingdom flag
Busoga flag is represented by three colours, which denote the following:
Blue - Water is a source of life. The blue, represents the water bodies, River Nile, Lake Victoria, River Mpologoma in the West and Lake Kyoga that surround the region as the unbeatable natural resource endowments that define the economic activity of Busoga;

Yellow - represents the warm and sunny weather experienced in Busoga throughout the year;

Brown - represents the fertile brown alluvial soils found in this Victoria Crescent zone.
Source: this website.
John D McMeekin, 27 Jan 2005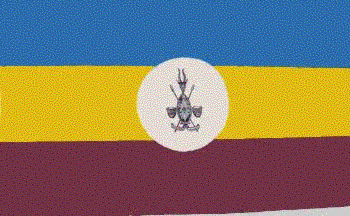 Image by John Duncan McMeekin, 31 Mar 2007
A variant of the Busoga flag has a white disc with the Kingdom Royal Arms in black and white in the centre.

An actual flag in the possession of Professor Michel R. Lupant (President of FIAV) measures 104mm at the hoist, 165mm in length and each of the 3 stripes is 35mm wide (approx.) and the white disc is 44mm wide. The Emblem is 16mm wide at the drums & 30mm high (from the ribbon in the base, to the top of the horns of the crest).
John D McMeekin, 31 Mar 2007
---
Busoga Kingdom Emblem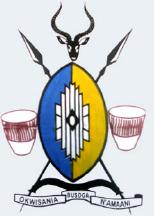 from this website, reported by John Duncan McMeekin, 27 Jan 2005

Busoga Emblem consists of the royal coat of arms and the tri-coloured flag.
The royal coat of arms is composed of many items and symbols that consist the following:-
The Kob ( Empongo)
It represents the rich wild life of Busoga. Tourism is a major activity that has just be identified for Busoga as a major source of income. The Empongo is also the totem of the Balangira (Royal family)
Two drums
The drum like to many other societies in Africa is an instrument used in communication. It is also a symbol of culture.
Two Spears
These are war weapons. They are a symbol of power and here they used to connate the leaders role of defending the people.
The shield is used to represent the states role to protect property and life of the peopleď
River Nile - Water is source of life. the Nile represents the natural resource endowment of the Busoga.
Motto
" Busoga okwisania na Maani" the motto is written in Lusoga language. It is translated in English to mean "Unity is Strength or Strength is derived from Unity" - It connotes the togetherness of the Basoga people at all times of crisis and happiness.
Pillars ( in the shield) - These pillars represent the 11 principalities that are the foundation of Busoga Kingdom. These are the families of Gabula, Zibondo, Ngobi, Menha, Luba , Wakooli, Ntembe, Tabingwa, Kisiki, Nkono, and Nanhumba.
Five long pillars in the middle represent the five Princes from which the Kyabazinga is elected. They include: Gabula, Ngobi, Tabingwa, Zibondo and Nkono.
The Knot (In the centre of the shield) represents the Kyabazinga Isebantu as the fulcrum of authority and the chief binding factor of Busoga.
Source: this website .
John D McMeekin, 27 Jan 2005

---
Busoga Royal Arms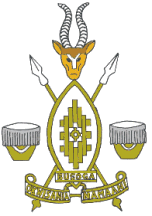 Image by John Duncan McMeekin, 06 Dec 2002

The coloured Arms of Busoga Kingdom (Uganda) seem to be the Royal Arms, the Black &White seem to be the State Arms.
I have been waiting for the Busoga Flag from my contact for 6 months.
John McMeekin, 6 Dec 2002

"The region of Busoga is situated in the South-Eastern part of Uganda. Population 2.1 Million Area 7100 sq. miles Capital, Jinja, the former industrial capital of Uganda and situated on the source of the River Nile. The Basoga are the eastern neighbours of the Buganda. They occupy the region between Lake Victoria and Lake Kyoga in the present districts of Jinja, Kamuli and Iganga.

Origin
Due to the continuous movements and intermingling of people within the Basoga region, the history of the Basoga is complex. It can be asserted, however, that the earliest inhabitants of Busoga belonged to the same Bantu group comprising the Banyoro and the Buganda. Their origins can therefore be traced, like other Bantu groups, to the Katanga region of Central Africa. Tradition holds that the earliest inhabitants were the Langi, the Iteso and the Bagisu. They were later engulfed by migrants from Buganda. The earliest settlers in Busoga are said to have occupied the lake-shore areas of modern Bukoli. Nanyumba's Banyole are believed to have been among these earliest inhabitants. These early settlements took place far back in the 14th century. They were later joined by other people from the Mt. Elgon region. These people are said to have been led by Kintu and are said to have settled in Bugabula and Bulamogi. They were later joined by others from Budama and some from Kigulu in Kenya.

The Language (Lu-Soga)
Lusoga language closely approximates to Luganda, especially that spoken by the Ssesse Islanders. Many Lusoga dialects exist. However, the Buganda influence over Busoga is such that Luganda tends to be used as a lingua franca in Busoga more than Lusoga itself. Within Busoga, there are so many dialects of the Lusoga language that it is difficult to reach agreement on the correct way to spell or pronounce certain words. For instance, in the north of Busoga, there is a distinct H but people from Southern Busoga do not accept this H as being appropriate to the Lusoga Language.

Political System
There was no paramount chief over the whole of Basoga.
The Basoga were organized into principalities or chiefdoms under the sovereignty of Bunyoro and later of Buganda. In the early times, the death of a chief was first reported to the Mukama of Bunyoro who would send the funeral bark cloth and all the necessary requirements for the burial rites.

On several occasions, he used to appoint the heir or send back the son of the deceased chief if the son happened, as was usually the case, to be at the Mukama's court in Bunyoro. During the time of the Luo migrations, Luo sub-dynasties were established in Busoga. Among these sub-dynasties (at least six in all), Bukoli and Bugwere were founded about the same time as the Babiito dynasty of Bunyoro at the beginning of the 16th century. By the turn of the 19th century, there were fifteen
virtually independent principalities.

In fact, the southern principalities are said to have been ruled by dynasties whose origins could be traced to the east and Lake Victoria Islands. During the 19th century, Buganda influence very greatly increased over the southern Busoga principalities. The northern principalities still had a connection with Bunyoro and indeed their language contained many Runyoro words. In 1906 the British protectorate accomplished an administrative amalgamation of the multifarious kingdoms of pre-colonial Busoga into a single integrated structure.

Representatives from the small pre-colonial kingdoms constituted the Busoga Lukiiko. In the same year Semei Kakungulu was appointed President of the Lukiiko, his reign ended with his resignation in 1913. This led to the collapse of the monstrous political structure and the abolition of the office of "President of the Lukiiko of Busoga". Later, there arose demands within Busoga for the revival of the office. In 1919 the Isebantu Kyabazinga office was established as alternative to it. And
Ezekieri Wako was appointed the first Isebantu Kyabazinga."
Source: this website.
Jarig Bakker, 10 Dec 2002

I have still not received anything on the Busoga Flag from my contact in Jinja, Busoga Kingdom.
BUSOGA TITLES:: It is reported that from the British period (1892-onwards) the Titles of the various Rulers changed, they are in 3 groups:
8 Omwami owe Saza (8 County Kings of the 8 Counties)
52 Omwami owe Gombolola ( 52 Sub-County Petty-Kings - or Kinglets)
An unknown number of Omwami owe Muruka (Parish Prince)
Regarding the Kings or Princes , I have a list of about 55 of them.
It will be noted that Mwami = King (Rwanda, Burundi, and about 8 Mwami in Haya District & in Districts in the N.W. of Tanzania (when it was Tanganyika, all aboilisted in 1962), with a few holding that title in Uganda). Omwami is the local spelling of Mwami. Like Mugabe (locally Omugabe in Ankole, and in certain States in N.W. Tanganyika), Mukama (locally Omukama in Toro, Bunyoro-Kitara, and in certain States in N.W. Tanganyika), Kabaka in Buganda.
BUSOGA KINGDOM is administered as the following:
KAMULI DISTRICT (4 Counties, 23 Sub Counties & 134 Parishes) - 2 Kings (BUGABULA, BULAMOGI)
IGANGA DISTRICT (4 Counties, 25-or-26 Sub Counties, unknown Parishes) - 3 Kings (KIGULU, LUUKA, BUSIKI)
MAYUGE DISTRICT (1 County, 6 Sub-Counties, unknown parishes) - 1 King (BUNYA)
JINJA DISTRICT (3 Counties, 11 Sub-Counties, 50 Parishes)
BUGIRI DISTRICT (1 County, 12 (or 19) Sub-Counties, unknown Parishes) - Possible 2 Kings (BUKOOLI and BANDA)
John D McMeekin, 01 Jan 2003


---
Busoga State flag and arms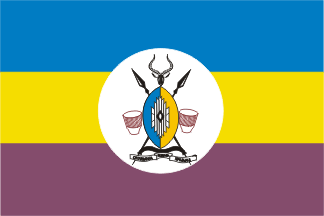 Image by John Duncan McMeekin, 26 Dec 2012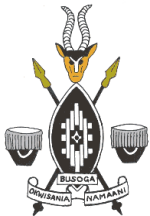 Image by Duncan McMeekin, 06 Dec 2002


---