This page is part of © FOTW Flags Of The World website
Svalbard and Jan Mayen (Norway)
Last modified: 2014-05-31 by zoltán horváth
Keywords: svalbard | jan mayen | norway | spitzbergen | spitsbergen | spitzenberg |
Links: FOTW homepage | search | disclaimer and copyright | write us | mirrors

---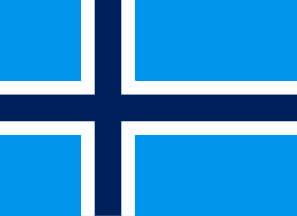 image by Antonio Martins
ISO Code: SJ SJM 744
MARC Code: integrated into Norway
IOC Code: Not applicable
Status: dependencies of Norway
---
Svalbard and Jan Mayen: Index of Pages
See also:
---
Status of the flag
Just for the record, the Norwegian dependencies in the Arctic are Svalbard (Spitzbergen) and Jan Mayen. The national flag of Norway is the appropriate flag.
Neither Jan Mayen, nor Svalbard, nor the Antarctic dependencies have flags of their own.
Jan Oskar Engene, 19 November 1995, 16 October 1997
---
Geography and politics
Svalbard
ISO 3166-2 Code: NO-22
FIPS 10-4 Code: SV
Svalbard (also referred to as Spitzenberg in the past) consists of all land masses between 74° and 81° North and 10°-13° East. It encompasses approximately 62,043 km2
Svalbard is first mentioned in Icelandic annals dating from 1194. The first known exploration was in 1596 led by William Barentsz (Dutch).
On 9 February 1920 Norway was granted sovereignty over the area which went into effect on 14 August 1925.
Svalbard has two major islands: Spitzenbergen and Bjørnøya (Bear Island).
Settlements are limited to mining and research communities and include:
---
Jan Mayen
ISO 3166-2 Code: NO-21
FIPS 10-4 Code: JN
Jan Mayen is a volcanic island located 71° N and 8°W with an area of 373km2.
The island was discovered by Jan Jacobs May von Schellinkhout and named for him by his first mate and mapmaker. Jan Mayen was a center of whaling activity until 1640-1650.
Jan Mayen was selected by Austria as a base for the first International Polar Year (1882-83). In 1921 Norway established a meteorological station on Jan Mayen and annexed it by decree on 8 May 1929 and on 27 February 1930 it was annexed formally by law.
Jan Mayen is uninhabited except for personnel to keep the LORAN-C and meteorological stations running.
---
General Information
Svalbard (Spitzbergen) and Jan Mayen are two distinct dependencies of Norway, put here together according to the ISO-3166.
Until 1994 Jan Mayen and Svalbard was governed by the Sysselmann (Governor) of Svalbard. Maybe this is the reason why they share an ISO-code. From August 1994 the administration of Jan Mayen was taken over by the Fylkesmann (County Governor) of Nordland. As others have noted, Jan Mayen has permanently staffed defence and meteorological stations.
Jan Mayen is an integral part of the Kingdom of Norway, just like Svalbard is. Consequently, neither are dependencies in the usual sense of that term. The only Norwegian dependencies are Bouvet Island, Peter I Island and Queen Maud Land. All three dependencies are situated in Antarctica and have no permanent inhabitants.
unattributed
---
Civilian/Coast Guard Transport Aircraft Marking
The flag known as the fishery inspection flag in parts of Europe is also used by the Norwegian Kystvakt (Coast Guard) obviously. It is prominently painted on the fuselage of basically civilian aircraft (Do-228 owned by Lufttransport AS) used on Svalbard for civilian transport as well as for coast guard duties, see:
Marcus E.V. Schmöger, 12 March 2006
---