This page is part of © FOTW Flags Of The World website
Bistrica ob Sotli (Municipality, Slovenia)
Last modified: 2010-11-06 by ivan sache
Keywords: bistrica ob sotli | crown (blue and yellow) | eagle (blue) |
Links: FOTW homepage | search | disclaimer and copyright | write us | mirrors

---
Municipal flag of Bistrica ob Sotli, two versions - Images by Željko Heimer, 24 June 2010
---
See also:
---
Presentation of Bistrica ob Sotli
The municipality of Bistrica ob Sotli (1,452 inhabitants; 3,110 ha) is located in eastern Slovenia, on the border with Croatia, formed here by the river Sotla; the municipality seceded in 1999 from Podčetrtek.
There is quite a number of places in Slovenia and other Slavic countries named "Bistrica", so the attribute "ob Sotli" (on the river Sotla) is mandatory.
Ivan Sache & Žejlko Heimer, 6 April 2009
---
Municipal flag of Bistrica ob Sotli
Stanič & Jakopič [j2s05] show the flag of Bistrica ob Sotli as a blue vertical flag with the coat of arms in the base and five yellow squares along the lower edge.
This design is confirmed by material available on the municipal website, taken from the booklet Izobraževanje lokalnih turističnih vodnikov (Education of the local tourist guides), prepared by Petra Misja, Nina Lojen, Tjasa Kunst for the Municipality of Bistrica ob Sotli, March 2007.
A variant of the flag with the name of the municipality placed beaneath the coat of arms is also used.
The five yellow and six blue squares on the bottom of the flag represent the 11 villages (Bistrica ob Sotli, Dekmanca, Črešnjevec ob Bistrici, Hrastje ob Bistrici, Križan Vrh, Kunšperk, Ples, Polje pri Bistrici, Srebrnik, Trebče and Zagaj) forming the municipality of Bistrica ob Sotli.
Yellow and blue represent the earth and the sky, respectively, as well as the physical and spiritual dimensions of life.
Žejlko Heimer & Ivan Sache, 24 June 2010
---
Coat of arms of Bistrica ob Sotli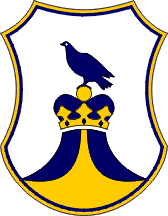 Coat of arms of Bistrica ob Sotli - Image by Željko Heimer, 25 December 2005
Stanič & Jakopič [j2s05], as well as the municipal website (same primary source as for the flag), show the coat of arms is a shield in Renaissance shape. In the middle of the white field there is a crown with three visible golden leafs and three blue oval stones, and with a blue cap, topped with an ornament of golden ball on which is standing a blue eagle ready to rise. Under the crown is a yellow field mantled with a blue royal cape.
The arms were designed by Franci Černelč. The crown recalls that the municipality originally developped around the market village of Kunšperk (in German, Königsberg, the King's Mountain, named after the castle built on a hill dominating the village (597 m). Bistrica was known in German as Sankt Peter bei Königsberg.
The eagle (in Slovene, orel) alludes to the neighbouring Orlica hills ("orlica" seems to be the heraldic word for an eagle); on the coat of arms, the eagle looks towards left, that is, geographically, to Bistrica. The yellow and blue colours have the same meaning as on the flag. The two blue "streams" can also represent the two rivers Sotla and Bistrica.
Žejlko Heimer & Ivan Sache, 6 April 2009
---
Municipal symbols of Bistrica ob Sotli prescribed but not used
Prescribed flag, coat of arms and table flag of Bistrica of Sotli - Images by Željko Heimer, 17 June 2002

The municipal symbols are provisioned, as to be determined by a subsequent Decision, in Article 5 of the municipal statutes, Statut Občine Bistrica ob Sotli, adopted on 19 April 1999 and published on 23 June 1999 in the Slovene official gazette Uradni list Republike Slovenije, 49/1999.

The flag and arms of Bistrica ob Sotli are prescribed by Decision Odlok o grbu in zastavi Občine Bistrica ob Sotli, adopted on 18 December 2000, and published on 26 January 2001 in the official Slovene gazette Uradni list Republike Slovenije, 6/2001.
The aforementioned material from the municipal website does not refer to such a Decision - which seems to be logical since the municipality does not seem to use the symbols prescribed by the Decision!

The flag prescribed in the Decision is rectangular, in proportions 2:1, yellow with a thin blue stripe in the middle, of width 1/40 of the hoist. In the middle there is, perpendicularly to the hoist, the coat of arms - with the eagle facing the viewer's right -, half as width as the hoist.
The colour specifications are given as:
- Yellow: HKS 42;
- Blue: HKS 4

There is no special provision prescribing that the flag shall not be hoisted horizontally, though its design is obviously meant primarily for vertical hoisting.

The table flag of Bistrica ob Sotli is similar to the flag for hoisting, but the blue vertical stripe ends at the half of its visible lower part, making space for the writing:
OBČINA
BISTRICA
OB SOTLI
Below the writings is a blue stripe.

Žejlko Heimer, 17 June 2002