This page is part of © FOTW Flags Of The World website
Alliance of Vojvodina Hungarians (Political party, Serbia)
Vajdasági Magyar Szövetség - Savez vojvođanskih Mađara
Last modified: 2023-04-22 by rob raeside
Keywords: vojvodina | alliance of vojvodina hungarians | vajdasagi magyar szovetseg | savez vojvodjanskih madjara |
Links: FOTW homepage | search | disclaimer and copyright | write us | mirrors

---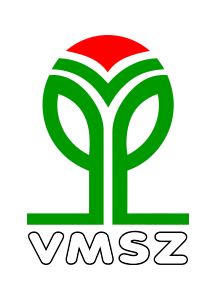 image by Tomislav Todorovic, 17 April 2022
---
See also:
---
Presentation of VMSZ
VMSZ is the largest Hungarian party in Serbia, founded in 1994. The current Mayor of Subotica is member of the party.
István Molnár, 10 December 2000
---
Flag of VMSZ
In the party Statutes [1, 2], the party emblem is described as a "stylized tree of life". This description suggests a pattern used in Hungarian folk art, mainly as embroidery. While no mention of it is made in the Statutes, this symbol is always accompanied by the party name initials in Hungarian, as is displayed on the flags.

Originally, the flag did have a ratio between 3:4 and 2:3, with the emblem occupying most of the field, as revealed by some photos [3, 4] taken some time before the end of 2003 (note the presence of the flag of Democratic Opposition of Serbia, whose member the party was). However, in later years, the flag ratio varied a lot and more oblong forms (ratio 1:2 or close) seem to have prevailed; the size of the emblem also varied, as did the relative size of the inscription and the tree symbol [5, 6, 7, 8]. The use of table flags with this design has also been recorded [9]. The emblem was modified in the meantime, now displaying only the top of the tree and the initials [10], but the flag was not changed so far [8, 9].

Image above derived from the SVG image of party flag from Wikipedia.
Tomislav Todorovic, 17 April 2022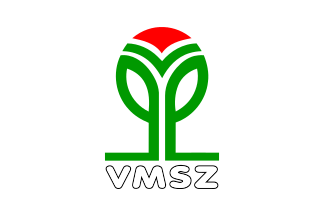 image by Tomislav Todorovic, 17 April 2022

During the 2010s, a horizontal version of the flag was also introduced; the ratio, emblem size and relative size of the parts of the emblem also varied a lot, while less oblong form and larger emblem seem to have been originally used [11, 12, 13, 14, 15]. Joint use of horizontal and vertical flags has also been recorded [16].

Tomislav Todorovic, 17 April 2022

Sources:
[1] Alliance of Vojvodina Hungarians Party Statutes (in Serbian): https://www.vmsz.org.rs/sr/o-nama/dokumenti/statut

[2] Alliance of Vojvodina Hungarians Party Statutes (in Hungarian): https://www.vmsz.org.rs/o-nama/dokumentum/alapszabaly

[3] Alliance of Vojvodina Hungarians at Facebook - photo uploaded on 2012-02-17: https://www.facebook.com/photo/?fbid=315839021796913&set=a.315838495130299

[4] Alliance of Vojvodina Hungarians at Facebook - photo uploaded on 2012-02-17: https://www.facebook.com/photo/?fbid=315839075130241&set=a.315838495130299

[5] Alliance of Vojvodina Hungarians at Facebook - photo uploaded on 2012-02-17: https://www.facebook.com/photo/?fbid=315856881795127&set=a.315855731795242

[6] Alliance of Vojvodina Hungarians at Facebook - photo uploaded on 2016-02-12: https://www.facebook.com/photo/?fbid=976791232368352&set=a.976791099035032

[7] Alliance of Vojvodina Hungarians at Facebook - photo uploaded on 2016-02-18: https://www.facebook.com/307026496011499/photos/a.979597528754389/979597685421040/

[8] Alliance of Vojvodina Hungarians at Facebook - photo uploaded on 2016-04-16: https://www.facebook.com/307026496011499/photos/a.1015947731786035/1015947978452677/

[8] Alliance of Vojvodina Hungarians website - News report on 2021-03-25: https://www.vmsz.org.rs/sr/node/40269

[9] Panon RTV website - News report on 2021-11-26: https://pannonrtv.com/rovatok/vesti-na-srpskom/pomoc-pri-upisu-u-biracki-spisak

[10] New emblem of the Alliance of Vojvodina Hungarians at Wikipedia: https://en.wikipedia.org/wiki/File:Logo_of_the_Alliance_of_Vojvodina_Hungarians.svg

[11] Alliance of Vojvodina Hungarians at Facebook - photo uploaded on 2016-02-11: https://www.facebook.com/photo/?fbid=976189612428514&set=a.976189355761873

[12] Alliance of Vojvodina Hungarians at Facebook - photo uploaded on 2016-02-11: https://www.facebook.com/photo/?fbid=976189465761862&set=a.976189355761873

[13] Alliance of Vojvodina Hungarians at Facebook - photo uploaded on 2016-02-11: https://www.facebook.com/photo/?fbid=976118032435672&set=a.976117389102403

[14] Alliance of Vojvodina Hungarians at Facebook - photo uploaded on 2017-03-12: https://www.facebook.com/307026496011499/photos/a.1283459538368185/1283460335034772/

[15] Alliance of Vojvodina Hungarians at Facebook - photo uploaded on 2017-03-12: https://www.facebook.com/307026496011499/photos/a.1283459538368185/1283459588368180/

[16] Alliance of Vojvodina Hungarians at Facebook - photo uploaded on 2016-02-15: https://www.facebook.com/307026496011499/photos/a.978451895535619/978452255535583/

Tomislav Todorovic, 17 APril 2022