This page is part of © FOTW Flags Of The World website
Buddhist flag variants seen in Southeast Asia
Last modified: 2019-09-02 by rob raeside
Keywords: buddhism | myanmar | cambodia | vietnam |
Links: FOTW homepage | search | disclaimer and copyright | write us | mirrors

---

See also:
---
Buddhist flag in with green in Burma (Myanmar) and Vietnam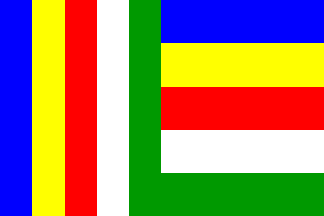 image by Ivan Sache 20 December 2000
A Buddhist flag seen in Burma shows some differences with the usual Buddhist flag:
- the horizontal stripes spread over the half of the flag
- both the horizontal and vertical orange stripes are replaced with green ones.
On the page above, it says that the six colours of the flag "represent the colours of the aura that emanated from the body of the Buddha". Concerning the Burmese flag, my source (see below) says that there were seven auras that emanated from the Buddha, five only being represented on the flag because two close shades of blue and yellow, respectively, were merged.
I I suspect the replacement of orange by green in the flag to represent a specificity of Burmese Buddhism. I know very little about Buddhism but I seem to remember that different "ways" are followed in different areas of Asia.
Source: visual observation by J. Renault in 1999, reported in Franciae Vexilla #20/66 December 2000.
Ivan Sache, 20 December 2000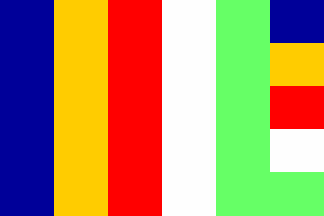 image by Tomislav Todorovic, 29 June 2014
Aalthough the "standard" Buddhist flag, including its vertical variant, is in widespread use in Vietnam, there is also a much less used variant, considering the frequency of its appearing in the photos available on the Web, which replaces orange with green. It was photographed in Hai Ba Trung temple, Hanoi, on 2009-05-03: https://www.flickr.com/photos/jonsanwell/3624914266.

The symbolism of green is not clear. Perhaps it is used in order to make the color set which represents five Dhyani Buddhas, as in the
Japanese Buddhist flag. This is possible, because Mahayana traditions make the dominant form of Buddhism in Vietnam. On the other hand, a very similar flag is used in Burma (Myanmar) where majority of believers follow the Theravada tradition, which does not know the concept of Dhyani Buddhas, and the Vietnamese flag resembles that one more than that from Japan. For these reasons, the symbolism of this flag is yet to be revealed. It shall also be noted that green on the Vietnamese flag is much lighter than on the Japanese and Burmese flags.
Tomislav Todorovic, 29 June 2014
---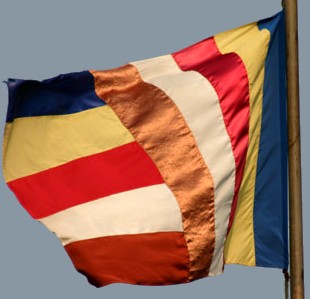 image by Davor Pukljak, 2 May 2007
I am sending you a photo of a Buddhist flag I shot at Wat Phnom, Phnom Penh, Cambodia March 2007, which is a bit different from the ones illustrated above.
Davor Pukljak, 2 May 2007
For other photos of Buddhist flags with the fly stripe wider than the others see www.buddhanet.net/bodhi-tree/, www.goldenbuddha.net/buddhist-flag/, or www.prayerflags.com/display.asp?catid=4&pid=39. Interestingly the last two examples substitute burgundy for saffron, with the following explanation given at the www.prayerflags.com web page: "In the past 50 years the colors of the stripes have changed, at least in the Tibetan communities. There is an explanation for this: To most Tibetans the colors of the stripes represent the different colors of Buddhist robes united in one banner. Tibetan monastic robes are maroon so the orange stripes in the original design are often replaced with maroon. "
Ned Smith, 3 May 2007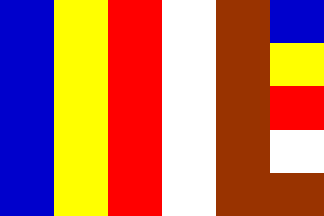 image by Tomislav Todorovic, 29 June 2014
On this photograph above, the horizontal orange stripe looks as if it is replaced by maroon. A photo from the same location, taken on 2011-01-06 at https://www.flickr.com/photos/dan-and-gem/5335683561 shows a flag on which the orange color seems to have been completely replaced with a light shade of brown, although there is also the possibility that it might be an illusion created by lighting conditions during the photographing. However, another photo from Cambodia, taken on 2013-02-23 (location not specified), clearly shows a flag which employs brown color instead of orange. This is just a variant flag, though, much less used than the "standard" Buddhist flag with orange color, which can be concluded from the fact that it is shown on many fewer photos than the flag with orange color.
Tomislav Todorovic, 29 June 2014
---
Buddhist Congregation Linh Son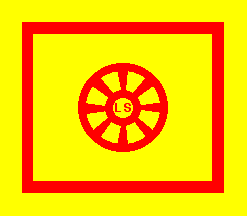 image by Ivan Sache

The yellow field represents Dharma, the lessons from Buddha as well as his body.
The red frame within the yellow field represents the effort needed to reach spirituality.
The red wheel is the Dharma wheel that Buddha had thrown when he gave his first lesson to the five Kundinya brothers.
The eight rays of the wheel represent the octuple way of the four truths.
The letters LS in the middle of the wheel stand for Linh Son.

The congregation was founded in 1975 in Joinville-le-Pont, near Paris, by Dr. Thich Huyen Vi who had studied for 13 years in India and had left Vietnam after the fall of Saigon. Linh Son means "sacred mountain". This refers to a mountain in India called Ky Xa Quat or Linh Tuu Son [I guess these are Vietnamese names], where Buddha used to give lessons and meet his disciples. There are now 8 Linh Son communities in France, one in Belgium and one in United Kingdom.

Source: L. Philippe in Franciae Vexilla #16/62, December 1999.
Ivan Sache, 19 December 1999