This page is part of © FOTW Flags Of The World website
Évora Municipality (Portugal)
Concelho de Évora, Distrito de Évora
Last modified: 2016-08-20 by klaus-michael schneider
Keywords: evora | knight | moors(beheaded) | tower and sword order |
Links: FOTW homepage | search | disclaimer and copyright | write us | mirrors

---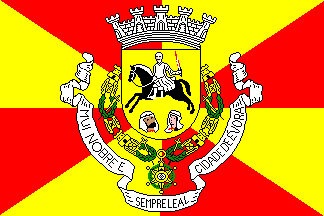 2:3 image by António Martins-Tuválkin, 6 Nov 1998
---
See also:External links:
---
About the Flag
It is a fairly typical Portuguese municipal flag, with the coat of arms centred on a red and yellow gyronny field (city rank).
António Martins-Tuválkin, 6 Nov 1998
Coat of Arms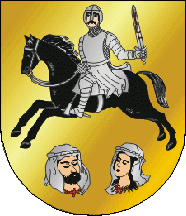 image by Sérgio Horta,

The coat of arms is or, a Christian knight riding a horse sable dressed and haired argent, holding a blood stained sword; in point, a cut off head of a Moor proper and dressed argent and a cut off head of a Moor woman also proper and dressed argent — both blood stained. No comments about the story this tells… Mural crown argent with five visible towers (city rank). The scroll reads in black upper case letters "MUI NOBRE E SEMPRE LEAL CIDADE DE ÉVORA", meaning "most noble and ever loyal city of Évora". added as a mark of honour is the chain of the Order of Tower and Sword
Meaning:
The arms show a scene, which took place in 1165 during the reconquest of the city. Portuguese writer and Nobel Prize Winner in 1998 José Saramago tells the story as follows: "Giraldo the Fearless (Giraldo sem Pavor), a Portuguese robber-knight, tried to get pardon for his numerous crimes fromKing Afonso Henriques. He thus planned to conquer Évora. His plan was supported by the guilelessness of its Moorish defenders. In a cruel way he beheaded the gatekeeper and his daughter, who had been fast asleep. The defenders were confused thinking the assault came from the other end of the town. They didn't close the captured gate and Portuguese soldiers, supported by mouriscos and moç árabes invaded the city and massacred or imprisoned the Moorish inhabitants. Évora afterwards was never again conquered by the Moors. "
Source: José Saramago: "Die portugiesische Reise" (Viagem a Portugal), p.492
António Martins-Tuválkin, 6 Nov 1998 and Klaus-Michael Schneider, 2 Nov 2014
---
Banners
| | | | |
| --- | --- | --- | --- |
| 1:1 image by Klaus-Michael Schneider, 27 Oct 2014 | 1:1 image by Klaus-Michael Schneider, 27 Oct 2014 |   |   |
Banner#1
It is the same pattern like the flag already depicted in our pages (see left image above). Banner has golden and red tassels and cord and golden pole with finial (the latter as usual not in image).
Banner#2
The other variant has a scroll as usual and no chain of the Order of Tower and Sword but two blue scarves instead (see right image above), bearing the Order's star at the bottom. Inscriptions on scarves are not recognizable.
Source: Banner#2 from leaflet: "Armas do município de Évora" (edited by the city)
Klaus-Michael Schneider, 27 Oct 2014
Flag and arms adopted and published in Diário da República: III Série on 12 October 1990
António Martins-Tuválkin,
---
Version without Coat of Arms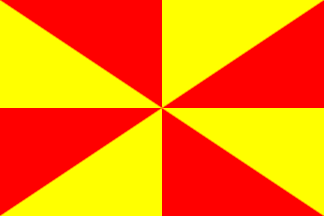 2:3 image by António Martins-Tuválkin, Apr 2010
---
Former Flags
---
Historical Banner (17th Century)
| | | | |
| --- | --- | --- | --- |
| image by Klaus-Michael Schneider, 6 May 2016 | image by Klaus-Michael Schneider, 6 May 2016 |   |   |
It is red, made of floral silk. In centre a knight mounted, armed Argent with a crest of plumes Or, holding an upright sword Argent with hilt Or, a sinister facing horse Argent with bridles and saddle Or. In the lower hoist corner the head of a slayed Moorish warrior with turban. Beneath the Moor's head on a golden ribbon is an uncomplete Latin inscription, reading: "PERPETVM LAVDIS DAT MON(V)M(EN)TA TIBI". (here is "V" for an "U" and the letters iin brackets have disappeared, I misinterpreted separating points as letters in my first attempt. Please note that it should be "PERPETUUM" instead of "PERPETUM", but one "U" was obviously forgotten.). The lower fly corner is replaced by a new piece of silk of darker shade. In the lower fly corner had been originally a slayed Moorish lady's head. (see reconstruction in right image). Joachim Molthagen, a historian and specialist of Roman history identified the text. The English translation is "Continuance of praise gives you monuments".
Source: historical banner (left image) spotted in Évora city hall on 3 October 2013
Klaus-Michael Schneider, 27 Oct 2014 / 6 May 2016
---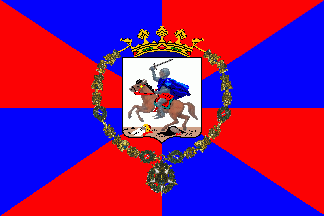 2:3 speculative image by Klaus-Michael Schneider, 3 July 2016

There had been another municipal flag of Évora before, probably adopted 1931. It had been gyronny of eight of red and blue with centred arms.

Coat of arms:
Although I couldn't find any written sources, I found a coat of arms dated 1931, composed of tiles, in Évora itself, near the antique temple of Diana as follows: Samnite shield (also called French shield) Argent, a Christian knight in clad armour Argent, partially covered by a coat Azure, riding on a horse Maron, base Maron covered with the chopped off heads Proper of an old Moorish man and a Moorish woman. The shield is topped by a royal coronet Or, gemmed Gules and Vert filled Azure (= dark blue) in its base, the chain of the Order of Tower and Sword, added as a mark of honour, is fixed at the crown and surrounding the shield. The scroll is missing, although the inscription was already granted to the city in 1919. Instead the motto of the Order is clearly recognizable in base of the chain: "VALOR, LEALDADE E MERITO" (=valour, loyalty and merit).
Please note that in similar cases flags having the same colours were permitted by the CHAAP four times: São Pedro do Sul (1935), Campo Maior (1936), Maia (1936) and Santiago do Cacém (1986). The flags of Ovar and Viana do Alentejo however had never been published in Diário da República and thus were probably refused by the Comissão de Heráldica da Associação dos Arqueólogos Portugueses (CHAAP).
We can only conjecture that there had been more reasons to refuse the former pattern of Évora, e.g. the unusual shield type and missing mural crown with scroll.


Klaus-Michael Schneider, 3 July 2016
---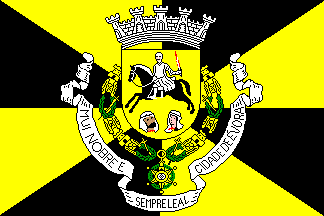 2:3 image by Klaus-Michael Schneider, 3 July 2016

After more than 50 years in "illegality" the council of Évora decided on 28 October 1987 the introduction of new local symbols and the current flag was adopted the same day. The decision was prepared by an expertise of heraldrist Dr. Pedro Sameiro, who suggested red and gold or black and gold as new flag colours. He preferred black and gold, because these colours had been a repetition of the main colours of the current coat of arms, according to the decree of 1930. But the black and yellow (golden) flag never came to being and remained a draft.
The council favoured the colours red and yellow (gold) as a compromise, because red had been already one colour of the former city flag and had been also the colour of the 17th century flag.
So the current flag was adopted by the local parliament on 30 December 1987 concordantly. It was however published after an above-average time span, nearly three years, in Diário da República: III Série on 12 October 1990.
Source: "Armas do Município de Évora", leaflet edited by Évora Municipality, a short version of source can be found here.
Klaus-Michael Schneider, 3 July 2016
---
Presentation of Évora
Évora is a large "province" city (by portuguese standards), capital of a municipality with 1308 km² and 53 880 inhabitants in 16 communes. It belongs to the Évora district and to the traditional province of Alto Alentejo and will be in the future region Alentejo.
António Martins-Tuválkin, 6 Nov 1998
---
back to Municipalities of Portugal click here