This page is part of © FOTW Flags Of The World website
Dutch Houseflags of Shipping Companies [f]
Last modified: 2022-06-18 by rob raeside
Keywords: fernhout | fiwado | flinter | fluvia |
Links: FOTW homepage | search | disclaimer and copyright | write us | mirrors

---
Other 'F' companies:
See also:
---
Fernhout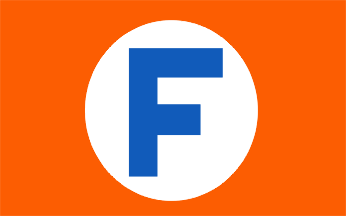 image by Eugene Ipavec, 9 Jan 2009

On this page (where nothing seems to follow – just the one page) we find an orange flag with a white disk bearing a blue initial 'F' and below that the name "FERNHOUT" in white, all letters without serifs. This is surely the place holder for a future site presenting Fernhout BV at Zwolle (capital of Overijssel province), active in inland shipping. A barge named 'Marina' is presented on this Binnenvaart page, also showing an initialled Fernhout flag as a drawing:
The company owned this vessel from 1993-1999, then sailing under the name 'Johanna F'.Going one better, the 'Beveland' page shows the flag – albeit very small – flying if only for one year, 1968, on an inland tanker:

Further binnenvaart pages mention a Fernhout motorless barge (to become a trailing suction hopper dredger, a tug, and several classic barges. Earliest mention 1950 (sailing for 'Fernhout Zandhandel' i.e. Fernhout Sand Trade), most recent 2007. (Probably not connected to 'K.T. Fernhout – which may have been a private owner – at Amsterdam or Rotterdam.)

Direct link to Binnenvaart flag drawing.
Pennant (or flag? it is called a "logo") shown on this page, presenting a construction company, also at Zwolle, where the url provided leads back to our first link! The circle seems closed now, as among the various activities mentioned are dredging and waterway construction. Owning or operating an inland fleet, modest as it may be, then comes naturally.
Jan Mertens, 7 Jan 2009

---
Fiwado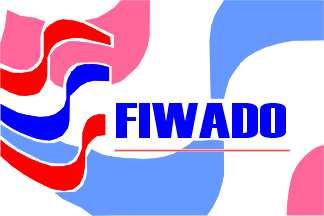 image by Jarig Bakker, 21 May 2006

I'll now present a Dutch company flying a flag which is no run-of-the-mill production: Fiwado, a bunkering firm. But let me say first of all that as of 1 January 2006, Fiwado has merged with Calpam and is now called FiwadoCalpam (ultimately part of the Total Group). The idea is to present the current firm but then to focus on the
Fiwado house flag.

We know what a bunkering station is by now – a floating, if need be towable, sort of pontoon offering various important commodities to bargemen and other shippers, the most important being mineral oil of various kinds: service station and supermarket rolled into one. In addition, a number of firms has tanker vessels roaming inland waters and harbours.

FiwadoCalpam website (in Dutch), listing 12 stations in the Netherlands and two in Germany (see left menu 'Vestigingen', some are clickable).
Text on the Vaart! site (in Dutch) commenting upon the Fiwado-Calpam merger:
Some hightlights: the new entity represents between 20% and 30% of the bunkering market (inland navigation only). Competitors are Slurink (Shell), which is bigger, and Rijnplus van Woerden (Esso), more or less equal in size. Then there are the many little players, where BP has an important stake.

Photo of 'Fiwado 8' tanker on the Binnenvaat site, and picture of flag can be seen here.
As luck would have it, a kind soul offers the Fiwado house flag (two different sizes) on eBay (Germany). This offer is about to end and has no. 6629789269.

Now for a description… On the hoist of a white flag are placed three wavy stripes red above blue above red – they do not touch – and the rest of the flag, including the space behind the three stripes, is taken up by what appears to be an 'echo' of these lines: a bigger rendition, in pastel colours this time, and only partially visible within the flag's borders. There is also the name 'FIWADO' in the fly, in blue letters, underlined by a thin red stripe, waxing and waning!
The three stripes - fimbriated where necessary, by the way - seem to suggest a lowercase 'f'.

Of course there is Calpam to consider and a possible new or combined house flag, but here my message ends. A last remark: most bargemen love to fly flags and Fiwado's is prominent among them - photos are easily found on the internet (he wrote, crouching before the screen) however it was Jarig who was outdoors and did the sighting.
Jan Mertens, 18 May 2006

---
Flinter, Groningen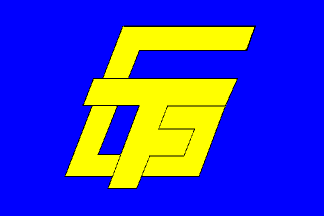 image by Jarig Bakker, 3 Mar 2005

Jan Mertens reported this link with mainly Dutch houseflags. Flinter Groningen - blue flag, charged with yellow intertwined "FG".
Jarig Bakker, 3 Mar 2005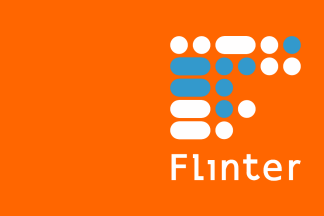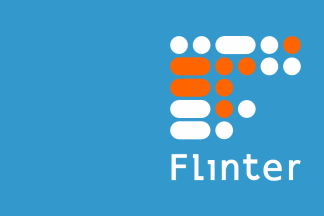 images by Eugene Ipavec, 7 Jun 2011
On 21 Dec 2006 I mentioned a possible new "Morse code F" flag for Flinter, message titled 'Ancora Shipping and Flinter (NL)'. Attached is an orange table flag bearing the logo and company name in light blue and white/white respectively, in the fly. Source: German eBay offer no. 170482919993, end 17 May 2010, put up by "wodkalisa2". Approx. dimensions given as 10.5 cm x 15.5 cm.
Both flags, old and new, appear on Josef Nüsse's table house flag site (NL is first country on this page; flags arranged alphabetically: clickable images
More delving needed as a blue version is seen: flown on the bow of 'Noorderkroon'
Jan Mertens, 13 May 2011
Blue version also to be seen here.
---
Fluvia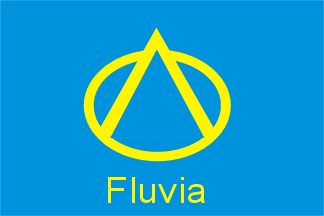 image by Jarig Bakker, 24 Jun 2006

The Company website gives a good description of its activities:
Fluvia is a young, internationally operating logistics company, dedicated to offering and developing transport over water and storage of bulk goods.

Early 2004 four shareholders founded this limited liability company in Rotterdam.
· Westhoeck BV
· BV Maatschappij Motorschip "Kieldrecht"
· BV Scheepsonderneming Duoboot
· Utile Dulci BV

The shareholders, each of which is holding a 25% participation, are interested in a long term investment. This meaning that profits are reinvested in Fluvia companies. Each of the four partners has a broad experience and is well known in all markets in which Fluvia operates or plans to become active. Rick van Westenbrugge (Westhoeck BV), being the managing partner, runs the company on a daily basis.

It is Fluvia's aim to develop activities in existing niches of European markets. Since the founding of the company, the transportation of mineral oil products, edible oils, fats, and chemicals has been its main focus. Any opportunities to broaden this terrain to other segments of bulk logistics will be eagerly explored.

A first move to establish the takeover of the Swiss branch of Vopak's inland shipping division (Vopak Schweiz in Basel) was made early 2004, resulting in Fluvia AG's ownership of 5 inland tankers (2500-3000 dwt), transporting mineral oil products over the river Rhine to Basel in the ARA-realm. The commercial and operational command of this fleet rests with the Fluvia AG office in Basel, Switzerland. At present this company has a headcount of 40.

Early 2005 Fluvia has acquired the total Vopak Vegoil Barging business, fleet and organisation. The renamed company Fluvia Vegoil Barging has its centre of excellence in Rotterdam and the former German and Dutch fleet are now operated as one Fluvia fleet. The 11 owned dedicated vegoil inland tanker vessels have all been renamed in the Fluvia tradition with the Piz prefix and named after the highest mountain peaks in all continents of the world. Together with 4 captain-owned barges Fluvia Vegoil Barging operates a fleet of 15 vessels enabling the 50 people strong organisation to offer very reliable and high quality tanker transportation services to the food industry on all North West European waterways.

At the same time the next establishment of Fluvia in an existing niche market has been realised by taking full ownership of Vopak Mineral Oil Barging Germany, with office in Hamburg. With renaming of this company in Fluvia Tankrode the new owners express with pride to be the successor of the well know and highly reputed inland tanker company Tankrode. With the 3 owned inland tanker barges together with 11 captain-owned vessels Fluvia Tankrode is a major provider of mineral oil transportion on the North German waterways as well in the port of Hamburg.

To broaden the scope of activities within the defined Fluvia playing field a 60 % participation has been taken in a tanker ship broking company, formerly known as Vopak Tanker Chartering Belgium, based in Antwerp. The three highly reputable shipbrokers had earlier acquired the company from Vopak in a management buy out . Together they are 40 % shareholder In the renamed company Fluvia Tanker Chartering.

During the summer of 2005 Fluvia has acquired three state of the art inland chemical tankers. The identical 1600 mton vessels with stainless steel tanks have build under the management of the previous private owners an impeccable reputation of quality and safety. The mts Columbia, Challenger and Enterprise have been for almost 10 years time chartered to Stolt Nielsen. Under the ship management and ownership of Fluvia AG the vessels, renamed Piz Amalia, Piz Albana and Piz Albris, continue to chartered out to Stolt Nielsen on long term basis."
...
There is a photo with a waving flag: brightblue, with the firm's logo in yellow. The logo consists of an ellips, with a turned capital "V" superimposed, over "Fluvia".
Jarig Bakker, 24 Jun 2006

The blue in Fluvia's flag is light and cheerful as seen in several photos on the company site. Compare the dark - and erroneous - version on the Binnenvaart site.
There is a pennant as well - cheerfully blue - which was offered on German eBay recently (withdrawn 16 April 2006, item no. 6620641621). No company name mentioned.
Jan Mertens, 24 Jun 2006

---