This page is part of © FOTW Flags Of The World website
Worlds Fairs: 1915, 1916, Panama-Pacific International Exposition
San Francisco, San Diego
Last modified: 2019-05-23 by

zoltán horváth
Keywords: worlds fair | bureau international des expositions | bie | buffalo |
Links: FOTW homepage | search | disclaimer and copyright | write us | mirrors

---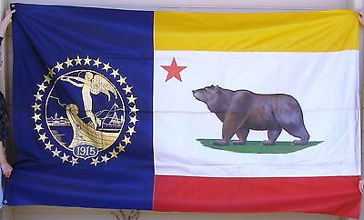 image located by Dave Martucci, 24 January 2019

---
See also:
---
Before the great San Francisco earthquake in 1906, plans were underfoot to celebrate the opening of the Panama Canal in 1915 in that city. The earthquake caused concern about San Francisco's ability to host the event so alternate plans evolved to have the event in San Diego.

San Francisco persevered and plans went forward even as the city dug out from under the rubble of the earthquake and the Panama Pacific International Exposition (PPIE) was announced, with President William Taft performing the tasks of breaking ground and hoisting the new PPIE flag over the site on 14 October 1911. Photos of the flag raising exist.

The flag was best described the next day in several newspapers, for example, the San Francisco Call, 15 October 1911, page 50.
Official Flag for Exposition

Designed by Director A. W. Scott Jr., Assisted by Theodore Hardee

The official flag of the exposition company, used for the first time yesterday when President Taft unfurled it to the breeze during the ground breaking ceremonies, was designed by A. W. Scott Jr., chairman of the committee on decorations, in collaboration with Theodore Hardee, assistant secretary.

The design incorporates the "bear flag" of the historic California republic with the exposition emblem and the national colors. The stripe of gold is for the principal mineral product of the state, and the green mat under the bear is emblematic of California's agricultural and horticultural resources.

The 30 gold stars on the blue field represent the 30 states preceding California in the union, and the red star in the bear flag represents California, the thirty-first state. The emblem encompassed by the gold stars is the official emblem of the exposition. It typifies the announcement of the opening of the Panama canal.

A miniature exposition flag, similar to the one used yesterday, will be presented to President Taft by the directors.
A copy of this flag is presently advertised online on eBay for a large sum of money. https://www.ebay.com/itm/1915-Pan-Pacific-International-Expo-Banner-B-Pasquale-San-Francisco-maker-BIG/272014849926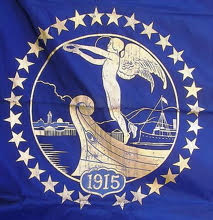 image located by Dave Martucci, 24 January 2019

The Expo emblem shows a winged figure holding a wreath in her outstretched hands as she hovers over the bow of a boat with an eye painted on it. In the background can be seen a steam ship, a set of buildings (likely San Francisco) and the area mountains. At the bottom is a medallion bearing the inscription "1915". The reverse has this as a mirror image except that the date 1915 reads correctly.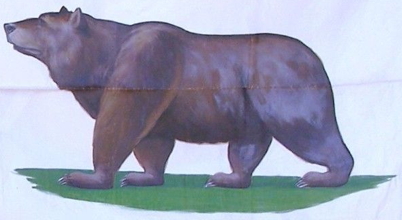 image located by Dave Martucci, 24 January 2019

The bear appears hand-painted in top notch fashion.

The flag measures 6' x 9'10" (1.8m x 3m) and bears a label identifying the maker as B. Pasquale Co., San Francisco. It is finished with a header composed of the blue field folded under several times and brass grommets. It appears to be about the same size as the flag Taft raised in 1911.

One notes the "bear flag" portion at the bottom fly does not include the inscription "California Republic" as normally appears on California flags. This is not unique as there is much existing material that confirms this as an alternate State flag throughout the late 19th century and into the early 20th century, especially in materials associated with the Native Sons of the Golden West and the Native Daughters of the Golden West.

In May 1912, a number of different news articles were published that stated "the steamers" carrying passengers from the East coast to San Francisco as well as local yacht clubs were flying the Exposition "Burges" (I'm sure that is a misprint for the word 'burgee') but simply described it as bearing the inscription "P.P.I.E./1915/San Francisco". Likely this was a typical (and much less costly) nautical flag of a solid field with the letters sewn on one side only. A similar banner is shown in black and white photos of Opening Day that has the inscription "Exposition/1915/San Francisco" with the 1915 in much larger type, in a darker color between four stars of the same color on a white field bordered with a different darker color. Likely the white field bore red stars and inscriptions and was bordered blue, but that is just a guess.
Dave Martucci, 26 January 2019

---
The planners in San Diego refused to give up their plans after realizing San Francisco was determined to forge ahead. Even though they did not get any Federal money or encouragement like the PPIE got and understanding they could not be a sanctioned "International Exposition", the Panama California Exposition (PCE) opened before the PPIE, on 1 January 1915 and ran for the full year, closing on 31 December 1915, a ploy meant to show the climate of San Diego was better suited to such an event. The event was well attended.

No special flag was designed or used by the PCE [Los Angeles Times, 11 February 1916, page 3]. Towards the end of the event, the corporation announced it would reorganize and reopen the exposition the following year (although only from March and not the full year) as the Panama California International Exposition (PCIE), since there would no longer be any active competition in San Francisco and several countries were induced to move their exhibits to San Diego.

A season pass was offered for the best flag design and more than a hundred were received. [Los Angeles Times, 11 February 1916, page 3]

A committee of artists, photographers and newspaper men selected a Miss San Diego-1916, whose principal job would be to raise the new flag on opening day. Miss Marian Vodges was selected [Los Angeles Times, 17 March 1916, Part II, page 3] and she unfurled the flag on 18 March 1916. [Oakland Tribune, 18 March 1916, page 2]

Unfortunately, I have yet to find any evidence of what this flag may have looked like or its intended symbolism. The search continues.
Dave Martucci, 26 January 2019