This page is part of © FOTW Flags Of The World website
Mathias Sandorf (book)
Last modified: 2016-03-19 by peter hans van den muijzenberg
Keywords: book | mathias sandorf | antékirtta |
Links: FOTW homepage | search | disclaimer and copyright | write us | mirrors

---
See also:
---
Mathias Sandorf is a Jule Verne's novel in which the titular exiled Hungarian-nationalist nobleman assumes the identity of a "Dr. Antékirtt" and founds a utopian state called Antékirtta on an island in the Middle East, from whence he exacts retribution against his betrayers. Wikipedia politely describes it as being "in the vein of The Count of Monte Cristo".
Eugene Ipavec, 13 August 2005
---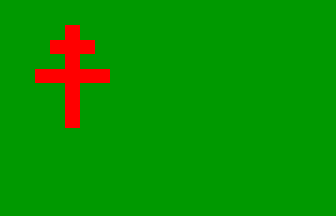 image by Eugene Ipavec, 13 August 2005
A flag of Antékirtta was described; I had thought it was green with a red A in the center, but I wouldn't have sworn to it: it having been almost twenty years since I read it. Finding a copy was a problem, as it seems that the book was published only once in English, and that in 1885 (I had read it in Slovene). However, there's a Russian version online here, which was adequate for at least the purpose of locating the vex reference: Part 2, Chapter III: Le Docteur Antékirtt.
Here is a Babelfished-and-corrected excerpt:
But what was the homeport of the yacht? In what sea-lists was it counted? In what Mediterranean harbor was its winter berth? Finally, what was its nationality? This no one knew, any more than was known the nationality of the Doctor. A green flag with the Red Cross in the upper angle fluttered on its gaff. But vainly would anyone search for this flag in reference books and compendia of the flags that can be encountered on the many seas and oceans of the terrestial globe.
Green and red are, of course, Hungarian colors. "The upper angle" presumably means the upper hoist? It does not say what kind of cross, but given Sandorf's nationality, one naturally suggests itself unless "the Red Cross" is upposed to suggest a Swiss-style cross? A French-speaker's look at the original wording would be invaluable here. If any FOTW member who is literate in a language in which the book had an edition sometime within living memory is located near a well-stocked library and is not disinclined to wade through a few hundred pages of turgid Victorian prose, thank you in advance.
Eugene Ipavec, 16 August 2005
---
Here's the relevant part in French taken from here:
Mais à quel port était attaché ce yacht? De quel rôle d'inscription maritime relevait-il? En quel pays limitrophe de la Méditerranée prenait-il ses quartiers d'hiver? Quelle était sa nationalité, enfin? On ne la connaissait pas plus qu'on ne connaissait la nationalité du docteur. Un pavillon vert, avec une croix rouge à l'angle supérieur, près du guindant de l'étamine, battait à sa corne. Et on l'eût vainement cherché dans la série si nombreuse des divers pavillons, qui se promènent en n'importe quelle mer du globe."
Indeed it says "with a red cross in the upper angle, next to the hoist of the cloth".
In Chapter V (of Part II) people wonder what flag this might be, the pilot does not know it.
Jan Mertens, 14 August 2005