This page is part of © FOTW Flags Of The World website
Ruidera (Municipality, Castilla-La Mancha, Spain)
Last modified: 2019-09-16 by ivan sache
Keywords: ruidera |
Links: FOTW homepage | search | disclaimer and copyright | write us | mirrors

---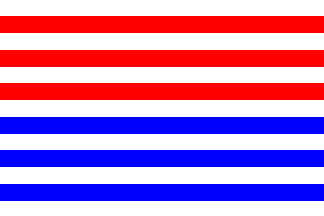 Flag of Ruidera - Image by Ivan Sache, 2 June 2019
---
See also:
---
The municipality of Ruidera (548 inhabitants in 2018; 3,920 ha) is located on the border with the Province of Albacete, 110 km west of Ciudad Real and 45 km south-east of Tomelloso.
Ruidera is part of the Natural Park of the Ruidera Lakes (3,772 ha; website), established by Royal Decree No. 79, issued on 13 July 1979 and published in 13 November 1979 in the Spanish official gazette, No. 272, pp. 26, 234-235 (text).
Composed of the Peñarroya Marsh and a series of 15 lakes (Laguna Blanca, Conceja, Tomilla, Tinaja, San Pedra, Redondilla, Laguna Lengua, Salvadora, Santo Morcillo, Batana, Laguna Colgada, Laguna del Rey, Cueva Morenilla, Coladilla and Cenagosa) surrounded by a natural tuffa barrier, the park stretches over the municipalities of Ruidera, Alhambra, Argamasilla de Alba, Villahermosa (Ciudad Real), and Ossa de Montiel (Albacete). The lakes are small, less than 500 m in length, and 10 to 20 m in depth.
Chapters XXII and XXIII of Book 2 of Cervantes' "Don Quixote" take place in the Montesinos Cave, an emblematic site of the park.
Chapter XXII describes how the ingenious hidalgo, equipped with ropes, "visited" the cave.
Don Quixote begged the fencing licentiate to find him a guide to show him the way to the cave of Montesinos, as he had a great desire to enter it and see with his own eyes if the wonderful tales that were told of it all over the country were true. The licentiate said he would get him a cousin of his own, a famous scholar, and one very much given to reading books of chivalry, who would have great pleasure in conducting him to the mouth of the very cave, and would show him the lakes of Ruidera, which were likewise famous all over La Mancha, and even all over Spain [...] He got up, however, and as there came no more crows, or night-birds like the bats that flew out at the same time with the crows, the cousin and Sancho giving him rope, he lowered himself into the depths of the dread cavern.[...]
Don Quixote kept calling to them to give him rope and more rope, and they gave it out little by little, and by the time the calls, which came out of the cave as out of a pipe, ceased to be heard they had let down the hundred fathoms of rope. They were inclined to pull Don Quixote up again, as they could give him no more rope; however, they waited about half an hour, at the end of which time they began to gather in the rope again with great ease and without feeling any weight, which made them fancy Don Quixote was remaining below; and persuaded that it was so, Sancho wept bitterly, and hauled away in great haste in order to settle the question. When, however, they had come to, as it seemed, rather more than eighty fathoms they felt a weight, at which they were greatly delighted; and at last, at ten fathoms more, they saw Don Quixote distinctly, and Sancho called out to him, saying, "Welcome back, senor, for we had begun to think you were going to stop there to found a family." But Don Quixote answered not a word, and drawing him out entirely they perceived he had his eyes shut and every appearance of being fast asleep.
They stretched him on the ground and untied him, but still he did not awake; however, they rolled him back and forwards and shook and pulled him about, so that after some time he came to himself, stretching himself just as if he were waking up from a deep and sound sleep, and looking about him he said, "God forgive you, friends; ye have taken me away from the sweetest and most delightful existence and spectacle that ever human being enjoyed or beheld. Now indeed do I know that all the pleasures of this life pass away like a shadow and a dream, or fade like the flower of the field. O ill-fated Montesinos! O sore-wounded Durandarte! O unhappy Belerma! O tearful Guadiana, and ye O hapless daughters of Ruidera who show in your waves the tears that flowed from your beauteous eyes!
In Chapter XXIII, the ingenious hidalgo explains how he was welcomed by Montesinos, the cave's "mayor" and namesake, and explains the origin of the Ruidera Lakes.
Ruidera and her daughters and nieces alone are missing, and these, because of the tears they shed, Merlin, out of the compassion he seems to have felt for them, changed into so many lakes, which to this day in the world of the living, and in the province of La Mancha, are called the Lakes of Ruidera. The seven daughters belong to the kings of Spain and the two nieces to the knights of a very holy order called the Order of St. John. Guadiana your squire, likewise bewailing your fate, was changed into a river of his own name, but when he came to the surface and beheld the sun of another heaven, so great was his grief at finding he was leaving you, that he plunged into the bowels of the earth; however, as he cannot help following his natural course, he from time to time comes forth and shows himself to the sun and the world. The lakes aforesaid send him their waters, and with these, and others that come to him, he makes a grand and imposing entrance into Portugal; but for all that, go where he may, he shows his melancholy and sadness, and takes no pride in breeding dainty choice fish, only coarse and tasteless sorts, very different from those of the golden Tagus.
Ivan Sache, 2 June 2019
---
The flag of Ruidera (photo, photo, photo, photo) is prescribed by an Order issued on 2 December 1998 by the Government of Castilla-La Mancha and published on 18 December 1998 in the official gazette of Castilla-La Mancha, No. 61, p. 10,074 (text).
The flag is described as follows:
Flag: Rectangular, in proportions 2:3. Composed of a white panel with six horizontal stripes of 1/13 the flag's hoist, the three upper stripes, red, and the three lower, blue.
The coat of arms of Ruidera is prescribed by an Order issued on 2 December 1998 by the Government of Castilla-La Mancha and published on 18 December 1998 in the official gazette of Castilla-La Mancha, No. 61, p. 10,074 (text).
The coat of arms is described as follows:
Coat of arms: Per pale, 1. Argent a pairle gules, 2. Gules a cross of the Order of Saint John argent. Grafted in base, waves argent and azure. The shield surmounted by the Spanish Royal crown.
Ivan Sache, 2 June 2019