This page is part of © FOTW Flags Of The World website
Sonatrach (Algeria)
Last modified: 2016-11-01 by ivan sache
Keywords: sonatrach | naftal |
Links: FOTW homepage | search | disclaimer and copyright | write us | mirrors

---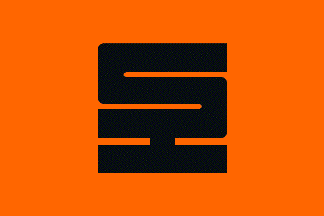 Flag of Sonatrach - Image by Ivan Sache, 30 April 2016
---
See also:
---
Presentation of Sonatrach
Sonatrach (Société nationale pour la recherche, la production, le transport, la transformation, et la commercialisation des hydrocarbures; website) is the first major in Africa and the 12th in the world (2013 export turnover: 63 billion USD). Sonatrach controls 154 subsidiaries, some of them wholly-owned; 105 of them are based in Algeria and another 49 abroad (Peru, United Kingdom, Spain, Mali, Niger...). The company employs slightly less than 50,000 workers in Algeria,
The main activity of Sonatrach is prospecting and extraction. In 2013, the company extracted 186.9 million toe, shared as follows: 127.2 billion m3 natural gas, 49.4 million t crude oil, 8.8 million t natural-gas condensates, and 6.6 million t liquid petroleum gas. Most of the extraction sites are located in the eastern part of the Algerian Sahara, in the regions of Hassi R'Mel (gas), Hassi Messaoud (oil), and Rhourde Nouss (gas). The extracted products are transported by a network of oil pipelines (9,946 km) and gas pipelines (9,677 km).
Sonatrach operates five oil refineries, located in Algiers (2.7 million t/year), Skikda (16.5 million t/year), Arzew (3.75 million t/year), Hassi Messaoud (1.1 million t/year), and Adrar (0.6 million t/year).
Sonatrach is also involved in oil industry services, production and sale of fertilizers, construction and engineering, sea water desalinization, air transport, trading and shipping.
Sonatrach was established on 31 December 1963, starting with 33 employees. Nationalized in 1967, the refinery and supply of oil products were transferred to the Sonatrach, which inaugurated its first petrol station the same year. The total control of the Sonatrach over oil industry was achieved on 24 February 1971, when the whole industry was nationalized.
The company was whole in 1980-1985, with the establishment of 17 subsidiaries. Law No. 14 of 19 August 1986 allowed the Sonatrach to establish international partnerships, provided that the company (that is, the Algerian state) keep control of at least 51% of the partnership's share.
Export of oil, and mostly, of natural gas, is the main source of income for Algeria. The fairly opaque management of this guaranteed income by the Algerian state has been widely criticized, both inside and outside the country. In January 2010, high dignitaries of the company were accused of corruption in the granting of three procurement contracts to foreign companies. The affair was so complex that is was split into four court cases, known as Sonatrach 1, 2, 3 and 4.
The Sonatrach 1 case was closed on 2 February 2016: the court of Algiers imposed to Mohamed Meziane, the former CEO of Sonatrach, a five-year suspended sentence. His two sons, Reda Meziane and Fawzi Meziane, were imposed a six-year and a five-year sentence, respectively. Since the procurator has asked for a 15-year sentence, the verdict was deemed very lenient by the observers.
[Jeune Afrique, 2 February 2016]
Ivan Sache, 30 April 2016
---
Flag of Sonatrach
The flag of the Sonatrach is orange with the emblem of the company in the center. The emblem is made of the first and last letters of the company's name, "S" and "H", rotated horizontally and stacked.
The emblem was designed by the French anti-colonialist, anti-zionist and anti-capitalist militant Maurice Sinet (1928-2016), better known as Siné. The designer explained that he was hired by Sid-Ahmed Ghozali (b. 1937), then Councillor for Energy at the Ministry of Economy. From 1965 to 1978, Siné, helped in the first years by Michel Waxmann, designed the whole livery of the Sonatrach: "emblem, colours, petrol stations, including volume meters and attendant's livery, refineries, ships".
[Siné Mensuel, 8 November 2012]
Siné founded in 1962 Siné Massacre, a satiric weekly (soon monthly) made of blatantly anti-colonialist, anti-clerical and anti-gaullist drawing. Stopped in 1963 after nine issues (and nine court cases), Siné Massacre caused the ban of Siné from the French media and his exile to Algeria. Back to France, Siné founded in May 1968 another libertarian newspaper, L'Enragé, releasing 12 issues until November 1968. Siné joined Charlie Hebdo in 1981; the weekly disappeared in 1982 and Siné contributed to the controversial celebration of the end of Charlie Hebdo in the TV program Droit de Réponse (2 January 1982). Siné joined the refounded Charlie Hebdo in 1992; his latent discord with the new direction culminated in July 2008, when he was sacked because of an alleged anti-semitic chronicle. THe court released Siné from all charges, invoking the "right to satire", while Charlie Hebdo was sentenced for contract abusive breach.
In September 2008, Siné launched Siné Hebdo, a weekly aimed at preserving "Charlie Hebdo's genuine spirit". Stopped on 28 April 2010, Siné Hebdo re-emerged on September 2011 as a monthly, Siné Mensuel.
The self-standing emblem has the company's name written in Arab and French, above and beneath the "SH", respectively. The writings are omitted on most large-sized flags (photo, photo, photo, photo, photo, company headquarters; photo, photo, petrol stations; photo, photo, photo, photo, indoors use).
Other flags of Sonatrach - Images by Ivan Sache, 30 April 2016
The flag is also used with the emblem and writing, mostly as a table flag, but not only. Those flags, seemingly used only indoors, appear to be, in some cases, golden yellow (photo, photo, photo) rather than bright orange (photo, photo, photo).
Ivan Sache, 30 April 2016
---
Naftal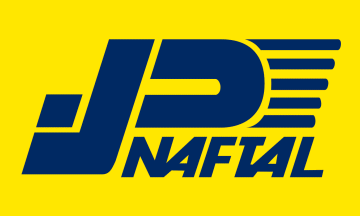 Flag of Naftal - Image by Randy Young, 30 April 2016
Naftal (website), the company selling petroleum-based products in Algeria, is a wholly-owned subsidiary of Sonatrach.
ERDP (Entreprise nationale de raffinage et de distribution de produits pétroliers) was established on 6 April 1981 by Decree No. 101. Inaugurated on 1 January 1982, ERDP was in charge of the refining industry and of the sale and supply of petroleum-based and petroleum-derived products. The company was split into two branches on 25 August 1987: the newly created Naftal was assigned the sale and supply of petroleum-based and petroleum-derived products. Naftal became a joint-stock action company on 18 April 1998, wholly owned by the SVH (Sonatrach Valorisation des Hydrocarbures) holding.
In 2014, Naftal employed more than 30,000 workers. The company sold 16.3 million tons of petroleum-based products; fuel for terrestrial vehicles represented more than 80% of the sales. Naftal owns more than 2,000 petrol stations; 42 of them serve the East-West Highway, the main road crossing northern Algeria.
The flag of Naftal is yellow with the blue emblem of the company.
It appears to be used in every corporate official event, together with the Algerian national flag (photo, photo, photo, photo, photo, photo; video, video, video, video).
The flag is also hoisted in front of the petrol stations owned by the company, together with the Algerian national flag, and, sometimes, with the flag of Sonatrach (photo, photo; video).
Paul Bassinson & Ivan Sache, 30 April 2016