This page is part of © FOTW Flags Of The World website
Hans-Peter Vith
The Shipping Business in Flensburg
Last modified: 2017-11-11 by german editorial team
Keywords: vith | vith&hansen | nissen | jacob | christophersen | hansa linie kappeln | flensburger trampreeder |
Links: FOTW homepage | search | disclaimer and copyright | write us | mirrors

---
See also:
---
H.P. Vith & A. Hansen GmbH
The company was established in 1899 by Hans Peter Vith as a ship broking company. In 1914 Vith became ship owner, but his only vessel was sunk by a Russian submarine one year later. Vith tried to establish a tug boat service, which was given up in 1922 due to unsufficient conditions for tug boat services in the Baltic Sea. A new steamship was bought, but the main business was freighting, especially of coal and for Horn Linie, which was then located in Flensburg. Vith died in 1929, his son in law Karl Christian Lohse followed him until he became a soldier in 1939.
The company then was led by an employee, Ernst Jacob, who established his own shipping company later.
After WW2 Lohse became partner of Flensburger Trampreeder GmbH* and his own company was restored, probably as H.P. Vith & A. Hansen GmbH. In 1984 the shipping company was dissolved.
Nissen & Co KG
Waldemar Nissen established his first company shipping company in 1934, which became part of Förde-Reederei one year later. In 1949 he founded, together with other Flensburg ship owners, the Flensburger Trampreeder GmbH, some kind of cooperative business.
In 1955 he established Nissen & Co KG with three own ships and became corresponding ship owner of one ship of Förde Reederei. In 1976 he retired and the company was continued by his sons. His son Hans-Werner Nissen later became president of Hansa-Linie GmbH, located in Kappeln, which has nothing to do with well known Hansa.
Ernst Jacob Gmbh & Co KG
Ernst Jacob began his apprenticeship in 1928 at H.P. Vith's shipping company, where he learned everything he needed for his own career. The year 1945 was a desaster for Flensburg's ship owners. 16 vessels had been confiscated as reparations and there remained just one ship, the steamer W.C.FROHNE of the Flensburg-Stettiner Dampferlinie Otto Weide. Together with Waldemar Nissen and the shipping company Vöge & Däcker he founded the Flensburger Trampreeder GmbH. Its purpose was to supply each Flensburg ship owner with at least one ship.
In 1950 he began to rebuild the fleet. Two vessels however were given to Flensburger Schiffsparten-Vereinigung, another local cooperative enterprise. In 1955 he established his own company, first as corresponding ship owner of Duisburger Seetransport GmbH, in 1957 he bought his first own ship. In 1980 Ernst Jacob retired. Meanwhile the company ran 12 vessels. Jacob was followed by his son Werner Jacob, who died tragically in an accident in 1984. In the early 1980ies the company expanded, establishing bulk- tanker- and refrigerator- shipping. Ernst Jacob died in 1989. Since 1996 his grandsons overtook the company, which in 2001 ran 14 vessels, mainly tanker-shipping.
H.W. Christophersen
There is not much known, but the company stablished in 1966 together with H.P. Vith the Flensburger Bereederungs-Alliance GmbH.
About Flensburg Stettiner Dampfer Linie Jarig Bakkers conjecture is reconfirmed by Klaus-Peter Bühne, who also shows a blue flag with a red cross patty in his pages.
Source: information by Klaus-Peter Bühne
Klaus-Michael Schneider, 19 May 2010
---
Flags of Flensburg Shipping Companies
Vith & Hansen Flag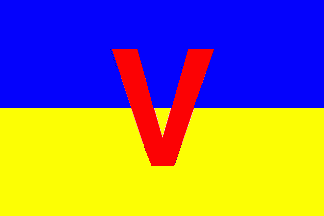 image by Klaus-Michael Schneider, 19 May 2010

The flag is horizontally divided into blue over yellow superimposed by a red capital "V".
Source: "Deutsche Reedereien und ihre Erkennungszeichen"; 2nd ed.; Hamburg; 1956; p.42
Klaus-Michael Schneider, 19 May 2010
Flensburger Trampreeder GmbH Flag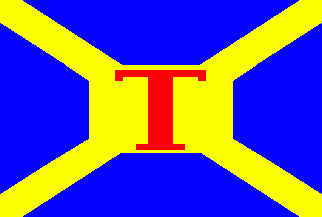 image by Klaus-Michael Schneider, 19 May 2010

It is a blue flag divided by a yellow saltire. In its centre is a yellow rectangle containing a red, serifed, capital "T".
Source: "Deutsche Reedereien und ihre Erkennungszeichen"; 2nd ed.; Hamburg; 1956; p.19
Klaus-Michael Schneider, 19 May 2010
Nissen Flag
image by Klaus-Michael Schneider, 19 May 2010

It is a blue flag, divided by a white saltire. In its centre is a white diamond fimbriated blue containing a blue capital "J".
Source: "Deutsche Reedereien und ihre Erkennungszeichen"; 2nd ed.; Hamburg; 1956; p.29
Klaus-Michael Schneider, 19 May 2010
Ernst Jacob Flag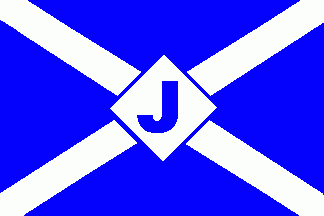 image by Klaus-Michael Schneider, 19 May 2010

It is a blue flag, divided by a white saltire. In its centre is a white diamond fimbriated blue containing a blue capital "J".
Source: "Deutsche Reedereien und ihre Erkennungszeichen"; 2nd ed.; Hamburg; 1956; p.24
Klaus-Michael Schneider, 19 May 2010
Hansa Linie GmbH (Kappeln) Flag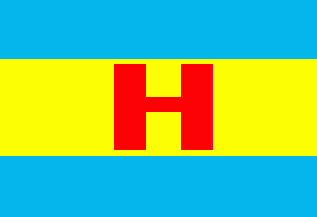 image by Klaus-Michael Schneider, 19 May 2010

It is a yellow flag with celestial blue stripes at the top- and bottom-edge. In its centre is a red, capital "H".
Source: based on a photo of a table flag, shot by Klaus-Peter Bühne
Klaus-Michael Schneider, 19 May 2010
Christophersen Flag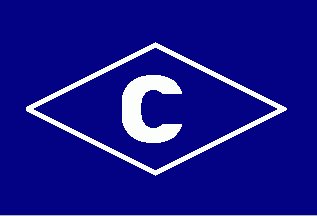 image by Klaus-Michael Schneider, 19 May 2010

It is a dark blue flag with a white capital "C" in the centre of a blue rhomb fimbriated white.
Source: "Deutsche Reedereien und ihre Erkennungszeichen"; 2nd ed.; Hamburg; 1956; p.14
Klaus-Michael Schneider, 19 May 2010
---