This page is part of © FOTW Flags Of The World website
Qing Dynasty: Beiyang Fleet, until 1890 (China)
Last modified: 2020-07-31 by ian macdonald
Keywords: china | qing dynasty | naval rank flags | dragon | anchor |
Links: FOTW homepage | search | disclaimer and copyright | write us | mirrors

---
See also:
---
Overview
I usually don't deal with rank flags but imperial China must be an exception for the extreme interest and mystery of its rank flags. This is the flag of a first class admiral of the north squadron. It comes from the 1882 US navy flag book. Other flags, from other sources also, show various combinations of coloured stripes and devices (mainly dragons). One has to note that these flag are not from the republican time (when the striped State flag was used), but they preceded it. In XIX c. sources, a flag of four stripes is often shown for China (better, for Nanking) and after 1911 many striped flags (of unknown colours) were used in Xinjiang. So, in parallel with the dragon, striped flags are of old tradition in China: the rank flags seems to unify these two aspects. It should be interesting to collect a bigger number of them and try to understand the meanings of the different numbers of stripes and the different colour combinations.
Mario Fabretto, 27 April 1997
---
The significances of the colours of the stripes can be interpreted as:
YELLOW symbolized imperial authority.
WHITE was of ambiguous significance; however, this colour was quite highly regarded by the Manchurian bureaucracy, second only to yellow.
BLACK, GREEN and RED represented North, East and South respectively; these symbolized the Northern, Eastern and Southern Squadrons, the three fleets of the Chinese Navy.
THE FIVE COLOURS together corresponded to the principal colours of the ancient Chinese 'five ways' philosophy. (Page 108 of Whitney Smith's Flags Through the Ages and Across the World describes these concepts. Note also that blue and green were used interchangeably to represent East.)
Miles Li, 07 July 1999
---
Below are the rank flags of the Imperial Chinese Navy Beiyang Fleet, as flown during the Sino-Japanese War of 1894-1895. They are as shown in the "Fujian Arsenal" temporary exhibition at the Hong Kong Museum of Coastal Defence.
Miles Li, 22 May 2007
---
I would like to take this opportunity to revise some pages on the rank flags of the Imperial Chinese Navy, as more information have become available in a new book:

中國軍艦圖誌 (1855-1911)
Zhongguo junjian tuzhi (1855-1911)
by Chen Yue
Commercial Press (Hong Kong) Ltd 2013
ISBN 978 962 07 0361 4

The surname of the author is Chen, The relevant pages are pp.281-88
Miles Li, 04 June 2018
---
Admiral (Tidu) of the Beiyang Fleet

image by Miles Li, 22 September 2014
---
Officer (Junguan) of the Beiyang Fleet

image by Miles Li, 22 September 2014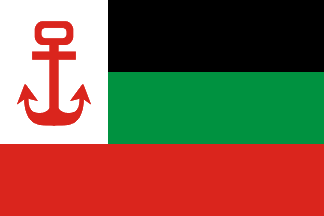 image by Jaume Ollé, 22 September 2014 and Peter Hans van den Muijzenberg, 14 April 2015
According a photo taken in the Revolution Museum of Peking, the flag of squadron commander is slighty different.
Jaume Ollé, 22 September 2014
Are the other two correct, or did you just photograph this one flag? The same white field wouldn't fit as well for the others, but they could have had a larger white field nevertheless.
Peter Hans van den Muijzenberg, 14 April 2015
Let me expand that question a bit, so the page can be cleaned up. Miles wrote about three flags, but you write only about the Squadron Commander. Do Miles' images of the Admiral and Fleet Commander match your photographs? Or do you not have any pictures of the other two flags?
Peter Hans van den Muijzenberg, 14 May 2015
---