This page is part of © FOTW Flags Of The World website
Thetford, Quebec (Canada)
Chaudière-Appalaches
Last modified: 2021-03-27 by rob raeside
Keywords: thetford | quebec |
Links: FOTW homepage | search | disclaimer and copyright | write us | mirrors

---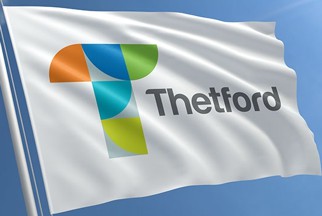 image located by Évelyne Sunatori, 31 December 2020
---
See also:
---
Thetford Mines boomed after the discovery of asbestos deposits by Joseph Fecteau in 1876. Quebec was once the world's first producer of asbestos; the eventual recognition of the threat represented by asbestos to human health caused the decline of asbestos use and, therefore, production. Asbestos industry employed once up to 40% of the local manpower, a ratio that has dropped down to 10%. This decline was reflected in a change of the town's Latin motto, from "Etiam ignis stat" (It Even Resists Fire, 1928-1956) to the more generic "Fervet opus" (Ardour to Work).

The municipality of the village of Kingsville was established in 1892 around the King mine, owned by William King (d. 1896). With the increase in the number of mines, the inhabitants refused to maintain the name of King and adopted the name of canton Thetford, established in 1802 and named for an English town, already used for the parishes of Saint-Alphonse-de-Thetford and Saint-Maurie-de-Thetford, which formed the two urban nuclei of the town. The town of Thetford Mines was incorporated in 1905.
The municipality of the village of Amiante (French, Asbestos), established in 1914 from Thetford-Partie-Sud, was included in 1929 to Thetford Mines.
In the 1950s, most of the downtown was relocated for the sake of the increase of the King mine.
Ivan Sache, 1 January 2021
---
Flag
Thetford was previously known as Thetford Mines, but dropped the "Mines" from its name. An earlier flag carried the coat of arms and old name. It is not known if there is a new flag.
According to this website, Thetford Mines is now known as "Thetford" to put aside the pejorative connotation associated to the mines. So, the flag with the arms is actually the old flag, with the "heraldry" (armoiries). The new flag (http://www.parallele.ca/fr/realisations/ville-de-thetford) shows a "stylish form" of "piolets" (ice axes) to honour the workers and builders of Thetford Mines. To change people's perception of the city as a "grey city", bright colours were added to the design and will gradually be unfolded (displayed) in the region. The result they wanted is a strong personalized image of the energy and the strength of character of Thetford's citizens.
Évelyne Sunatori, 31 December 2020
I could find no other images of a flag with the new logo other than the one on the logo website linked to. I worry that this new flag is a "false flag" often suggested by design companies when hired to design new logos. For example, the towns of Groveland FL, Waterbury CT, and Lake Havasu AZ had apparent new flags that could only be seen on images made by the logo designer. I've fallen for this trick before (for Groveland), so I'm more careful now.

The image of the new Thetford flag is clearly a computer graphic image and not an actual photograph. My search of the town's Facebook page did not find a new flag containing the logo; the only flag shown was the old heraldic flag.
https://www.facebook.com/VilleThetford/photos/1517616541723839
Lots of uses of the logo, but not on the flag.

I also can't confirm that the town's name has been shortened to "Thetford." The removal of "mines" was suggested and used for branding and the logo.
Masao Okazaki, 27 February 2021
---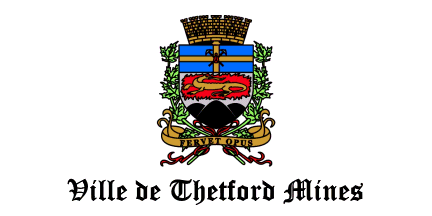 image by Olivier Touzeau, 1 January 2021
Thetford Mines flag: http://www.mcdc.info/uploads/images/mcdc-logo-ville-Thetford.jpg
from: http://www.mcdc.info/en/communication-informations-en/overview-5-en/
We can see it used (not as a flag though…) in an arena (Centre Mario Gosselin).
Évelyne Sunatori, 31 December 2020
The flag before the adoption of the new logo in 2019 can be seen on the top of the city hall here (picture of September 2012):
https://www.google.com/maps/

White flag with coat of arms and the words "Ville de Thetford Mines" in Gothic letters.
(Font confirmed by taking a look at the sign near the Centre Mario Gosselin: https://www.google.com/maps and with this picture: https://www.youtube.com/watch?v=bKsjSM5DWus)
Olivier Touzeau, 1 January 2021
Argent represents the natural resources of the region of Thetford Mines.
The three mounts represent the geographical location of Thetford Mines in a mountainous region.

The salamander, used as the main charge, represents fire-proof asbestos. [The salamander was believed by ancient authors to be able to survive fire.] Or is a symbol of shine, justice, force, faith and constancy.

Azure is a symbol of purity. The cross represents the Christian religion and harmony between the inhabitants. The two pickaxes and the lamp represent mining.

https://grandquebec.com/armoiries-blasons/armoiries-thetford-mines
Histoire du Québec
Ivan Sache, 1 January 2021
---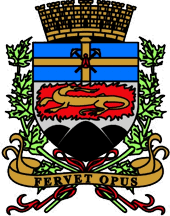 image by Olivier Touzeau, 1 January 2021