This page is part of © FOTW Flags Of The World website
Bhutan: Variants of the national flag
Last modified: 2018-08-14 by zachary harden
Keywords: bhutan | dragon | variants |
Links: FOTW homepage | search | disclaimer and copyright | write us | mirrors

---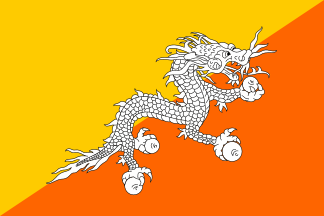 2:3 by Sammy Kanadi
Flag adopted 1969, coat of arms adopted 1980.
---
See also:
---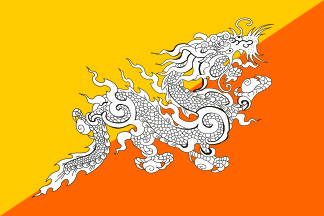 image by Zoltan Horvath, 15 October 2014
[based on photograph of manufactured flag]
When I watched pictures of the recent coronation carefully, and googled some pictures about Bhutanese national flag, I noticed that a new rendition of dragon is depicted on newly taken photographs of Bhutanese national flag. The dragon has a different shape, it has some ribbon-like devices around its waist. Does anyone information about this change?
Zoltan Horvath, 4 October 2014
The Royal Bhutan Army flags page (http://www.rba.bt/flag) depicts a similar headquarters flag, but with a dragon very similar to the one I reported above.
Zoltan Horvath, 4 October 2014
I don't know if this flag follows some new rules. It could also be some artistic license, something I have seen sometimes on Tibetan flags. I have tried to check if there was any new official design but I couldn't find any. According to Wikipedia, the constitution of Bhutan of 2008 is available at https://www.constituteproject.org. The ribbon-like devices are probably fire streams or clouds.
Corentin Chamboredon, 4 October 2014
Jos Poels reported in 2012 the aborted process of adoption of a flag law. I imagine that there has been no significant progress on that matter, otherwise Jos would have told us.
Ivan Sache, 5 October 2014
I found one more variant of the Bhutanese National Flag, where the dragon is depicted as a colorized version: http://images.tmcnet.com/featurestory/ap/2011/10/15/Bhutan-Royal-Wedding-JPEG-2.jpg and http://www4.pictures.zimbio.com/gi/Penjor+Bhutan+Celebrates+King+Marries+xLSW6kJHDfIl.jpg at http://www.zimbio.com/pictures/ZpLVpf9WA54/Bhutan+Celebrates+King+Marries/xLSW6kJHDfI/Penjor. (These pictures were taken during the wedding celebrations in 2011.) Note under the picture says, it is the National Flag, but it's not, because there is a simpler white dragon on that one, not a colorized one. Or is it the Royal Flag of Bhutan? Please see http://www3.pictures.zimbio.com/gi/King+Jigme+Khesar+Namgyel+Wangchuck+Bhutan+Q1gv65Vabk5l.jpg where the same person offered this flag to the King or does the King bless it?
Zoltan Horvath, 13 October 2014
Very interesting, although I have no idea of what this flag could be. Could it be that the dragon should theoretically be in color but isn't in most of the cases if the flag is too small? It would then be a sort of high-quality flag.
Corentin Chamboredon, 13 October 2014
I doubt he's blessing it; his pose doesn't seem right for that. Anyway, at http://www.zimbio.com/pictures/ZpLVpf9WA54/-/EPJfjNWvtOG is a second image, but I think they are out of order. The royal couple is offered mar-chang. When the mar-chang is removed a flag is offered in its stead. So, I guess this tells us that it's a ceremonial flag. Why it has that exact pattern, you'd have to ask.
Peter Hans van den Muijzenberg, 15 October 2014
Regarding the mar-chang, this is not only offering but blessing also as a part of the ceremony. Please see note 19 at: http://books.google.com/books?
Zoltan Horvath, 16 October 2014
I found some information about the marchang ceremony in Yul and Yul lha : the territory and its deity in Bhutan, an article of the Bulletin of Tibetology n°1, volume 40 of 2004, by Françoise Pommaret, p. 59: https://www.repository.cam.ac.uk/bitstream/id/637339/bot_2004_01_02.pdf/
The worship of the deity of the territory mays also include a mar chang ceremony. It is a ceremonial offering of alcohol, butter and an arrow to protective as well as local deities. A large copper or bronze vat containing alcohol is placed on a stand in front of the person representing the lord or high authority of the territory. The vat is ornamented with horns made of butter. The master of the ceremony who stands in front of the vat facing the lord, offers a ladle of alcohol while saying a short prayer. Then he brings the lord a long arrow (mda' dar) wrapped in pieces of cloth of five different colours. The lord quickly touches it, ending the short ceremony, which is clearly at the same time a ritual of propitiation and allegiance to the deities. Besides this particular occasion, the mar chang is also performed in many other circumstances and there is no official function in Bhutan which does not include a mar chang. To my knowledge, this ceremony has not been mentioned in any ethnographic or historical writings about Tibet, although the symbolism and role of the arrow is well documented.
Corentin Chamboredon, 16 October 2014

There is one more image of the color-dragon flag used during the wedding ceremony, but in this case all elements of dragon are visible more clearly than on the previously posted pictures: http://photogallery.indiatimes.com. However it seems that not only the king uses this flag but prime minister does it as well. Please see this image: https://www.flickr.com/photos/meaindia/9649250755/ and this one http://photodivision.gov.in/writereaddata/webimages/upload/Wa-0288l.jpg.
Zoltan Horvath, 17 October 2014
---
While there are numerous variations of the Bhutanese national flag, it would be impossible to document them all, Euripidis Filippidis has provided different variants, which are presented below. If you have any additional insight or information, please contact me and I will get them included.
Zachary Harden, Bhutan Editor, 2 August 2018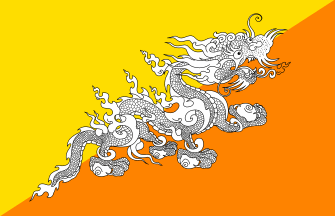 Euripidis Filippidis, 13 July 2018
Context: Photo taken at the Thimphu Dzong on 15 December 2015. Photographer: Caleb See. Link to photo (CC-BY 2.0)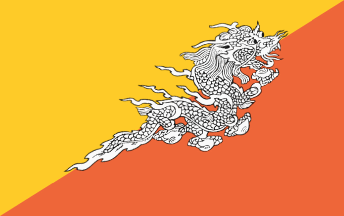 Euripidis Filippidis, 13 July 2018 and Zachary Harden, 2 August 2018
Context: Private collection of Tsubaka University Professor Yoshinari Kameda. Made in country, brought to him as a gift. From the 1990's. Source.

Euripidis Filippidis, 13 July 2018
Context: Original artwork is a digital print by Keren Su / DanitaDelimont, year of creation unknown. Later was used as a product image by Alibaba. The design of the dragon is the exact same used in the logo and livery of DrukAir, the national airline (year of adoption is unknown as well).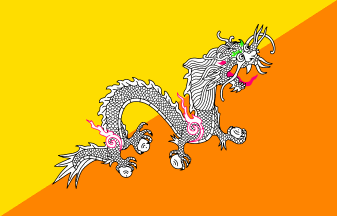 Euripidis Filippidis, 13 July 2018
Context: Another flag used at the King's residence, Thimphu Dzong. Caption: "Bhutanese soldier guard folding up Bhutan National Flag at the King's Palace, Thimphu. Horizontal View. Contributor: Daniel Valla FRPS / Alamy Stock Photo. Location: Tashi Chho Dzong Thimphu Bhutan. Date taken: 29 March 2009." Source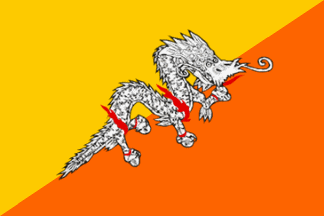 Euripidis Filippidis, 13 July 2018 and Zachary Harden, 2 August 2018
Context: Used by fans in Sri Lanka to cheer on the football team in a FIFA World Cup qualifier, May 2015. Text attached to the photo: "Bhutan's supporters hold their national flag as they celebrate victory of the FIFA World Cup qualifying match between Sri Lanka and Bhutan, at the Sugathadasa Stadium in Colombo, on March 12, 2015 (c) Lakruwan Wanniarachchi (AFP/File)".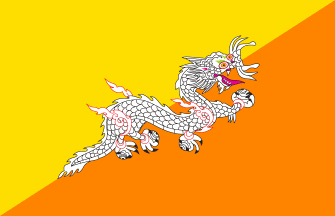 Euripidis Filippidis, 13 July 2018
Context: Flag flying outside of a business in country. Taken October 2011. Source: Pat's Photo Gallery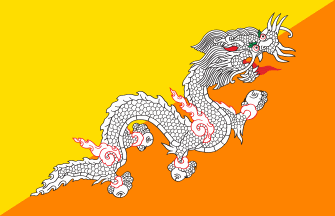 Euripidis Filippidis, 13 July 2018
Context: Visit of the King of Bhutan to Japan in 2018.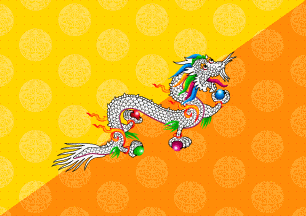 Euripidis Filippidis, 10 August 2018
Context: Wedding of King Jigme Khesar Namgyel Wangchuck in 2011. Source: AFP/Getty Images