This page is part of © FOTW Flags Of The World website
Bahamas - Yacht Clubs
Last modified: 2020-06-03 by rob raeside
Keywords: bahamas | yacht club | the bahamas |
Links: FOTW homepage | search | disclaimer and copyright | write us | mirrors

---
See also:
---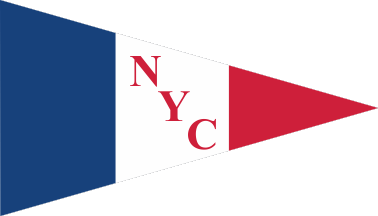 image by Peter Edwards, 17 April 2019
Estb: 1931. Location: East Bay Street, Nassau.

Burgee: Pennant circa 4:7 (web image). Field blue, white, red vertical tri-colour, white area charged per bend with the red letters NYC.

". . . The NYC became the county's first National Yachting Authority in 1952. . . .
Fourteen charter members (led by Roland Symonette, who also became the country's first premier) acquired the old Tom Thumb miniature golf facility on East Bay Street, Morton designed the clubhouse, which was built in 1932 and upgraded over the years. . . .
The NYC co-founded the Miami-Nassau Ocean Race in 1934 and in 1956 helped establish the Southern Ocean Racing Conference, which took over management of this prestigious event."
Source: accessed 14 April 2019, http://www.nassauyachtclub.org/about-us/
Peter Edwards, 15 April 2019
Beyond what Peter Edwards has stated above about the Nassau Yacht Club of Freeport, http://libguides.freeportlibrary.info/c.php?g=494599&p=3384570 tells us:
The Nassau Yacht Club was planned in 1946 and established in 1947 with 35 boat owning members. It was reported that the club was started by a small group of boat enthusiasts who used to meet at the sea wall in Zacks Bay. The club was formed due to the crowded conditions at yacht clubs throughout Nassau County. The club was originally located in the Crystal Lake Hotel. ...

Though some neighbors voiced opposition to the yacht club's location on East Bedell Street, a clubhouse was opened in 1952. The following year, the yacht club started a youth program for children between the ages of 10 and 16. By 1967, the Nassau Yacht Club had grown to a fleet of 60 boats. ...

Nassau Yacht Club disbanded around 1981.
Peter Hans van den Muijzenberg, 18 May 2020
---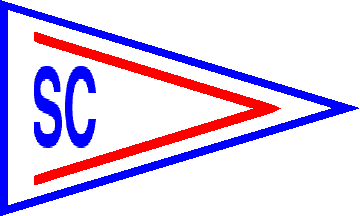 image by Ivan Sache, 9 July 2002
Staniel Cay Yacht Club is based on the island of Staniel Cay. This island is nestled in the magnificent chain of Bahamian Islands called The Exuma Cays (a.k.a. "Exumas"). Staniel Cay lies approximately 75 miles south of Nassau and 250 miles of southeast of Florida. The island itself is less than 2 square miles in area. A small Bahamian village lies on the western shore, just a short walk south from the Staniel Cay Yacht Club. The burgee of SCYC is white with a blue border all around, a red > shaped figure inside and the letters SC in blue inside the red >.
Source: SCYC website, www.stanielcay.com.
Ivan Sache, 9 July 2002
---
Ensign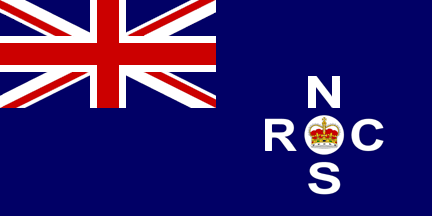 image by Clay Moss, 2 October 2007
Royal Nassau Sailing Club, Bahamas.
Established winter 1924/5.
Burgee white: circular badge showing a sandy beach, with a palm tree to the right, and the sun shining down at the left, in the centre of a St George's cross.
March 1925. Applied to Colonial Office for title 'royal' and Blue Ensign. Emphasised Anglo-American nature of club. Governor of Bahamas was Admiral of the Club. Application supported by Admiral Sir Francis Bridgeman, Vice-Admiral of the United Kingdom (an honorary office deputy to the Lord
High Admiral) , previously Commander-in-Chief of the Home Fleet, and later First Sea Lord.
30 June 1925. The Colonial Office replied that the title 'royal' would be arranged, but that application for the ensign should be made to the Admiralty.
Although applications for a special ensign by British clubs were often refused on the grounds that the club was, too small, not sufficiently important, or too near another club that had already been awarded a special ensign, applications from overseas clubs were always approved, providing they were supported by the Governor or Governor-General. In this case the Admiralty appear to have had reservations because the majority of the club's member were American.
31 July 1925. Permission for a Blue Ensign, defaced with the same circular badge as on the burgee, but due to the exceptional circumstances, to be flown on the club-house. However on 12 August a Warrant for a defaced Blue Ensign was issued, with a proviso that it would be reviewed after ten years. Vessels would need to be British registered and the owner a natural born or naturalised British subject.
1927. Admiralty Minute; "Admiralty Warrant issued under pressure. No applications for yacht warrants received."
26 June 1931. Admiralty asked for the return of the warrant.
27 May 1935. Application to renew club's special ensign. British members now exceed American members.
23 August 1935. Granted for ten years. Review in 1945.
Source: National Archives ADM 1/8685/150, ADM 116/2501, CO 323/1333/6
Date when current ensign replaced original ensign not known.
David Prothero, 18 January 2015
In 1963 the current burgee is already in Lloyd's - in the American edition. At least, sort of: It's shown with a much simpler crown, which is completely red, making the burgee a bicolour of white and red.
In 1960, this is much how the Dumpy Pocket Book of Sailing Dinghies and Yachts pictures it as well.
In 1957, that's how Yacht Club Burgees shows it too. Right next to it is De Maas, Koninklijke Roei en Zeil where the crown is coloured yellow, so it doesn't look like a printing simplification. (For neither one the special ensign is indicated, but it may be that that's limited to GB clubs.)
I set out to find some answers, but it looks like I only added more questions. I hope someone else has the answers, then.

An extra complication:
Not only is the burgee depicted as a bi-colour in books from around 1960, but there's also this mention on the website:

"Ensign, Burgee and Regalia
...
(b) The Burgee shall be white with a red St. George's cross defaced by the badge of the Club.
(c) The badge of the Club shall be a royal crown surrounded by a laurel and the words 'Royal Nassau Sailing Club'.
...
"To me, those description don't combine to say that The Burgee of the club is white red St. George's cross defaced in its centre by a white disk bearing a gold and red <type> crown, with next to it on the arms, four white capital letters: (clockwise starting hoistward) 'R', 'N', 'C', and 'S'.
I didn't see other statutes or bye-laws for the club that might describe the ensign, burgee, and officers flags. Should we consider this a de jure variant of the burgee?
(I'm not quite sure this is the right site: It is a .co domain, as if they are in Columbia, and they're "proud of its 89 year history", where they ought to be proud of its 90 or 91 years. I can't find a http://www.rnsc.bs, though.)
Peter Hans van den Muijzenberg, 19 January 2015
I would write the club directly and find out what they know.
As far as the current images posted on FOTW, I drew those directly off of a club ensign that they sent to our school while we were in Malaysia. They also sent a photo of the current burgee. Both had fully colored crowns.
I can't say whether or not Dumpy, Lloyds or any other publication from the past depicted every burgee they printed exactly as it should have been, or as they were actually being used by their respective yacht clubs. Evidence suggests that said publications were probably very close to accurate all of the time, but not necessarily spot on in every case.
Clay Moss, 19 January 2015
---
Variant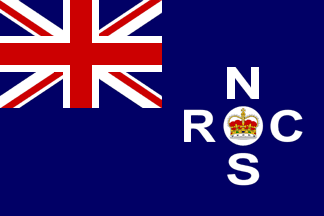 image by Clay Moss, 9 October 2008
This afternoon, a very nice Royal Nassau Sailing Club ensign arrive from Nassau. We found it interesting as its proportions are 2:3. Apparently, the club orders its ensigns from the US instead of having them made in the UK. The defacement in my illustration is placed exactly as it is on the ensign here with the tops of the letters "R" and "C" touching the horizontal center point of the fly.
Anyway, since the RNSC's actual usage ensign varies from the standard variety British 1:2 ensign, I thought we might want to post this along with our 1:2 RNSC ensign.
Clay Moss, 9 October 2008
---
Burgee
image by Clay Moss, 29 September 2007
One of the non-UK yacht clubs whose members may apply through club secretary to the Second Sea Lord for an individual warrant for a special ensign if they own a British registered yacht is Royal Nassau Sailing Club (Bahamas) - Blue Ensign with club badge.
David Prothero, 30 October 2002
This RNSC ensign was approved by the club's secretary. RNSC's website can be found at <www.rnsc.org>.
Clay Moss, 29 September 2007
Previous Burgees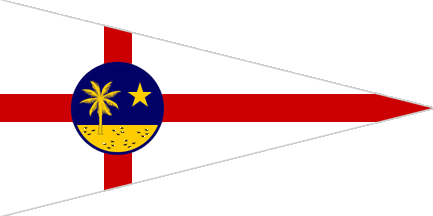 image by Clay Moss, 19 January 2015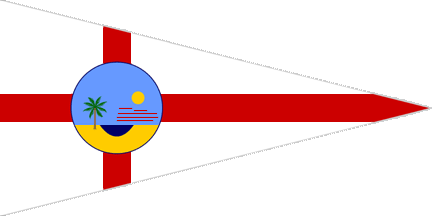 image by Clay Moss, 19 January 2015
I thought that I had posted these to FOTW back in 2008 when I sent the other Royal Nassau Sailing Club stuff.
I drew these at the club's request, and remember that they sent be art work. That said, I don't have the art work any longer, but remember that the club approved these images as their old burgees.
Clay Moss, 19 January 2015
As you drew these for the club, would you happen to know which one is older, or when they were used?
Peter Hans van den Muijzenberg, 19 January 2015
I think that upper is the older one. I am not sure when one was dropped and the other one adopted, nor am I sure when the current burgee and ensign defacement was finally adopted.
Clay Moss, 19 January 2015
The upper one with the dark blue sky is in the 1928 Flaggenbuch, and thus probably the older.
David Prothero, 08 February 2015