This page is part of © FOTW Flags Of The World website
Erpe-Mere (Municipality, Province of East Flanders, Belgium)
Last modified: 2019-07-30 by ivan sache
Keywords: erpe-mere | lion (red) | sword (red) | stars: 8 (blue) |
Links: FOTW homepage | search | disclaimer and copyright | write us | mirrors

---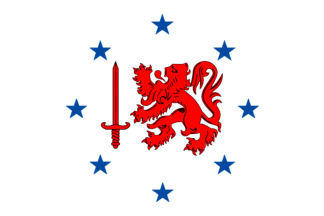 Municipal flag of Erpe-Mere - Image by Arnaud Leroy, 20 January 2006
---
See also:
---
Presentation of Erpe-Mere and its villages
The municipality of Erpe-Mere (19,056 inhabitants on 1 January 2007; 3,403 ha) is located between Aalst and Dendermonde. The municipality of Erpe-Mere is made since 1976 of the former municipalities of Erpe (828 ha), Mere (577 ha), Aaigem (732 ha), Bambrugge (289 ha), Burst (382 ha), Erondegem (317 ha), Ottergem (155 ha) and Vlekkem (122 ha).
Erpe was already settled in the XIth century and most probably ages before. It appears in written documents in 1057 under its current name, later Herpe (1166 and 1196) or Erpa (1187, 1229 and 1236). Canon De Smet and Willems could not find the origin of the name of the village. It seems to be related with the anthroponym Erpo.
The villagers were known as dieven, "thieves". It is probable that the nickname refers to theft committed by a villager in Aalst. They were also nicknamed palokeneters ("sloe eaters"), often shortened to palokens.
Mere is listed on a chart dated 1003. The name of the village was sometimes written Meereen and Meire, and might be related to moeras, "marshes". Following a severe typhus epidemic in 1841, the village was nicknamed Mererot, "the rotten marshes"; the villagers were known as vechters," battlers", or papeters, "gruel eaters".
Aaigem was mentioned for the first time in 891 as Aienghem, a written form found again in a chart dated 1230. However, the name of Aingem appeared in 1019, as the short form of Addingahem or Addingem, "Addinga's estate". Addinga is an old Germanic anthroponym.
The villagers were nicknamed Aaigem boeren ("the farmers of Aaigem") or vrekkig Aaigem ("misers of Aaigem") by their neighbours from Burst.
Bambrugge was known in the Middle Ages as Banbrugge, translated by Canon De Smet as "the lord's bridge". This pont banal would have been similar to the four banal, the lord's oven were the villagers had to cook their bread. Other authors say that ban is related to baan, "a way", or to the anthroponym Banno, Bambrugge being then "Banno's bridge".
The villagers were known as geitnemelkers, "the goats' milkers". Goat breeders formed a union in Bambrugge in 1911, thus explaining the nickname.
Burst is mentioned in a chart of the St. Peter's abbey in Ghent, dated 1042, as located on a brook named Burst: Bursitia juxta fluvoiolum Burste. The name of the village was written Bursta in 1209, Borst in 1220, Bost in 1221, Burst in 1224 and Bust in 1229. Burst refers to throny bushes.
Erondegem is one of the oldest villages in the region. It is listed on the Polyptich of the abbey of Lobbes (868/9) as Eroldingheim in pago Brabattensi, and was later written Erondeghem (1036), Eroldingem (1059), Erondenghem (1213) and Eerhondeghem (1352). Erold or Erond is an anthroponym whereas the suffix hem refers to a settlement.
The villagers were nicknamed plekkers, "those who buy on credit".
Ottergem is the smallest village of the municipality. In 1036, Emperor Konrad II granted the St. Peter's abbey of Ghent the lands of Erondegem et in Bursinghem et terram in Ottringhem et terram in Flachem. The name of the village was later written Ottrenghem (1142), Ottregem (1162) and Oterghem (1545). De Smet claims it is related to the otter, whereas Füstermann says it was formed after an anthroponym.
Vlakkem appears as Flachem on Konrad II's chart mentioned above. The churches of Burst, Bambrugge and Vlekkem are listed in an archive of the abbey of Affligem dated 1117. Later written forms are Vleckem (1209) and Vlachem (1227). De Smet relatee Vlakkem to vlakte, "the plain", whereas Füstermann relates it to the anthroponym Flacho.
The villagers are known as zopeters, again" gruel eaters", zop being a fairly runny gruel.
Source: Municipal website:
Etymologies by De Potter and Broeckaert Geschiedenis van de gemeenten der Provincie Oost-Vlaanderen (1864-1903)
Nicknames (and much more!) by Dirk De Boeck Mededelingen van de Heemkundige Kring van Erpe-Mere 34, 2 (April 1994).
Ivan Sache, 20 January 2006
---
Municipal flag of Erpe-Mere
The municipal flag of Erpe-Mere is white with a red lion and a red vertical sword, surrounded by eight blue stars.
According to the Gemeentewapens in België - Vlaanderen en Brussel, the flag and arms were adopted by the Municipal Council on 13 March 1980, confirmed by Royal Decree on 2 April 1981 and published in the Belgian official gazette on 8 May 1981.
The flag is a banner of the municipal arms; the stars form a circle on the flag, whereas they follow the border of the shield on the arms.

It is quite clear that the arms of Erpe-Mere were designed using elements of the arms of the former municipalities (to be seen on the municipal website, except Bambrugge, which might not have had a coat of arms).
The red lion is shown on the arms of Aaigem ("Argent a fess gules three mullets argent, two lions gules above the fess and one lion gules below it") and Erpe ("Or a lion gules a border engrailed azure"). Burst bore "Azure a lion or".
The sword is shown on the arms of Erondegem ("Sable a chief azure a semy of billets or overall a sword argent"), Mere ("Sable/Azure? a sword argent three bezants 2 and 1") and Ottergem ("Per pale azure and sable a sword argent in chief"). The very same red sword is shown on the flag and arms of the neighbouring town of Aalst. The fess gules with the three mullets argent is also found on or in the arms of Vlekkem.
The eight stars must represent the eight former municipalities merged to form Erpe-Mere in 1977.

Arnaud Leroy, Pascal Vagnat & Ivan Sache, 20 January 2006