This page is part of © FOTW Flags Of The World website
United Kingdom of Lunda Tchokwe (Angola)
Movement seeking autonomy
Last modified: 2021-04-24 by bruce berry
Keywords: angola | unita | black rooster |
Links: FOTW homepage | search | disclaimer and copyright | write us | mirrors

---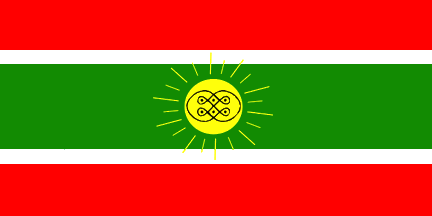 Image by Jason Saber, 05 Feb 2021See also:
---
United Kingdom of Lunda Tchokwe
A Portuguese journalist recently shed more light on this movement seeking autonomy from Angola.

The Movement of the Protectorate of Lunda Tchokwe (Movimento do Protetorado de Lunda Tchokwe - MPLT / MPRLT) was founded in 2006. Its name refers to the protectorate established in the late 19th century by Portugal over part of inner Angola - more or less all of the eastern half of the country - that could not be actually settled. Portugal signed treaties (between 1885 and 1894) with several sovereign tribes, which the MPLT claims to represent now. The MPLT claims that this territory was never administratively part of colonial Angola and was therefore was illegally incorporated to independent Angola in 1975.

In 2019, during the official visit of the President of Portugal to Angola, the MPLT released statement with some very ambiguous wording.
"Lunda Tchokwe deserves independence by natural law and, juridical, by the protectorate treaties signed by the Lunda ancestors with the Portuguese, that is autonomy similar to that granted to Madeira and the Azores by the Portugal."

The MPLT rejects violence and armed struggle. On 30 January 2021, between 6 and 15 civilians were killed during a street demonstration, which motivated a police inquiry and a strong protest from the Roman Catholic Church. The authorities claimed that the demonstrators had attacked a police squad, which was strongly denied by the MPLT.

The MPLT maintains an ambiguous stance regarding Portugal. The movement vehemently criticizes Portugal's colonial history, but asks the Portuguese government to "correct the injustice represented by the integration of the Lunda territory into Angola and to respect the treaties signed with the ancestors".
Filipe d'Avillez, (Renascenša) 01 February 2021sent by Ivan Sache, 05 Feb 2021

I have found on Wikipedia a reference to a new secessionist movement with a flag in Angola. The United Kingdom of Lunda Tchokwe is a small movement claiming eastern half of Angola (500 000 km2 and about two million people). The Lunda and the Tchokwe are two related Bantu tribes. The traditional Tchokwe kingdom was conquered by Portugal only around 1920. This struggle for independence (obviously doubtful) is motivated by diamond mining in the area. The capital is Luena City. The Tchokwe are known for their artisan woodcraft masks.
The flag is red-white-green-white-red (ratio 3:1:4:1:3) with a yellow sun containing a black ornamental emblem in the centre of the middle stripe.
Jakub GrombÝř, 18 June 2011
---