This page is part of © FOTW Flags Of The World website
British shipping companies (H)
Last modified: 2013-03-26 by rob raeside
Keywords: headlam and son | hindustan steam ship co | henderson line | henry and macgregor | heyn | hine brothers | hbrs |
Links: FOTW homepage | search | disclaimer and copyright | write us | mirrors

---
See also:
---
Headlam and Son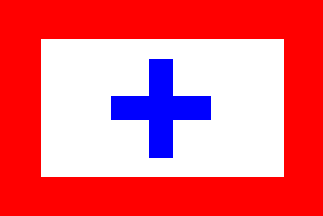 image by Phil Nelson, 7 April 2000

from Stewart and Styring's Flags, Funnels and Hull Colors 1963

Headlam & Sons. Originated 1890 according to Talbot-Booth who gives earlier names as Headlam & Rowland and Robinson & Rowland. The latter appears to have originated the flag only the colours were then reversed with the border being blue and the cross red as shown by Reed 1891. There was a merger with T. Marwood & Son which produced Rowland & Marwood's Steam Ship Co. Ltd. and they continued to use this flag except that the sources from Griffin 1895, with the exception of Lloyds 1904, show the flag as being square. Headlam & Sons are given as the managers who also operated through Headlam & Sons Steamship Co. Ltd. until the late 1960s using the same flag so they may have been owners also. In 1934 the company succumbed to Admiralty pressure re displaying the Red Cross emblem on white which had been outlawed by the Geneva Convention Act of 1911 and reversed the colours. This change may also have seen the flag change to a rectangle, or it may have occurred later, as although Talbot-Booth in 1949 was still stating that the flag was square, other sources from Brown 1943 on show a rectangular version.
Neale Rosanoski, 15 June 2004
---
Henderson Line (British & Burmese Steam Navigation Co., Ltd., & Burmah Steamship Co., Ltd.)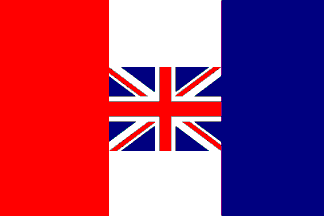 image by Jarig Bakker
The house flag of P. Henderson & Co., Glasgow. A rectangular tricolour in red white and blue with a small Union Flag in the centre. Based on the website of the National Maritime Museum.
Jarig Bakker, 23 August 2004
Henderson Line (British & Burmese Steam Navigation Co., Ltd., & Burmah Steamship Co., Ltd.)
Funnel: Black
House Flag: Red, White and Blue vertical Tricolour, with Union Jack in centre.
Ships: Prome, Salween, Yoma, Pegu, Amarapoora, Sagaing, Kemmendine, Burma, Katha, Kindat, Chindwin, Manadalay, Irrawaddy, Arracan, Henzada, Martaban.
Source: All About Ships & Shipping, by Edwin P. Harnack (ed.), 1938
Jarig Bakker, 30 June 2003
I understood that there was another similar flag to the one you described but as follows: A vertical tricolour, red, white and blue but this one had an emblem of a Scottish thistle centred in the white band. Do you by any chance know any thing about this flag.
Tom McGeachie, 30 June 2003
(Possibly J & P. Hutchison, Limited?)
I have a source which shows the Burns, Philp & Co., Ltd. houseflag as a regular r/w/b vertical tricolor with the thistle centered on the white stripe.
Source: Stewart (1953)
Ned Smith, 1 July 2003
I was one of the last people employed by Hendersons and the origin of the "Tricolour" is interesting. The French government allowed it, as a reward for Hendersons
transporting French troops from Marseilles to the Crimea, during the Crimean war. This tricolour was then again, at the request of the French government, reversed to the signal letter "T", (Red to the hoist) to avoid confusion.
Brian Dickson, 28 August 2003
Henderson Line. The fleet commodore used a swallow-tailed version of the flag. Some sources show the white band as broader both for this flag and its predecessor. The flag is also shown by various sources for the Irrawaddy Flotilla Co. Ltd. which they controlled or managed and which operated on the Irrawady River in Burma.
Neale Rosanoski, 15 June 2004
"Flags and Funnels of the British and Commonwealth Merchant Fleets" shows this flag but the white panel is wider, resulting a 1:2 Union Jack.
António Martins-Tuválkin, 16 June 2006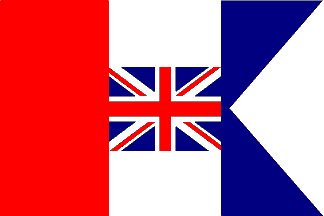 image by Jarig Bakker
Loughran (1979) shows also a commodore's pennant
Jarig Bakker, 23 August 2004
---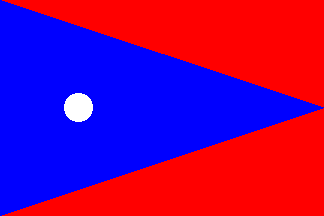 image by Ivan Sache, 8 April 2008
Lloyds Book of House Flags and Funnels (1912) shows the house flag of "Hendry, McCallum & Co (Glasgow Steam Coasters Co., Ltd.)" (#183, p. 45), a company based in Glasgow (Scotland), as red with a blue triangle charged with a small white disk.
Ivan Sache, 8 April 2008
---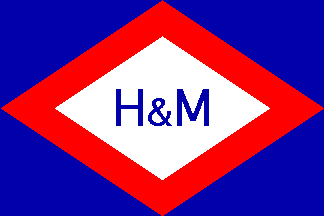 image by James Dignan
Based on Sampson (1957)
James Dignan, 14 October 2003
Reportedly headquartered in Leith, Scotland
Phil Nelson, 14 October 2003
A.F. Henry & MacGregor. Sources vary as to size and shape of the diamond. This version is supported by Talbot-Booth whereas the Brown series show the diamond within the field although the later versions do make it larger. However these editions are not consistent with one omitting the letters and others giving their colours as black. The early Stewarts show it as here but in 1963 it is shown as nearly throughout.
Neale Rosanoski, 15 June 2004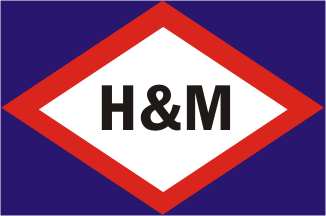 image by Rob Raeside
A F Henry & McGregor house flag based on letterhead from the company.
Phil Wilson, 29 March 2005
This second version of the house flag is much closer to what I remember it as being. The illustrations in Sampson (of which I have a copy) were sketchy at best. The company was indeed based in Leith. Their address was 1 Dock Place. The company was eventually absorbed by the Salvesen Group, around 1960.
Jim Piggins, 9 January 2007
---
Blue. To hoist, in three rows, the letters U/SS/Co. in white(?). To the fly, a shield containing a raised hand (I'd guess the red hand of Ulster, only on this image it seems to be a left hand).
James Dignan, 19 October 2003
Founded 1823. Currently operates as a ship agent for Orient Overseas Container Line, Ellerman Line, Finnlines, ECS, and Shipping Corporation of India.
Phil Nelson, 19 October 2003
Lloyd's description: Blue; red hand with three drops of blood below on white shield and letters USSCo in white (Ulster S.S. Co., Ltd., Head Line, Lord Line, Holland - Ireland line, Mountain S.S. Co., Ltd.)
Jarig Bakker, 19 October 2003
---
Hindustan Steam Ship Co. Ltd.

image by Phil Nelson, 6 April 2000

from Stewart and Styring's Flags, Funnels and Hull Colors 1963

Brown 306: Hindustan Steam Shipping Co., Ltd. (Common Bros), Newcastle-on-Tyne
Funnel: Black, on a wide red band bordered white a white C.
Flag: 2:3; quartered Blue before Yellow over White before Red. (The C on the funnel could be for "Common")
Peter Hans van den Muijzenberg, 20 October 2003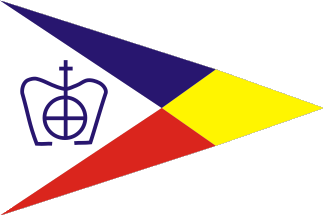 image by Rob Raeside
Hindustan Steam Ship Co. Ltd. Formed in 1893 by J.W. Squance & Co. who changed their name to Common Brothers Ltd. in 1906 following the retirement of Captain Squance. The flag is probably more correctly ascribed to Common Brothers although Hindustan Steamship Co. Ltd. was their main shipping arm in their days of shipowning which seems to have ended in the late 1970s. By then they were into ship management mainly as Common Brothers (Management) Ltd. and according to Loughran (1979) they flew their flag as a pennant [possibly the ordinary rectangular flag was also so used as Brown 1951 shows this in the case of the Australia-China Line and then shows the pennant in the 1958 edition] superior to that of the houseflag of the managed company, first as the plain quartered pennant but then with an amended version which saw the quarters placed diagonally and the company logo placed on the white in the hoist. Unfortunately there is no description of this. The company faded out of sight in Lloyds in the late 1980s after it was acquired by Norex Corporation before resuming briefly in the late 1990s.
Neale Rosanoski, 15 June 2004
My father sailed with the company [Common Bros.] from mid 50s to early 70s, and so did I being a young 'un who got to sail with his dad. Your information suggests that it was Hindustan team Shpg Co that did most of the trade during the ship-owning days, by which I suppose you mean the entire life of the company. While that may be the case, from early 50s, Commons became heavily involved with tankers, having a 25% share in the Lowland Tanker Co, formed with British Tankers and Mathesons of Hong Kong, with Commons being the managers. The tanker trade outstripped the general cargo side, and in fact there was another subsidiary, the Vallum Shipping Co which ran 5 ore carriers.

As regards the Common Bros pennant, I do have recollections of seeing a rectangular flag flying too, although time may have dimmed the accuracy of the memory.
John Bedigan, 17 May 2011
---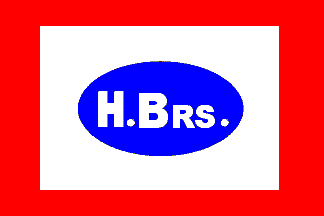 image by Jarig Bakker, based on the website of the National Maritime Museum.
From the website of the National Maritime Museum, "the house flag of Hine Brothers, Maryport. A white rectangular flag with a red border. In the centre, there is a blue oval with the letters 'H. BRS.' in white. The flag is made of wool bunting with a linen hoist and is machine sewn. A rope and toggle is attached."
Maryport is in Cumbria (England) opposite the Isle of Man
Jarig Bakker, 15 August 2004
---
British Shipping lines: continued