This page is part of © FOTW Flags Of The World website
Superman (Comic Books)
Last modified: 2014-03-30 by peter hans van den muijzenberg
Keywords: superman | krypton | map | globe | gyronny | triband (red white green) | crescent: points up (yellow) | crescent (yellow on white) | crescent (yellow): points up | s | batman | vs |
Links: FOTW homepage | search | disclaimer and copyright | write us | mirrors

---
See also:
---
Superman is a popular DC Comics character, whose home planet is Krypton. Superman's Metropolis is located in a real country, the US.
Ned Smith, 26 February 2005, António Martins-Tuválkin, 22 June 2008, and Eugene Ipavec, 25 January 2010
---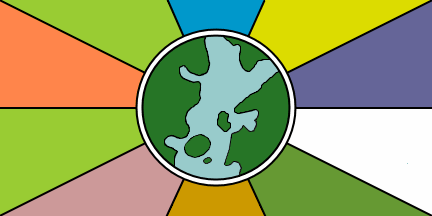 image by Eugene Ipavec, 2 March 2005
The flag of Krypton, Superman's home planet, first appeared in Action Comics #246 (Nov 1958). The Superman Encyclopedia Krypton page describes it as:
A multicolored banner consisting of pale rays of blue, yellow, lavender, white, green, orange, pink, light green, and red radiating outward from a circular center featuring a green and pale blue design suggestive of a body of water all but encircled by lush green land.
There are a total of 10 rays – each color is used only once except for light green which is used for two rays, one on each side of the red.
Ned Smith, 26 February 2005
I went by the image from the Encyclopedia as a guide, so the colors may be a bit faded — a problem to could easily be solved by turning the saturation up a bit. The description says 'red' for the ninth ray, for example, but the source image shows more of an orange.
Eugene Ipavec, 2 March 2005
---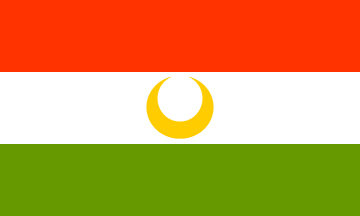 image by Eugene Ipavec, 22 January 2010
For Tomorrow is a twelve-issue story arc of DC Comics' Superman, issues #204 (June 2004) to #215 (May 2005), written by Brian Azzarello with art by Jim Lee and Scott Williams. The plot involves an unnamed Middle Eastern country in the midst of a violent revolution against an oppressive monarchy. The rebels are led by a General Nox, who – when challenged by Superman over his legitimacy – steps onto a balcony to show him a cheering crowd below, chanting "Nox" and waving flags. The flag in question is a red-white-green triband with a golden crescent – pointing upwards – centered in the white stripe.
Eugene Ipavec, 22 January 2010
I see something else on the top stripe (red). On the right hand side I see some kind of yellow star, although I can't really tell for sure since the image resolution is very low.
Esteban Rivera, 22 January 2010
I think that's a hole in the flag – that one has a ragged fly. (Bigger.)
Eugene Ipavec, 23 January 2010
---
Two fictional flags of Earth from DC comic books. Both come from issues in which Superman decides to give the whole superhero thing a rest and take up global domination instead. One Superman/Batman story arc would also qualify for this section.
Eugene Ipavec, 30 July 2005 & 26 January 2010
At Comic Coverage you'll see "evil Superman" and the Superman flag.
Valentin Poposki, 28 November 2008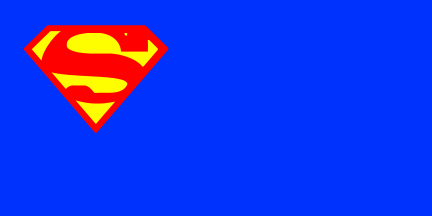 image by Eugene Ipavec, 30 July 2005 & 10 June 2009
The Superman flag can be seen at Superdickery. This is sort of a Soviet-style flag — 1:2, and with the S crest in the upper hoist.
Eugene Ipavec, 30 July 2005
---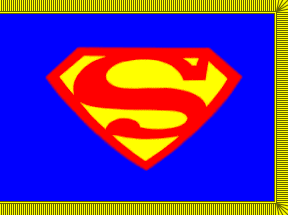 image by Eugene Ipavec, 30 July 2005
The cover showing this flag can be seen at Superdickery.
Eugene Ipavec, 30 July 2005
---

image by Eugene Ipavec, 26 January 2010
In the Superman/Batman story arc Absolute Power (issues #14-18, 2005, by Jeph Loeb and Carlos Pacheco), supervillains from the 31st century travel back in time to abduct and raise Batman and Superman as their own children, grooming them to eventually become the dictators of the world in their name. A scene shows the two planting a flag after subjugating the hidden city of Nanda Parbat in the Himalayas, red with a white combined "VS" symbol, meant (I guess, it is never explained) to be a stylized combination of the Superman "S" and Batman's bat emblem. (Details.)
Eugene Ipavec, 26 January 2010