This page is part of © FOTW Flags Of The World website
Superman (Comic Books)
Last modified: 2014-11-22 by peter hans van den muijzenberg
Keywords: superman | krypton | map | globe | gyronny | triband (red white green) | crescent: points up (yellow) | crescent (yellow on white) | crescent (yellow): points up | s | batman | vs |
Links: FOTW homepage | search | disclaimer and copyright | write us | mirrors

---

image by Eugene Ipavec,
30 July 2005 & 10 June 2009

image by Eugene Ipavec,
30 July 2005

image by Peter Hans van den Muijzenberg
and Eugene Ipavec, 13 September 2011
See also:
---
Superman is a popular DC Comics character, whose home planet is Krypton. Superman's Metropolis is located in a real country, the US.
Ned Smith, 26 February 2005, António Martins-Tuválkin, 22 June 2008, and Eugene Ipavec, 25 January 2010
---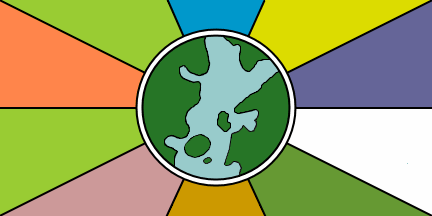 image by Eugene Ipavec, 2 March 2005
The flag of Krypton, Superman's home planet, first appeared in Action Comics #246 (Nov 1958). The Superman Encyclopedia Krypton page describes it as:
A multicolored banner consisting of pale rays of blue, yellow, lavender, white, green, orange, pink, light green, and red radiating outward from a circular center featuring a green and pale blue design suggestive of a body of water all but encircled by lush green land.
There are a total of 10 rays – each color is used only once except for light green which is used for two rays, one on each side of the red.
Ned Smith, 26 February 2005
I went by the image from the Encyclopedia as a guide, so the colors may be a bit faded — a problem to could easily be solved by turning the saturation up a bit. The description says 'red' for the ninth ray, for example, but the source image shows more of an orange.
Eugene Ipavec, 2 March 2005
---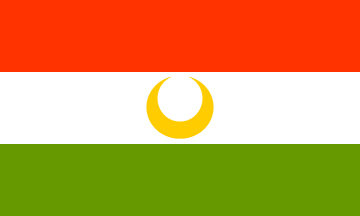 image by Eugene Ipavec, 22 January 2010
For Tomorrow is a twelve-issue story arc of DC Comics' Superman, issues #204 (June 2004) to #215 (May 2005), written by Brian Azzarello with art by Jim Lee and Scott Williams. The plot involves an unnamed Middle Eastern country in the midst of a violent revolution against an oppressive monarchy. The rebels are led by a General Nox, who – when challenged by Superman over his legitimacy – steps onto a balcony to show him a cheering crowd below, chanting "Nox" and waving flags. The flag in question is a red-white-green triband with a golden crescent – pointing upwards – centered in the white stripe.
Eugene Ipavec, 22 January 2010
I see something else on the top stripe (red). On the right hand side I see some kind of yellow star, although I can't really tell for sure since the image resolution is very low.
Esteban Rivera, 22 January 2010
I think that's a hole in the flag – that one has a ragged fly. (Bigger.)
Eugene Ipavec, 23 January 2010
---
Fictional flags of Earth from DC comic books. They come from issues in which Superman decides to give the whole superhero thing a rest and take up global domination instead. One Superman/Batman story arc would also qualify for this section.
Eugene Ipavec, 30 July 2005 & 26 January 2010
At Comic Coverage you'll see "evil Superman" and the Superman flag.
Valentin Poposki, 28 November 2008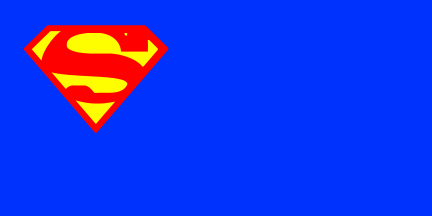 image by Eugene Ipavec, 30 July 2005 & 10 June 2009
The Superman flag can be seen at Superdickery. This is sort of a Soviet-style flag — 1:2, and with the S crest in the upper hoist.
Eugene Ipavec, 30 July 2005
This comic was adapted into episode 57 of the cartoon series Batman: The Brave and the Bold: "Battle of the Superheroes!".
Eugene Ipavec, 14 September 2011
---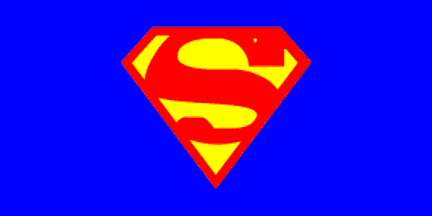 image by Peter Hans van den Muijzenberg and Eugene Ipavec, 13 September 2011
On the cover of Action Comics 381, Superman is shown sticking a flag pole on the ground of the U.N. Plaza; on it it is hoisted a longer, fringeless variant of the parade flag shown in World's Finest 247, blue with the Superman emblem centered on it.
Superman says on the cover art: "No more United Nations! My Superman banner will replace all other flags!" Eleven flag poles are shown in the background, in various states of disarray.
António Martins-Tuválkin, 8 June 2009
Of the flags in the background, one is the Stars & Sripes but the others are not easily identified. One might be Iran, one is perhaps the UN flag and one looks like the war flag of Japan.
Elias Granqvist, 10 September 2011
I did approximations of these flags as well. I drew them all in the 1:2 that the Superman banner appeared to use. (As seen left to right.)



image by Peter Hans van den Muijzenberg,
13 September 2011
Maybe Iran's plain tricolor of 1964-1980. As the comic is from 1969, this would fit. (The second pole from the left; pole slightly bent.)

image by Peter Hans van den Muijzenberg,
13 September 2011
Somewhat along the lines of the United Nations flag. It looks like the actual artwork uses a more conventional projection, and it's hard to see whether there's more to it than the projection lines themselves. it seems to show a green wreath, not white, and the emblem is overall too big. It adequately shows a lighter shade of blue than that on the Superman flag. This lighter shade of blue, very pale, is not the special "U.N. blue" shade, though.
Please note that this is not the flag of a fictional entity more or less inspired (the flag and/or the entity) by the real United Nations, but rather an erroneous depiction of the U.N. flag, akin to so many in the real world, just happening to be in a fictional context.
(The third pole from the left; flag still hoisted on a straight vertical pole.)

image by António Martins-Tuválkin,
8 June 2009
Then a green and orange horizontal triband; it might be there's supposed to be some charge in the centre. The flag would be slightly before the US in the order they are hoisted in, but no such country flag comes to mind. Of course, the artist may have ignored that order, and the colour artist may also have used paints different from the intended ones. (The seventh pole from the right; pole slightly bent.)

image by Joe McMillan,
6 May 2003
The United States flag is clearly recognisable, though the number of stars is not. It is apparently well depicted, with a dark shade of blue. Counter to the other national flags visible, that had their poles bend or broken, the Stars and Stripes still flies proudly. Superman being from the United States, and all, this one of course remains untouched. Or maybe a US comic wouldn't sell very well if the cover would shown the national flag in distress. (The fifth pole from the right, though the flag is visible furthest to the right; hoisted on a straight vertical pole.)

image by Peter Hans van den Muijzenberg,
13 September 2011
This is a sun flag, like the war flag of Japan. The best approximation, matching the hoist, which is completely visible, results in a rather asymmetrical fly. On the cover, most of the fly is behind the next flag. At the scale and resolution of the cover image, there's a hint that there's a ray just behind the next flag. For that to be possible, the number of rays would have to be larger, at the least in the fly. This one is on the pole next after the one flying the Stars and Stripes. But indeed, no better suggestion than that it's supposed to be the Japanese naval ensign. (The fourth pole from the right; pole crooked downwards almost to the ground.)

image by António Martins-Tuválkin,
8 June 2009
image by Peter Hans van den Muijzenberg,
13 September 2011
Last a yellow flag with just a blue hoist triangle, bearing something that looks a bit like a with white sun or a white lean six-pointed star. Again, these colours may not have been what the graphics artist intended. There's a line running through the middle of the flag, which now shows as a slight fold, but may have been intended to separate the flag into two stripes like, say, the Philippines. (The first pole from the right; pole crooked downwards almost to the ground.)
António Martins-Tuválkin, 8 &amp 14 June 2009, and Peter Hans van den Muijzenberg, 13 September
Those two fictional national flags may be taken as placeholders for unspecified national flags, although the mixed nature of the Superman fictional universe, including fictional locations (Metropolis, Smallville) along with real world ones, may allow for actual fictional States posited for them.
António Martins-Tuválkin, 8 June 2009
The United Nations and United States are there, sure - it's logical to have a couple of easily recognisable flags there, and those are the most obvious two. The others, I would bet good money, are simply made up by the illustrator to make attractive yet generic flag designs.
James Dignan, 14 September 2011
---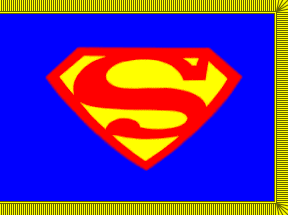 image by Eugene Ipavec, 30 July 2005
The cover showing this flag can be seen at Superdickery.
Eugene Ipavec, 30 July 2005
---

image by Eugene Ipavec, 26 January 2010
In the Superman/Batman story arc Absolute Power (issues #14-18, 2005, by Jeph Loeb and Carlos Pacheco), supervillains from the 31st century travel back in time to abduct and raise Batman and Superman as their own children, grooming them to eventually become the dictators of the world in their name. A scene shows the two planting a flag after subjugating the hidden city of Nanda Parbat in the Himalayas, red with a white combined "VS" symbol, meant (I guess, it is never explained) to be a stylized combination of the Superman "S" and Batman's bat emblem. (Details.)
Eugene Ipavec, 26 January 2010