This page is part of © FOTW Flags Of The World website
Colombia - Commercial Flags
Last modified: 2012-11-11 by zoltán horváth
Keywords: colombia |
Links: FOTW homepage | search | disclaimer and copyright | write us | mirrors

---
Editorial Note: FOTW does not report commercial flags unless such flags have a vexillological value. The presentation of such a flag shouldn't be interpreted as a recommendation of any company or its products.
---
See also:
---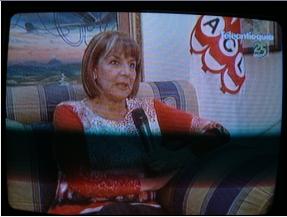 image from <http://www.teleantioquia.com.co/>
The A.C.L. (Asociación Colombiana de Locutores) (Colombian Broadcasters Association) is an organization that represents the majority of public broadcasters in Colombia.
It was established in 1954 by Carlos Pinzón Moncaleano. It is known today as the Asociación Colombiana de Locutores y Comunicadores.
Source: http://es.wikipedia.org/wiki/Asociaci%C3%B3n_Colombiana_de_Locutores_y_Comunicadores
The flag is a white horizontal flag, with the logo in the middle, as seen in this picture.
(Picture taken on February 28, 2010 from a tv interview broadcasted by TeleAntioquia channel
For additional information please see: A.C.L. (official website) http://www.vocesacl.com/
Esteban Rivera, 6 September 2010
---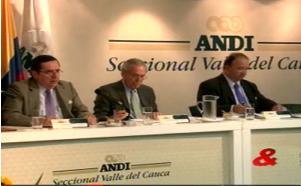 image located by Esteban Rivera, 07 July 2012
Picture taken from screenshot of CM& ( http://www.cmi.com.co/ ) news aired on July 6, 2012).
It is the association of the major Colombian companies in the industrial, financial, food and services sector. The ANDI (Asociación Nacional de Industriales, in English Industrial Entrepreneurs Association or National Business Association of Colombia) was created in the city of Medellin in September 11, 1944 by several private companies' Managers from the Department of Antioquia, to participate before the government regarding a unified economic policy.
ANDI was pivotal in the creation of the SENA to have better instructed employees for the manufacturing companies.
Today it "is a non-profit organization whose main purpose is to expand and promote economic, social and political principles within a free enterprise system, based upon beliefs that include human dignity, political democracy, social justice, private property and liberty, and since its establishment has always been the most important private sector association. It groups more than 1100 companies that belong to different sectors of the economy: manufacturing, financial, food, mining, health, agriculture, services, among others and therefore represents a high percentage of Colombia's GDP and total employment.
The Association has its headquarters in Medellin, but also has branches in the cities of Bogotá, Barranquilla, Bucaramanga, Cali, Cartagena, Pereira, Manizales, Ibagué, and Santander de Quilichao.
As representative of the private sector's interests, the National Business Association of Colombia assumes the representation of its members before national and international institutions, dealing with economic, legal, social, environmental, and business issues.
ANDI interacts before the legislative and executive branches of the public sector, in order to contribute in the issuing of laws of national convenience.
Sources: http://www.andi.org.co/pages/quienes_somos/whoweare.aspx and http://es.wikipedia.org/wiki/ANDI

The flag is a white horizontal flag with the logo in the middle.
Source: http://www.circasia-quindio.gov.co/empresarios.shtml?apc=EIxx1-&m=l
For additional information check: ANDI (official website)
Esteban Rivera, 07 July 2012
---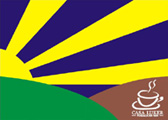 image from <www.casaluker.com>
From <www.casaluker.com>:
The design and symbology of Casa Luker´s flag was created by the manager of the commercial unit, Mr. Jorge Augusto Salazar Pineda, along with the agency Crear Ideas of Bogota. The rising sun from the green mountains of our native land symbolizes naturalness, freshness, food and respect for nature. The sun, which casts its rays over the work and Casa Luker´s dynamics in the market place, is symbolized in the color of the earth. The sun has the dynamics of the light projected towards the infinite blue that invites us to act with dynamism, innovation and energy. That rising sun that moves and changes in the day, that with the force of its rays renders light, warmth and life, symbolizes our professionalism, fellowship and daily commitment.
This is our flag, a symbol of who we are and how we live in Casa Luker."
Dov Gutterman, 15 June 2003
---
The CPB (Círculo de Periodistas de Bogotá (Bogota Journalists Round) has its own flag. The flag can be seen in this image (second flag from left to right)
The flag is a white horizontal flago with the the logo in the middle. The logo has the three initials of the name of the organization on keys resembling a typewriter.
The CPB was established in February 1946 by members of the main newspapers in Bogota: El Tiempo, El Espectador, El Siglo, El Liberal and La Razón (defunct).
Sources:
http://www.circulodeperiodistasdebogota.com/nosotros/resena-historica-del-cpb
http://www.circulodeperiodistasdebogota.com/nosotros/resena-historica-del-cpb/pagina-2
For additional information please see: CPB (official website)
Esteban Rivera, 06 June 2011
---
Combuscol (Combustibles de Colombia S.A., Colombian Fuel) is a company established in Colombia in January 2005 by all the Texaco gas stations countrywide, and in 2008, Mobil gas tations join as well.
Source: <www.combuscol.com>.
The flag is a plain horizontal flag with the logo in the middle, as seen here.
E.R., 23 March 2010
---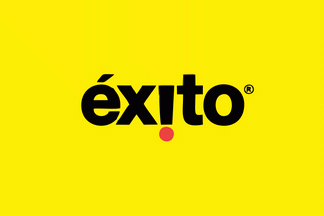 image by Zoltan Horvath, 27 December 2011
Grupo Exito (Exito in Spanish means "success", and has a punctuation mark in the "E", thus it sould be written Éxito; however for commercial reasons to keep all the letters equal to each other on the signboards and all the publicity, the accent was stripped from the original word).
Grupo Exito started as Almacenes Exito (Exito stores) in 1922, when Luis Eduardo Yepes, a native from Medellin opened up a store in the city of Barranquilla to supply the people with all the goods needed for the local carnival, called "Carnaval de Barranquilla" (Barranquilla Carnival). Then later on, with a much wider offer, he started a series of chains in the Atlantic Coast of Colombia and named his stores LEY (an abbreviation of his initials). It is also worth mentioning that LEY in Spanish means law. Parallel to this, in 1949 Gustavo Toro Restrepo opened up the first Exito store, owned by Almacenes EXITO S.A. later on, Almacenes EXITO S.A. establishes a company called Didetexco S.A. which manufactures most of the garments and textiles sold in Exito stores.
Also parallel to this in 1905 Spaniard José Carulla Vidal establishes a store in Bogota called El Escudo Catalán (The Catalan Shield), later renamed to Carulla.
Later on LEY stores where transformed in 1959 into the holding CADENALCO (Gran Cadena de Almacenes Colombianos S.A.) which operated all LEY stores. Parallel to this, in 1967 Jorge and Margaret Bloch opened up a store named La Huerta (Market Garden) in Bogota, now called Pomona, and later expanded with several stores. Also, parallel to this in 1969 Alberto Azout established a chain store called Vivero in Barranquilla.
In 1974 CADENALCO acquires the chain store Pomona (previosuly known as Almacenes La Candelaria). In 1992 CADENALCO opened up SuperLEY stores under a new format, still keeping the old LEY stores. In 1995 Almacenes EXITO S.A. acquires a percentage in Venezuelan retail store Cativen which operates Supermercados Cada and Hipermercados EXITO in Venezuela.
Then in 1999 Casino Groupe, a French retailer store acquires a percentage in the shares of Almacenes EXITO S.A. , and in turn, Almacenes EXITO S.A. acquires a percentage of shares in CADENALCO, starting talks of a future merger, which took place effectivelly in November 2001.
In 2000, Carulla and Vivero merge into one company called Carulla Vivero S.A. and then in 2007 Almacenes Exito S.A. acquires Carulla Vivero S.A., and also Groupe Casino acquires the majority of shares in the newly created Grupo Exito.
In early 2010, Venezuelan President expropiated several EXITO stores in Venezuela and opened up for allegedly manipulating prices in the already turbulent Venezuelan Economy and its hyperinflation. The stores's names were renamed Hipermercados Bicentenario, but the EXITO logos are still seen in the stores as well as the price tags.
Currently Group Exito operates several lines:
- Hypermarkets: EXITO, Vivero hypermarket stores
- Supermarkets: Carulla, Pomona and LEY stores
- Discount stores: Bodega Surtimax stores
- Specialized stores: Home Mart stores
- Local stores: Merquefacil stores.
The flag is a yellow horizontal flag with the logo on the middle.
Sources: <www.almacenesexito.com> and wikipedia.
E.R., 4 March 2010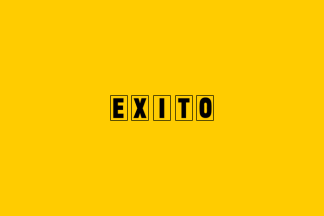 Previous flag
image by Eugene Ipavec, 4 March 2010
Exito stores has changed its flag. The current flag is the new logo in the middle in a horizontal yellow flag.
Image (third flag from left to right): Picture taken on 24 November 2011
Esteban Rivera, 25 December 2011
---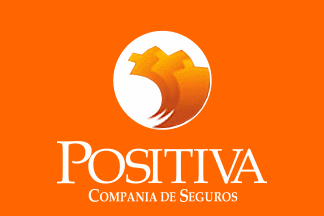 image by Eugene Ipavec, 31 May 2010
On March 1 I found the flag of the Colombian Government company Positiva Seguros (Positiva Insurance). The flag can be seen in this link: http://www.cmi.com.co/?nt=48419 (Source: CM& local tv news. The link is dated July 19, 2010) The flag is an orange horizontal flag with the logo in the middle.
The logo of Positiva seguros can be located here: http://www.tiqal.com/userfiles/positiva-seguros.jpg (notice that this version of the logo has the letters in orange, while in the flag, the colors are inverted, that is, the letters in white.) The explanation of the logo can be found here: http://www.positiva.gov.co/Portal_pos/LaCompania/NuestraCompania/NuestraMarca.aspx
The company was created by Decree No. 3147 of 2008 ( http://www.positiva.gov.co/Portal_pos/Documentos/Compania/decreto-3147-de-2008.aspx)
For additional information please go to: Positiva Seguros (official website).
Esteban Rivera, 30 May 2011
---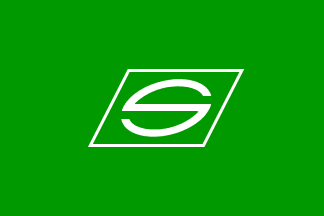 image by Eugene Ipavec, 20 February 2010
Servientrega is a Logistics and Delivery company established in 1982, currently serving several cities in Colombia, as well as six countries abroad.
Its flag is a green horizontal flag with the logo on the middle.
Source: <www.servientrega.com.co>
E.R., 20 February 2010
---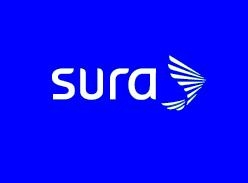 image contributed by E.R., 23 July 2009
In Colombia there's an economic group (holding) called Grupo de Inversiones Suramericana S.A. (established in 1999 as Suramericana de Inversiones S.A., INVERSURA) the parent of the following subholdings:
- Suramericana de Seguros S.A. (<www.suramericana.com>) first established as Compañía Suramericana de Seguros S.A., in 1944. This company in 1997 split its investments in other related companies, aside from its core business in the insurance sector, thus creating Suramericana de Inversiones S. A., SURAMINV, which in turn became the mother company). Currently the name Suramericana de Seguros S.A. gathers actually two companies (for legal government reasons and regulatory rules in the country that states that a company that sells life and health insurance cannot be the same company that sells automobile and general insurance in order not to concentrate too much risk for operational reasons, thus having actually two companies, but in practice is just one). These two companies are: Seguros de Vida Suramericana S.A. and Seguros Generales Suramericana S.A.
- Compañía Suramericana Administradora de Riesgos Profesionales y Seguros de Vida S.A., SURATEP (<www.suratep.com>) established in 1996, now called Seguros de Riesgos Profesionales Suramericana S.A
- Compañía Suramericana Administradora de Servicios de Salud S.A., and Susalud Medicina Prepapgada, SUSALUD (<www.susalud.com>) established in 1990, now both merged and called EPS y Medicina Prepagada Suramericana S.A.
- I.P.S. Punto de Salud S.A., now called Servicios de Salud IPS Suramericana S.A.
Sources: <www.suramericana.com>, <www.gruposuramericana.com>. Image attached:
The flag of Grupo de Inversiones Suramericana S.A., INVERSURA, as well as its subholdings mentioned above, branded for maketing reasons as SURA is the logo and the "SURA" letters in white over a blue background, as seen in the pictures (taken May 29, 2009) here, here, here and here.
The internal company bulletin is showing the new change in logo and flag.
E.R., 23 July 2009
---