This page is part of © FOTW Flags Of The World website
Chinese Imperial Nautical Flags
Last modified: 2007-08-18 by phil nelson
Keywords: china | chinese empire |
Links: FOTW homepage | search | disclaimer and copyright | write us | mirrors

---
See also:
---
First Class Admiral, North Squadron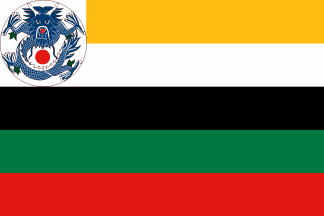 image by Mario Fabretto

I usually don't deal with rank flags but imperial China must be an exception for the extreme interest and mystery of its rank flags. This is the flag of a first class admiral of the north squadron. It comes from the 1882 US navy flag book. Other flags, from other sources also, show various combinations of coloured stripes and devices (mainly dragons). One has to note that these flag are not from the republican time (when the striped State flag was used), but they preceded it. In XIX c. sources, a flag of four stripes is often shown for China (better, for Nanking) and after 1911 many striped flags (of unknown colours) were used in Xinjiang. So, in parallel with the dragon, striped flags are of old tradition in China: the rank flags seems to unify these two aspects. It should be interesting to collect a bigger number of them and try to understand the meanings of the different numbers of stripes and the different colour combinations.
Mario Fabretto, 27 April 1997
---
The significances of the colours of the stripes can be interpreted as:
YELLOW symbolized imperial authority.
WHITE was of ambiguous significance; however, this colour was quite highly regarded by the Manchurian bureaucracy, second only to yellow.
BLACK, GREEN and RED represented North, East and South respectively; these symbolized the Northern, Eastern and Southern Squadrons, the three fleets of the Chinese Navy.
THE FIVE COLOURS together corresponded to the principal colours of the ancient Chinese 'five ways' philosophy. (Page 108 of Whitney Smith's Flags Through the Ages and Across the World describes these concepts. Note also that blue and green were used interchangeably to represent East.)
Miles Li, 07 July 1999
---
Commodore of Southern Escadre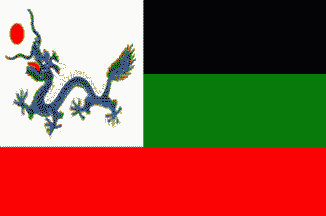 image by Oskar Myszor
source: "Okrety Wojenne" [p9lxx]
---
Admiral on a Sailing Ship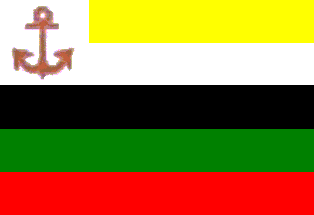 image by Oskar Myszor
source: "Okrety Wojenne" [p9lxx]
---
Admiral on a Steamship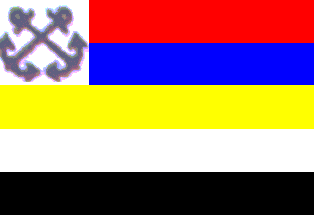 image by Oskar Myszor
source: "Okrety Wojenne" [p9lxx]
---
Merchant Ensign, 1903-1912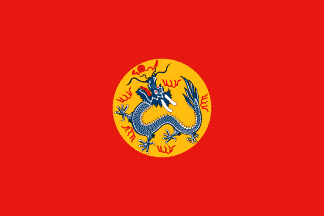 image by Mario Fabretto

I made some images for the booklet of Aldo Ziggioto (president of CISV) "Dove l'oriente e' rosso: Viaggio vessillologico in Cina e dintorni" distributed as supplement of the "Rivista Marittima, n. 6 June 1996" and, among the others, I also made one for the civil ensign 1903-1912.

The text on the booklet relative to the civil ensign says (more or less):
...In the year 1872 the war and civil ensigns were identical, to make some distinction was necessary: it was decided that the merchant ensign should be a red rectangular flag, charged with a yellow disk in the center. This flag was indeed that of the Chinese shipping line. ... omitted ... The merchant ensign remained unchanged until 1903, when on the yellow disk were placed one (for ships of a single shipowner) or two dragons (two or more shipowners).
Mario Fabretto,
27 April 1997
---
W. J. Gordon, in the 1915 edition of Flags of the World, stated that the red flag with a yellow disc was that of the China Merchant Steam Navigation Company, and the popular belief that it was the Chinese Merchant Ensign was a mistake. It seems that the addition of one or two dragons onto the disc was an attempt to design a flag which was distinctive yet would not be mistaken by the public. It is doubtful whether the ensign had any official status, and indeed whether it was regularly flown, although it did feature as a decoration on calendars, etc., used in China during that era. Miles Li, 02 February 1999
See also:
Cigarette Card Depiction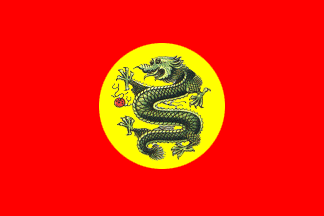 by Antonio Martins
Source: http://www.rbvex.it/interpag/alfabetc.html

This is one of 50 cards series entitled "Countries Arms & Flags" issued by John Player & Sons [g9b05], a branch of the British Imperial Tobacco Company, in 1905. Other series issued by this Company are "Flags of the League of Nations" (1928) and "National Flags and Arms." (1936).
Antonio Gutierrez, 1 September 2004

See also:
---
Ensign, circa 1916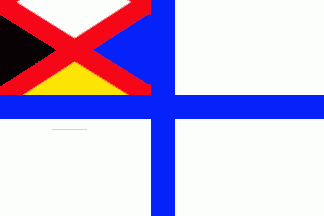 by Oskar Myszor
source: "Okrety Wojenne" [p9lxx]
The saltire design shows that this was probably used during 1916, when Yuan Shih-Kai was Emperor of China.
Miles Li, 18 May 2002
---
Land Flag, circa 1916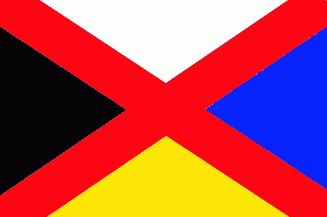 image by Oskar Myszor
source: "Okrety Wojenne" [p9lxx]

The saltire design shows that this was probably used during 1916, when Yuan Shih-Kai was Emperor of China.
Miles Li, 18 May 2002