This page is part of © FOTW Flags Of The World website
House flags of Canadian Shipping Companies (A-C) (Canada)
Last modified: 2013-02-21 by rob raeside
Keywords: canada | canada: shipping companies | canada: maritime house flags | maritime house flags: canada |
Links: FOTW homepage | search | disclaimer and copyright | write us | mirrors

---
See also:
---
Abitibi Paper Co., Ltd., & Price Paper Co.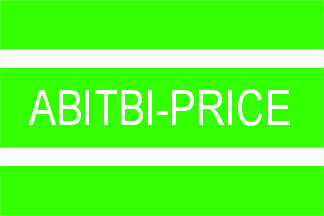 image by Jarig Bakker, 13 December 2005
Source: Brown's Flags and Funnels of Shipping Companies of the World [lgr95]

Toronto/Grand Falls - green flag with two white stripes; between those stripes white "ABITBI-PRICE".
Jarig Bakker, 13 December 2005
---
Presently known as Abitibi-Consolidated following the merger of merger of Abitibi-Price and Stone-Consolidated on May 29th, 1997.
From the company website:
Abitibi-Consolidated is a global leader in newsprint and uncoated groundwood (value-added groundwood) papers as well as a major producer of wood products, generating sales of $5.8 billion in 2004. The Company owns or is a partner in 26 paper mills, 22 sawmills, 5 remanufacturing facilities and 1 engineered wood facility in Canada, the U.S., the U.K., South Korea, China and Thailand.
It's fleet was/is used for shipping newsprint from its facilities.
Phil Nelson, 13 December 2005
---
Abitibi Paper Co. Ltd. & Price Paper Co. There would seem to be a error in the flag portrayal by Brown with a missing "i" i.e. the flag shows "ABITBI-PRICE" instead of [presumably] "ABITIBI-PRICE" being taken as a printing error as the name is correctly shown in the index. According to Wikipedia Abitibi Paper Co. Ltd. took a controlling interest in Price Bros. & Co. Ltd. in 1974 with a corporate name change in 1979 to Abitibi-Price Inc. eventually merging as noted by Phil.
Neale Rosanoski, 12 September 2008
---
Algoma Central Marine
image by Joseph McMillan
From the company website http://www.algonet.com:
Algoma Central was incorporated as Algoma Central Railway Company in Sault Ste. Marie, Ontario on August 11, 1899. The Corporation proudly celebrated its Centennial Anniversary throughout the year in 1999.

The Company was founded following the discovery of valuable iron ore in the Michipicoten area of Ontario's Algoma Region in the late 1800's. Francis H. Clergue, the Philadelphia promoter and industrialist, needed to move the ore from the Helen Mine to the harbour on Lake Superior. For this purpose, the Algoma Central Railway was incorporated by Special Act of the Parliament of Canada with capital of three million dollars.

Soon after the railway was in operation from the mine to Michipicoten, four steam vessels were purchased in 1900. This was the beginning of the Algoma Central Fleet.

The Company name was changed to The Algoma Central and Hudson Bay Railway Company in 1901. From this point on, Algoma Central carried on business as both a railway and a steamship company.

With the opening of the St. Lawrence Seaway in 1959, expansion of the fleet was a high priority. Next came a name to change Algoma Central Railway in 1965, followed by the demand for self-unloaders and further expansion of the bulker fleet.

In 1973, Algoma Central Properties was established with major real estate holdings in the Sault. By 1984, Company revenue surpassed $100 million, and by 1987, Marine Division revenues alone exceeded $100 million. In 1990, the Company name was changed to Algoma Central Corporation.

Year 1992 saw the beginning of Algoma Central's Fleet Renewal Program which would ensure Algoma's competitiveness in the future.

With increased emphasis on marine, both the railway and the Algoma Region forest lands held by the Company were sold as the Company divested non-strategic assets.

As expansion of the fleet continued, Algoma Central acquired an interest in Marbulk Canada Inc. to provide a presence in ocean shipping. Algoma Tankers Limited was created with the purchase of liquid-petroleum tankers.

Algoma Central Properties Inc., now committed to the Niagara Region of Ontario, manages six valuable real estate properties in St. Catharines, in addition to its Sault holdings.

In January 2000, the Seaway Marine Transport marketing pool was formed resulting in new synergy and benefits to customers.

Today, Algoma Central Corporation proudly flies its house flag on 29 vessels sailing the Great Lakes.
Phil Nelson, 27 August 2000
---
According to Lloyds the shipping division was made a subsidiary in 1990 as Algoma Central Marine. Post World War 2 Lloyds shows the shipping at times under Algoma Steamships Ltd. and at others under the principal. This would appear to part of a reorganization that saw the principal become Algoma Central Corporation. The company site shows a logo which bears the name "Algoma Central Corporation' and possibly the company had a flag using this but as the 1982 edition of "Know your Ships" shows the funnel bearing the badge with 'Marine' on it as shown on this flag, it seems possible that the maritime division was using the flag prior to 1990.
Neale Rosanoski, 22 November 2003
---
Centennial flag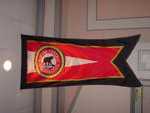 contributed by Jan Mertens, 26 September 2005
Source: Boatnerd
Boatnerd shows the Centennial version of the Algoma house flag – see second picture of second row.
Not only has the bear emblem received a golden laurel wreath but that a thin gold stripe has been added to the red bordure, on its outside at least, as well. No gold stripe at the hoist though.
"Laurel wreath" is too vague a term in fact. It is a gold ring bearing the words 'CENTENNIAL' at the top and the years '1899-1999' at the bottom, all characters in white, and laurel leaves in white added between them. For good measure, the ring itself is surrounded – inside and out - by a gold rope.
In the railway company logo, also named Algoma (in short) the bear looks the other way. I believe that in this case the bear was rendered in black and white as well but the letters were yellow and the ring, red. (Was it ever used on a flag?)
Quote from the company's website:
The Corporation's fleet of 25 vessels includes 14 self-unloaders, six bulk carriers and five Canadian-flag petroleum-product tankers. Algoma Central Corporation and Upper Lakes Group Inc. work in a partnership, Seaway Marine Transport, which manages the commercial activities of the partners' self-unloading and conventional bulker fleets. Algoma Tankers manages the commercial operations of the Algoma Tankers fleet. The Corporation has a 50% interest in Marbulk Canada Inc. which, through a subsidiary based in Beverley, Massachusetts operates an ocean-going fleet of seven self-unloaders. The Corporation also owns a 25% interest in Cleveland Tankers (1991) Inc. based in Cleveland, Ohio. Cleveland Tankers owns one US-flag tanker which is on long-term charter to Algoma Tankers (USA) Inc.
Jan Mertens, 26 September 2005

I am not sure where Algoma Central Marine fits in these days as they are not shown on the current company website and Lloyds shows the ships mainly under Algoma Central Corporation, managed by Seaway Marine Transport, or the Barbados subsidiary Algoma Shipping Inc. with the tankers under Algoma Tankers. Ltd. On the link for Seaway Marine Transport given by Jan 1.10.2005 the Algoma flag flown by the ship would seem to be that of Algoma Central Corporation going by the fact that the annulet of the badge is red because looking at the flags appearing in their company magazine it seems that those with the word "MARINE" are on black as shown by Joseph's image. That red has "CORPORATION" on it I take from the flag showing in the Summer 2007 magazine [see image] and such a flag is shown flying in a photo of "Algonova" 14.12.2005 [see image] where although the words cannot be made out the length suggests the longer "CORPORATION". All flags seem to have the bear walking forward to the hoist unlike the centennial flag but perhaps that was to represent the looking back over the 100 years. There is evidence that in some cases the "Marine" logo on the ships has been replaced by that of the "Corporation" but there may be other reasons for this.
Neale Rosanoski, 21 February 2010
---
Arctic Transportation Ltd.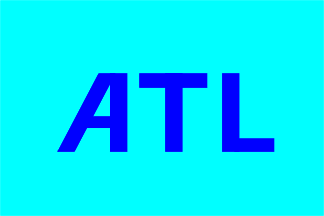 image by Jarig Bakker, 13 December 2005
Source: Brown's Flags and Funnels of Shipping Companies of the World [lgr95]

Calgary - bright blue flag, blue "ATL".
Jarig Bakker, 13 December 2005
---
Black Diamond S.S. Co. Ltd.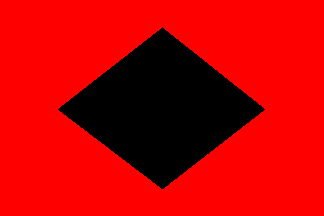 image by Ivan Sache, 17 March 2004

This Canadian company was established in 1881 and at some point became owned by Dominion Coal Co. which had been established in 1893. Its flag, as shown by Griffin 1895, Reed 1901 and 1912 and Lloyds 1912, was red with a black diamond. The livery was also used by Dominion Coal Co. who were ship owners in their own name and by another of their subsidiaries, Dominion Shipping Co. Ltd.. Dominion Shipping Co. Ltd. was always a Canadian company although in 1934 the British company Donaldson Bros. & Black Ltd. took over control [presumably this meant as managers and seems to have ceased after WW2] and Lloyds through to the end continued to show a Canadian address. I have checked my sources of Brown 1951 and Brown 1958 and Stewart 1953 and Stewart 1963 and they all say Canadian. Their last ships were sold in 1965.
Neale Rosanoski, 3 May 2011

Brown's Flags and Funnels of British and Foreign Steamship Companies, compiled by F.J.N. Wedge, Glasgow, 1926 [wed26] report a yellow flag, in center black diamond; in all corners black "BDSC".
Jarig Bakker, 14 February 2005

I assume that this was an error and Brown 1926 ascribed the flag which actually belonged to the American company Black Diamond Steamship Corporation of New York to Black Diamond Steamship Co. Ltd. of Montreal.
Neale Rosanoski, 3 May 2011
---
British Yukon Navigation Company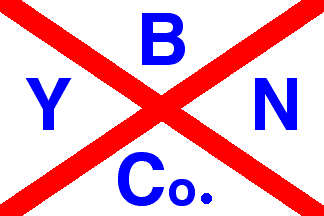 image by Ivan Sache, 26 April 2008
Source: Sternwheelers of the Yukon

Quoting Sternwheelers of the Yukon, from the website of the Yukon archives:
In July of 1900 the White Pass & Yukon Route (WP&YR) railway was completed from Skagway, on the Alaskan coast, to Whitehorse, making it practical to transport freight and passengers on boats via the upper river, from Whitehorse to Dawson City.

[...]

WP&YR set up a river division, the British Yukon Navigation Company, (BYN Co.) in 1900; within three years BYN Co. owned all but three boats on the upper river.

Sternwheelers became a vital part of Yukon transportation. Yukon River sternwheelers were designed to carry heavy cargoes downstream on a light draft and make the return trip upstream with lighter loads.

[...]

Long summer days and spectacular scenery made the Yukon a popular tourist destination, and tourism became an important part of BYN Co.'s business. The S.S. Tutshi, launched as a tourist boat in 1917, took passengers on excursions on the Southern Lakes.
Sources:
http://www.tc.gov.yk.ca/archives/sternwheelers/en/river.html
http://www.tc.gov.yk.ca/archives/sternwheelers/en/avenues.html
http://www.tc.gov.yk.ca/archives/sternwheelers/en/monkey.html
The second page of Sternwheelers of the Yukon shows the house flag of the British Yukon Navigation Company as white with a red saltire cantoned with the blue letters "B" (top), "Y" (left), "N" (right) and "Co." (bottom).
Ivan Sache, 26 April 2008
The S.S. Klondike II was refurbished as a cruise ship, in an attempt to save the career of the flag ship of the British Navigation Company. Though her trips were well booked it was the increased cost of operation on the Yukon that ended her brief sojourn as a passenger ship. In August 1955 the S.S. Klondike II steamed into Whitehorse for the very last time. Early spring navigation was delayed until the ice broke up on Lake Laberge. Lamp black was spread along the lake to speed up melting. In the 1920's a dam was constructed to hold back the headwaters of Marsh Lake to create a surge of water to speed the break- up of lake ice and to regulate water levels in early spring and fall.
http://galenfrysinger.com/whitehorse_klondike.htm
Darrell Neuman, 1 January 2013
Another photo at http://galenfrysinger.com/whitehorse_klondike.htm, at bottom of that page a red saltire on black(?) with letters WPYR woven into a rug, described as "company's carpet". My guess is WPYR stands for White Pass and Yukon Railroad.
Rob Raeside, 3 January 2013
---
Canadian Government Merchant Marine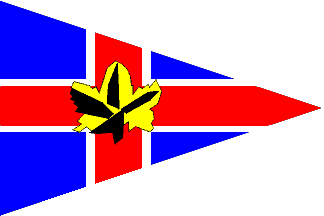 image by Jarig Bakker
Source: Brown's Flags and Funnels of British and Foreign Steamship Companies, compiled by F.J.N. Wedge, Glasgow, 1926 [wed26]

Montreal - blue burgee, red cross fimbriated white; in center yellow maple-leaf.
Jarig Bakker, 14 February 2005
---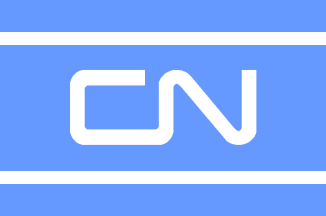 image by Eugene Ipavec, 16 September 2009
A hefty flagoid presented as a Canadian National Railways ferry flag appeared on eBay earlier this year (offer no. 110375268797, end 19 Apr 2009, put up by "logcabin48048").

Light blue field, white linked "CN" initials (company brand) between two narrow horizontal stripes, white, running parallel to the flag's edges.

From the description: "This great vintage sign was on the Canadian National train ferry that went from Port Huron, Michigan to Sarnia, Ontario in Canada. It is steel and weighs appx. 175 pounds, with some rust spots as you can see in the pics. It measures 43 1/2 inches wide and 34 inches high. There are 4 u-bolts on the back where it would fasten to the ship."

CN logo history page: the present one was designed by Allan Fleming in 1960: http://www.cn.ca/en/company-history-cn-logo-evolution.htm
The above ferry service was first organized in 1859 by the Grand Trunk Railway (a rival tunnel was already opened in 1891). Once nationalized, GTR became part of Canadian National Railways (founded 1918 by the government) in 1923. The ferry was discontinued in 1994 when a new tunnel was about to be opened. The "CN" logo places the first possible use of the flag in 1960.
Jan Mertens, 4 September 2009
---
Canadian National Steamships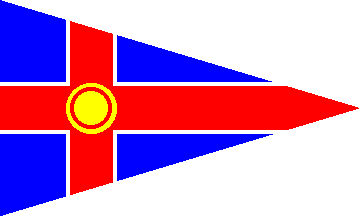 image by Ivan Sache
Canadian National Steamships - Montreal
Burgee-shaped flag with Norwegian colours and design. In the middle of the cross is placed a yellow disc fimbriated in red and yellow.
Shipping lines: Montreal - Quebec - Halifax - British Guinea, Montreal - Vancouver - South America - Austral.(ia?)
Steam cargos: 39; Cargo and passsenger steamboats: 8
Tonnage: ca 248,180 Regt. brutto
Source: Znamierowski shows p. 244 a plate of houseflags of North and South American shipping companies, dated 1933. The original source is Lloyd Reederei-Flaggen der Welt-Handelsflotte [Lloyd Houseflags of the World Merchant Fleet], Bremen (Germany). The caption of the original plate says 'Lloyd Zigaretten + Bildersammlung: Reedereiflaggen', so the 'book' is an album for cigarette cards.
Ivan Sache, 24 March 2001
---
The design on the flag is not clear on many sources but it seems that it is a maple leaf. Brown 1929 and 1934 both show a large gold leaf throughout the cross fess point whereas later sources show a white circle containing the leaf apparently in yellow and green. Znamierowski has taken his image from the Lloyd Reedereiflaggen cigarette card album of 1933 which is the only one to take the easy way out which is rather understandable considering the small size of the emblem.
Neale Rosanoski, 22 November 2003
---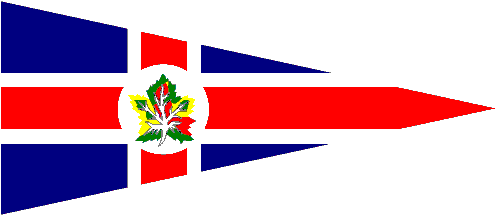 image by Jarig Bakker
From The National Maritime Museum:
The house flag of Canadian National Steamships, St Johns, Newfoundland. A dark blue pennant with a white-bordered red cross. A green yellow and red maple leaf is placed on a white disc in the centre. The flag is made of a wool and synthetic fibre bunting. It has a cotton hoist and is machine sewn. A rope and toggle is attached.
Jarig Bakker, 8 August 2004